Can You Get Pregnant on Your Period?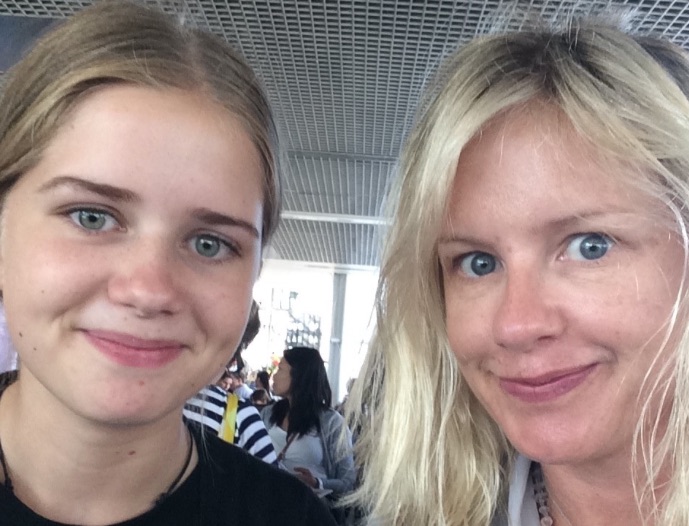 Can You Get Pregnant on Your Period?
I am such a procrastinator.
I have spent the last 90 minutes doing everything BUT start my new adventure as a writer for Mum's Lounge.
Even though I am SO excited, I am also scared I won't be as interesting as Carrie Bradshaw (I don't live in New York yet, but, I do have a shoe obsession) or as funny as Briget Jones (I don't live in London but I love using my wine bottle as a microphone). Really.
I have taken the puppy I am minding to the park. Made veggie soup.
Looked at cheap flights to New York (can I really afford to do that? Financially or physically ? No).
Read my horoscope.
Put in my AFL tips and spent at least 20 minutes on Facebook catching up with what other people are doing on this sunny April afternoon.
Is the weather incredibly beautiful for this time of year or what?
OK.
If I described myself the way they ask you to when you fill out a form, like for example, leaving the country, I am….
Name: Zoe Antionette Sheridan
Sex: (not recently unfortunately) Female
Nationality: Australian
Address: (currently renting in Bondi Junction, NSW)
D.O.B. September 9, 47 (not 1947, age 47 and a Virgo, just in case you're into Astrology)
Marital Status: Not yet (and currently Single)
Will you be leaving or entering the country with more than $10,000 cash: NO (although I have more than 10 grand credit card debt)
Occupation: (Mmmmmm, this is where is gets interesting as on those forms there is only room for one!
Here I can give you the full list)
Voice over Artist.
TV Presenter
DJ
Actor
Dog Minder
Writer
This is Mum's Lounge, I assume most of you are mums, so lets start there.
I am the mother of two teenage girls.
Which means I am also a chauffeur, (not a great) chef, cleaner, (really not a great) accountant,
essay writer, adviser, worrier, liar (on some school notes), and ATM.
My eldest daughter was a surprise.
I had been seeing her Dad for about 7 or 8 months when I fell pregnant over Easter.
The old Easter EGG trick.
I should point out that I was diagnosed with epilepsy age 28. The medication I take, Epilim, makes The Pill not work so when you've had a few drinks and are young and fertile…..
Anyway, I was living in a share house with 4 other people, and had less than $400.00 in the bank even though I was working from midnight until 6am at a radio station or Djing in a night club.
Not ideal hours for daycare.
I went to the hospital for my first check up and scan, I think its around 16 weeks? Or 12? I can't remember.
The midwife was on exchange from France. Her name was Manon and she was lovely.
She sensed how scared I was and assured me I was making a good decision and that everything would be ok.
She was so right.
I can't imagine life without my Darling Manon and have never regretted having her for a second.
In fact, Im indebted to her.
I stopped smoking and drinking for 3 years!
I remember I was still DJing at Q Bar in Sydney when I was over 6 months pregnant, but behind the DJ console you couldn't tell, so guys would come up and offer to buy me a drink and then I'd slip out from behind with my big belly just to see the look on their faces. HILAIR!
I went into labor while watching 'Its A Wonderful Life' on Christmas Day in 1999 and Manon was born on December 28. An emergency caesarean.
Manon is currently in year 11, working at McDonalds (even though she is vegetarian, hence the cooking of veggie soup) and Kmart, and is as funny as she is beautiful.
Very.
On the inside and outside.
I hope the movie was a sign, and she has a most 'Wonderful Life'!
My second child is 13. And she was also a surprise.
Who knew you could get pregnant ON YOUR PERIOD!??
Not this good (unwed) Catholic girl.
This could be TMI (too much information), but, Velvet was conceived before the July 14, 2002 AFL game where Port Power kicked a goal AFTER the final siren to beat Sydney Swans by 2 points.
This was even more satisfying as Sydney Swans have the old Port Magpies song and were already singing 'cheer cheer the red and the white' before WE WON! (I go for Port)
Her Dad wanted to name the baby, boy or girl, Charlie, after Charlie Watts from The Rolling Stones.
He was a big fan and on Feb 22, 2003, I took him to see them live at the Sydney Super Dome.
After the concert, he went to a bar and I went home to see my sister who had babysat Manon.
I remember coming inside, and then waking up on the kitchen floor, with my sister and ambulance officers around me.
Almost everyone at The Stones concert was wearing their 'poking tongue out' logo badges that flashed red and blue lights. I'm guessing that was the trigger.
'The Baby is Ok', my sister gently said.
'What Baby??!!" I asked.
When I have an epileptic seizure, I have amnesia for a while afterward so I had no idea I was pregnant.
'Your Baby,' she answered, while referring to my HUGE stomach.
I took the shock of being 8 months pregnant rather well but had to ask,
'Who is the Father?' just as he walked into the room.
The same guy who was Manons father, who I had been living with for four years.
'I am. Remember Me?', he asked.
I had no idea.
After a few minutes I worked it out.
My Doctor told me that because of my seizure, I had to have a caesar, so I wasn't as keen to call the baby after The Rolling Stones drummer.
Not that I blamed them, but, you can't always get what you want!!
So, I placed one of those Baby Names books on my 8.5 month pregnant belly and asked the baby to choose a name.
I opened the book to a random page and with my eyes closed, my finger landed on 'Velvet'.
"We need a Boys name, " I said to the babe in my belly, and, again and my finger landed on the name Velvet!
I made sure the book wasn't opening to that page and decided to point my finger on the opposite side of the book so that, I thought, it would be a different name, but, my finger slid to the centre of the book and right next to Velvet again.
The night before I was going in to have the Baby I found out my Gran, Adeline Hannah, had died.
On April 3, at 11.11am, Velvet Adeline was born, She is already kicking goals!
If I had to describe myself, which i kind of do, I could say….
I lose a lot of mobile phones.
I am either extremely healthy or having too much fun.
I love singing (esp to Whitney, Micheal or Bowie) and often get the words wrong. Don't care.
Spend too much money on clothes.
I love New York, cheese and chocolate. I should just make chocolate New York Cheese Cake, but
I am not a great cook.
I love watching AFL.
I like holding hands, meditating in the park, running along the beach…..
It sounds like I'm writing my dating profile
I AM BLESSED with amazing family and friends!!
I surveyed a couple of people I have known and worked with (for around 18 years)
today and asked how they would describe me in a word or sentence.
Zoe is … always late! ('cause she's usually buying me a coffee)
A dedicated loving Mum, generous, happy, always lifts the vibe of any room she walks into, goes out of her way to get to know you or help you. She's also a little bit crazy (in the nicest possible way 😉 and completely computer illiterate … which is why I was surprised to get this email.
Thanks Creg
And this is Jo,
If people looked at the World though Zoe's eyes, what a wonderful magical place we would all live in.
The most kindest beautiful soul that I am lucky enough to call my sister and best friend.
She maybe unlucky in love but those around her are the luckiest to be loved by Her (Zoe).
Zoe…She's mad and she's magic.. There is no lie in her fire.
I am really looking forward to my new friendships with you!
Yes, I am late, crazy, random and unlucky in love, (that always makes for a good story), but I promise to be honest and I will try to be entertaining!
Let me know what YOU would like me to write about….
PS. Don't hold it against me if you don't like Port. Or AFL.
I go for Port because my Poppa did, and he would take me to Alberton to watch the Maggies from when I was a wee bearn.
They say, 'You can take the girl out of Port Adelaide but you can't take the Port Adelaide out of the girl.'
I have found this true, for both sexes. Transgender? Let me know!