How to Start Being the Magician in Your Life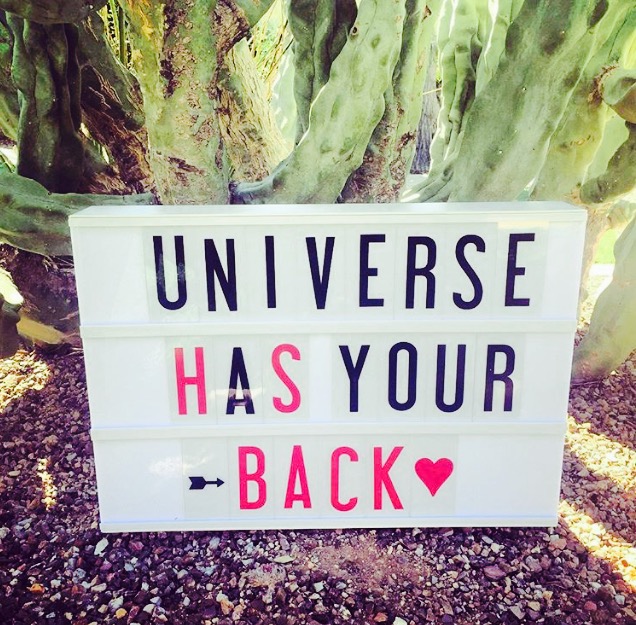 How to Start Being the Magician in Your Life
It's been a while between blogs. This one is important. Please read until the end. Thanks.
September was a full month. I celebrated another birthday. Lunch with my gorgeous girlfriends which turned into dinner and dancing. Babies were born and an old friend passed.
I was back 'on air' at Nova 96.9, filling in on the breakfast shift while Fitzy and Wippa were on holidays.
The important thing I'd like to share with you about September, was that only a month or two before, I made a 'vision board.'
A vision board is usually made of cardboard (can be any size, or shape…my girlfriend had a heart shaped one) and then you find pictures in magazines, or real estate brochures, or holiday/travel mags etc of things you would like in your life, and then stick them on.
The first time I made one was when I was teaching my kids meditation class. We were learning about goals. The kids made really cool boards and I was inspired to make my own.
I put on a pic of New York, then visited there the next month. There were beach holidays, tick! An engagement ring…tick! (Although it looked like the pic on my vision board, it heralded the end of that relationship. I had ALSO put on pics of Crazy, Stupid, Love and The Notebook because I wanted to be in a passionate loving relationship (like in a movie), which is maybe why the relationship I was in ended. It was just crazy and stupid.
The other thing, of note, I stuck on that VB was some words I'd cut out that said, 'Singing In The Shower". I couldn't remember the last time I had…and then after I was dumped it was to be a while longer…but, I remember feeling SO EXCITED when I realised I was once again so happy that I was, singing in the shower!
So, back to the latest VB. I stuck a pic of the cover of, The Rise Of David Bowie book by Taschen. I'd seen the book in LA but couldn't afford it, and I have other great Bowie books, but I stuck the pic on just cause I LOVE BOWIE.
Next minute it was given to me for my birthday! (Thank you Jo!!)
There are loads of other things on my VB I'm sure will come very soon, but I realised what was key with this magical manifestation, is that I had no attachment to it. I stuck the pic on, thought it was great and then forgot about it. This is the secret to 'allowing' your vision to become real…it's like ordering your fave dish at a restaurant, you order, then forget about is as you KNOW it will be brought to you. You enjoy the wine, conversation and view etc, while your food is being prepared. What can sometimes trip me up, is asking for something, (or someone like Ryan Gosling) and then losing hope.
Thinking the Universe has forgotten….'its taking soooooo long!'
In the wise words of George Michael, 'You Gotta Have Faith. Faith. Faith'.
Divine Timing.
The other cool thing that works with manifesting is 'putting it out there'.
My brother and I were asked to put together a radio show demo. He is very very busy and finding the time and place to get together and record it was proving to be very difficult…
SO, I recorded a mini meditation for us. I sent him a copy and the plan was to listen as we went to sleep (or had a spare 5 mins) and then it, as it says in the meditation, 'will all come together with ease and grace…we find time to rehearse and record the show…'
The meditation went on…' imagine what it would feel like to be working with people you love and really enjoy being with…people who are genuinely funny, picture yourself laughing at work, having so much fun, doing a job you really love…'
It's weird the way the Universe works! I listened to the meditation at least 10 times, but instead of working with my brother, I worked with a team of awesome people at Nova. They are genuinely funny and I had a great time! Thank you Universe!
My advice to you is to spend some time alone and think about what you would like to create.
Flick through magazines for inspiration, tear out pics ready to make your own vision board. Or, if you don't feel comfortable having your 'hopes and dreams' on display, you can put them in a secret box, like treasure trunk…a manifestation chest.
Take the pics out often and look at them.
Whichever you choose, the important thing, is to take 5 mins as often as possible (maybe as you're going to sleep) and imagine they are true. Imagine what it would feel like to have your dreams come true. Picture yourself on that holiday, imagine the sand between your toes, or what the New York pretzel tastes like! Are you thirsty?!
Or, see yourself walking out of the gym, yoga class, park etc and imagine feeling satisfied and proud of yourself that you committed and took the class/walk/run etc Imagine feeling healthy, energetic and toned.
It's actually FUN! It's called daydreaming and you probably did it a lot when you were a kid!
Allow your 'inner child' some time to daydream and play now. What would you like to create in your life? Who would you like to see in the mirror? What kind of person would you like to be?
You see we are at the end of a 9 year cycle. 2016 is a 9 year. 2 + 0 + 1 + 6 = 9
September was a 9 month (with 3 triple 9 days…9/9/2016, 18/9/2016 and 27/9/2016) so we have been completing relationships, projects, places, phases etc that may have started back in 2008. 2017 is a ONE year. New beginnings! fresh new starts! And as October is a 1 month, you can start thinking about your new creations, habits, beliefs and exciting new adventures NOW!
Finally, as I've said before, 'the attitude is gratitude!'
Be thankful for the past, then let it go. It's over. It's done.
Be thankful for the present. Look how far you've come. You're amazing!!! Well done. You made it to here. October 2016! Brilliant.
Be thankful for all of the awesome experiences ahead. Whether you'd like relaxing or exciting, loving and passionate, wisdom, creativity, awesome beyond awesome, great surprises, success and synchronicity…or all or this and more, be thankful because you are limitless and you have infinite paths and possibilities ahead.
Remember, the Universe has your back!
Love Always,
Zoe X
PS. Order your own personal meditation from www.zoesheridan.com or email me at [email protected]
Manifest Magical Miracles!!