Wax On, Wax Off! Which Body Part Do You Prioritise To Wax?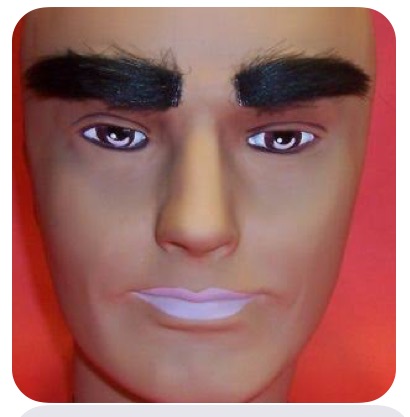 Wax On, Wax Off! Which Body Part Do You Prioritise To Wax?
I don't know about you but I've had a very busy week.
SO busy that I just took my daughter to an audition a week early!!
There was a little confusion at the reception desk when Velvet was the only teenage girl in the waiting area with a group of young adult males. I had wanted her to go in alone while I looked for a park, thankfully she refused.
On the bright side she not only knows all her lines (a week early) but, along with her sister Manon, will unlikely be embarrassed easily after a life living with me.
I am like a cross between Eddie, Patsy and Frank from Some Mothers Do 'Ave 'Em.
As Velvet's beautiful agent, Michelle said, 'At least you weren't a week late'.
I am not the worlds greatest stage Mum. One end of year concert extravaganza I left part of Manons costume at home, her hat. Thats ok, I said her, at least we have everything else, just go on and smile, no one will notice. Then I watched in disbelief as the girls paraded across the stage in huge hats, Manons clearly missing, as they sang, 'In my Easter Bonnet, with all the frills upon it!'

This weeks highlight was watching my Darling Godson, Jack Ruwald, in the Sydney Theatre Company's production of Arthur Millers play, All My Sons.
Its an intense play.
As I walked out I said to my Lovely Date, Tim, 'That was as full on as seeing The Crucible!'
'Same playwright,' he quipped.
'NO???"
'Yes, Arthur Miller.' Tim said.
I wondered how Arthur Miller could write such sad plays AND marry Marilyn Monroe.
I realised (Tim told me) this play was written in 1947, before he even met Marilyn.
Written also only 3 years after WWII, insightfully showing how effected the returned servicemen were way before they named it PTSD (post traumatic stress disorder. I think back then they may have called it shell shock.)
It's a play where the performers are so generous and their performances, so authentic, that you can't take your eyes off them and I was both exhausted and elated at the end.
Diana Simmonds called the play 'Solid Gold' in her review for Stage Noise
And 'On opening night young Jack was utterly charming and undoubtedly his Godmother and Mother – in the audience – were madly proud of him.
Just like my brother, Hugh, Jack has always known what he wanted to do. Dance. Sing. Act. Entertain!
How fortunate to know what your life's purpose or your 'calling' is from as young as you can remember.
I found an old school paper I'd filled in aged 8. Under the headline "What I will be when I grow up" was written
Doctor
DJ
Actress
Bloggers weren't invented yet!
So I have acted/presented, DJ'd and I guess teaching meditation and practicing hypnotherapy (a newly acquired skill) would come under the heading, Healer, which is what a Doctor is. In a way I ticked off my list.
When Hugh was little, he liked Play School and Sesame Street but he LOVED Fred Astaire, Gene Kelly and Micheal Jackson. They were all insane dancers.
He loved watching 'On The Town' an old movie starring Frank Sinatra and Gene Kelly.
Hugh would put a broom across two kitchen stools, using towels for curtains, and send out invites to his latest 'show'.
By the time he was four he had his own Top Hat and Tails.
He would put chairs out and candles. It was serious business and he was brilliant.
I remember watching Hugh in the Playhouse at the Sydney Opera House performing a one man show called Newly Discovered and feeling so proud I cried tears of joy.
(Anthony Newly wrote the music for Charlie and The Chocolate Factory, GoldFinger, and other epic songs).
Similarly, Jack has performed concerts since he could walk and talk, with OTT costumes!
He began ballet at 2, and is so committed to almost nightly classes and honing his natural gifts.
He shows a dedication and maturity beyond his 9 years.
Again, I was so proud I cried tears of joy. Yes, Diana, I was 'madly proud!'
I feel so blessed and so privileged to watch our Babies grow, surprising and delighting us along the way.
My dear friend, Angela, lost her beautiful son, Josh Deegan, in the 2002 Bali bombings.
He was only 22.

She lost the privilege and her son. Just the thought of this….. actually, I can't even think of it.
Last Friday, 03/06/16, Angela's youngest son, Nick and his partner welcomed into the world, Jack Joshua.
Angela said, "Soooo in love Zoe ….I didn't think I could feel this way again…The Universe has been kind to me!!!!"
Babies are healing. Heaven on Earth. My love and congratulations to you all!!
Welcome Jack! And thank you!
On the drive back from the non-audition, I asked Velvet what she wanted to do when she 'grows up'?
'I don't know.' she replied.
(Knowing that quote, 'Do what you love, and the money will follow,')
I asked, 'What makes you happy?'
'Love,' she answered, with a 'you're so weird' look.
'What else', I asked
'Family' she said getting out of the car.
Her answers made me happy, and again, so proud I felt like crying.
May we all have the privilege of watching our kids grow. And may we always remember it is just that, a privilege.
(Right now Im making her clean and sweep under her bed, she's not happy Jan, but I LOVE HER even when she's mad!)
Because its a long weekend, and you may have already binge watched Game Of Thrones or House Of Cards..
Here is some extra blogging.
Just like blogging, a newish career is eye 'brow stylist'.
As my lovely luck would have it, my friends cousin is learning how to be a professional eye brow styler.
Yes, this is a job now. In fact, where she works, thats all they do, Eyebrows.
No legs, moustaches (top lips) etc, just B R O W S.
Pardon the pun but its a 'high brow' salon.
I have fair hair, The Blinds match the Drapes, so I have fairly 'fair' eyebrows.
I actually love it when I do have to have my makeup professionally done and they colour in my brows.
They look thicker and somehow frame my face. In eyebrow world its called 'defining' le face!
My friends cousin needed a model, so, given the opportunity for a free 'brow makeover' I was in LIKE FLYNN!
Well, what an experience!
First it was the consultation. Shape (not much they could do there), then colour (they decided to mix to together), and then waxing. The waxing, BTW, didn't hurt at all, in fact, it was king of relaxing.
In the middle of my brow tint, a PTY (Pretty Young Thing) dashed into the E.R. (salon) to meet the GP (genius-brow professional) with a 'BE' (brow emergency) and was urgently given an ECG (eyebrow consultation go-over).
PYT, "I don't know how, but the hair has just stopped growing in this patch" she said, pointing to the area
GP, "WoW! Its actually round in shape…."
GP asks genuinely, "Have you changed your diet? Are you on any medication? Have you been stressed out?"
PYT, "Well this eyebrow is stressing me out"
GP, "Don't worry, I can fix this" (Coldplay fan)
She handed PYT a prescription for steroids…..
……….only joking!!! Some where you can actually buy eyebrow wigs (seriously), but not sure about toupee's yet.
I am not sure how they fixed the eyebrow crop circle as it was time for my brow reveal!
Suddenly there were three girls staring intently at the finished brow-do with reactions,
"the colours great!"
"oh yeah, perfect."
"can you believe she's NEVER had her brows done before"
The other two girls gasped in unison, "REALLY???????"
I nodded ashamedly feeling like Steve Carrels character in The 40 Year Old Virgin.
No wonder I don't have a boyfriend, I've been ignoring my brows!!
Most people love my new look.
In fact, some people including colleagues and my mini meditation students think I look younger!!
My best friends call me Frieda Kahlo (Im trending ready for the exhibition next month at the Art Gallery Of NSW)
And another sent me this complimentary pic of Ken.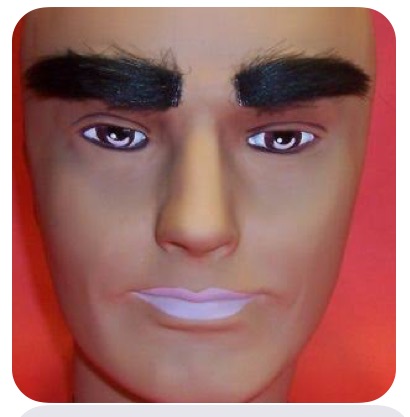 I think I look like Elvis
The Brow is an important means of communication.
For example, you can tell what someones thinking if they raise one. Or two!
Or both up and down or both squeezed together..a frown!
Eyebrows are back Baby! There was Audrey Hepburn in the 60's, Brooke and Cindy in the 80's,
Cara Delevingne and Kendel Jenner in the 21st Century, and now Me! Obsessed. I love them! Thank you Dimity!!
Do I get BROWnie points!
Have a perfect week! X
PS. You can donate, (or attend fun runs, golf days etc, held in S.A.) at www.jdfoundation.com.au
.