7 Memorable Live TV Bloopers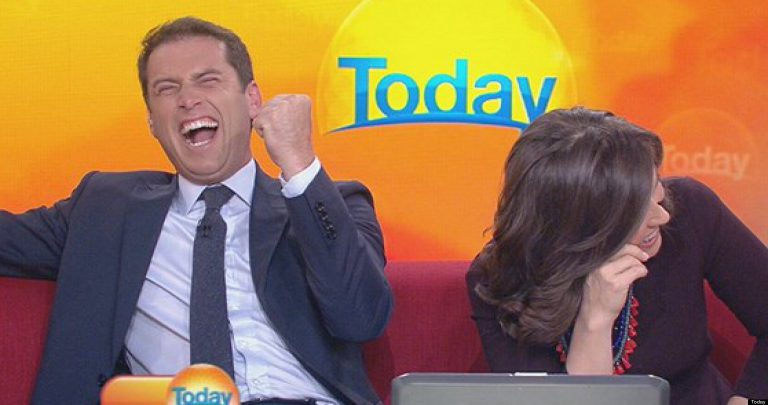 7 Memorable Live TV Bloopers
We all love a good old fashioned blooper reel, whether it's a slapstick-style trip-up or an innocent slip of the tongue that turned into something not so innocent. Hey, it happens to the best of us, right?
But every now and then something magical occurs, turning the standard run-of-the-mill blooper into something amazing. We laugh, we cringe, we talk about it. Sometimes TV presenters are boneheads, just like the rest of us.
Here are seven memorable slip ups on live TV we'll never forget.
1. Malcolm Turnbull's Pig Bitch
This one happened just weeks ago in the lead up to the recent federal election. Seven Weekend Sunrise reporter Talitha Cummins spoke live to political correspondents regarding prime minister Malcolm Turnbull's party launch in western Sydney. While trying to say 'big pitch', the presenter got her words muddled up a little.
2. Sarah Murdoch names the wrong Next Top Model winner
Number two still has us cringing in embarrassment for poor Sarah Murdoch. The presenter of the Fox8 reality programme Australia's Next Top Model accidentally revealed the incorrect contestant as the winner during the live finale after a communication error.
We didn't know who we felt more sorry for – the winner-turned runner up, Kelsey, or Sarah herself!
In an interview shortly after the 2010 incident, Sarah revealed that she still feels sick about the debacle, and that she can't watch a replay of the incident. Can't say I blame her, I don't think I could either!
3. Steve Jacobs is attacked by a pelican
In one of the funniest weather segments Channel Nine's Today Show has ever produced, weatherman Steve Jacobs crossed live from Taronga Zoo with his report. He introduced us all to Marnie, the excitable hand-reared pelican, who took to the likable Jacobs in a big way.
As Steve went on read the weather forecast, his broadcast was interrupted with screams and laughter.
The camera cut back to the zoo – revealing the hapless Jacobs pinned to a wall by Marnie the pelican pecking his behind.
4. US Reporter attacked by a large bug
Okay, so this one isn't nearly as scary as a pelican but the reaction of Fox 5 reporter Brad Willis on a San Diego beach had me in stitches. Toughen up, man, it's just a little bug.
5. The world's worst magician stuffs up his magic trick
This incident happened just last week in Poland. Marcin Poloniewicz, who has appeared on "Poland's Got Talent," has now been dubbed The World's Worst Magician. He attempted to perform a magic trick with Marzena Rogalska, the co-host of the morning show "Question for Breakfast".
Unfortunately, we will never know the wonder of his astounding trick because it went terribly wrong, and resulted in the poor woman impaling her hand on a nail!
She later revealed that her injury wasn't too bad and that she didn't require stitches. How bad is the magician's hair though?
6. Italian actress does the splits
There is a lesson to be learnt in this video – and that is to think carefully before showing off any gymnastic abilities you may claim to possess.
Last year, Italian talk show MezzoGiorno Italiano featured a segment that gave Lisa Fusco, a singer and actress, opportunity to show off her go-to party trick – a leap into the splits.
Unfortunately for Lisa, things don't end well. That's what you get for showing off unrelated mad skillz during a cooking segment.
7. Karl Stefanovic orders a Peking Duck
Now what's a decent, self-respecting bloopers article without the Blooper King himself, Karl Stefanovic? Love him or hate him, the man is a walking faux pas.
This Today Show segment started off hilariously badly and didn't get much better! Karl was interviewing a shark expert Paul Burt, who accidentally reeled in a live duck with his fishing rod during the segment. Happily, the duck was not hurt in the uncanny incident.