Just One Day Out Of Life, It Would Be So Nice! Holiday!!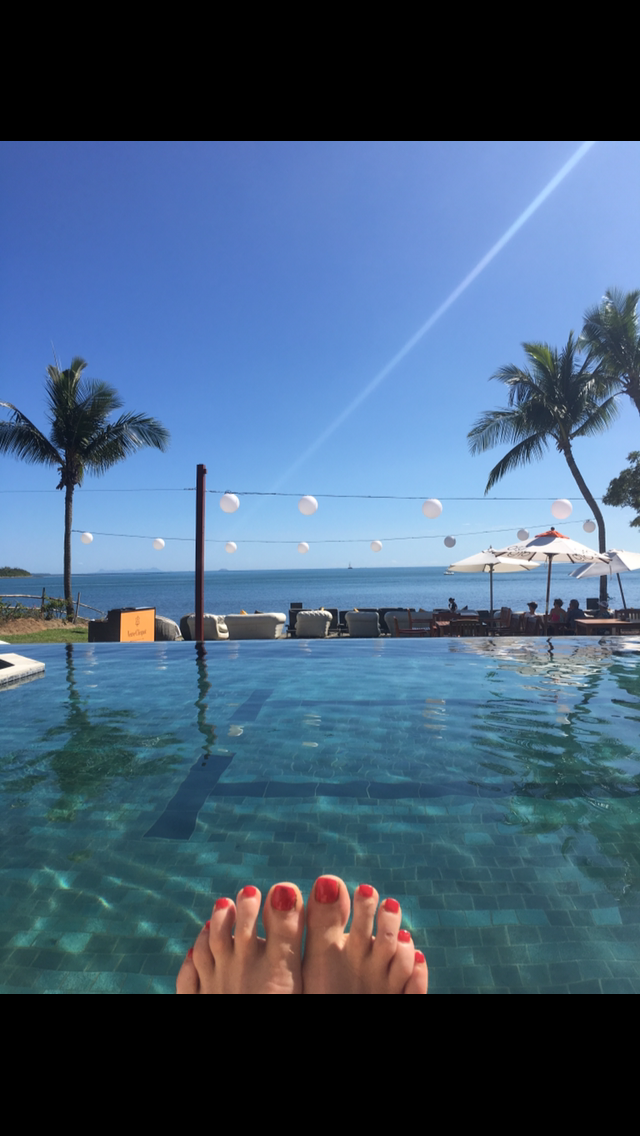 Last August 11, the planet Jupiter came into my star sign, Virgo. JUPITER IS THE PLANET OF EXPANSION, LUCK and TRAVEL . Whether you believe in the stars and horoscopes, or whether you don't allow anyone the power to push you around, including planets, its a pretty crazy coincidence that since last September I have been to six countries, some twice, on four separate trips. I have also travelled in Australia, even on a cruise ship!
The 'expansion' could be applied to my waist line with all the food and cocktails Ive consume



As I type this Im waiting for room service to arrive. You see its finally raining in Fiji where I am currently extremely relaxed, sunburnt and fatigued all at once from, if its possible, having too much fun!
I am very blessed to have had these travel opportunities and cannot thank Jupiter alone but also my fabulous friends that know I am not one to say no, when they say, 'Lets get away!'
My girlfriend won a holiday (theres the Jupiter 'luck') and invited me along.
And we weren't the only winners.
This trip began on a high note as, while we were mid air, Fiji won their first gold medal ever at The Olympics for Rugby Sevens. EVER! I was awoken from my nap by the entire crew and passengers clapping and cheering. I had no idea what was going on until the pilot again explained about the Gold Medals adding he was shouting drinks for everyone!
There were also 'snakes on the plane, but they were lolly snakes.
One of the highlights so far was the day we decided to go on a 'Jet skiing Safari'. I had never been jet skiing and before we even started I could feel my inner child begin to panic. We set off on a sunny afternoon but before long, I mean around 10 minutes into it, the wind really picked up and I felt like my jet ski was going to tip over. The guys told us 'the faster you go the more control you have'. It was the opposite for me. I pressed the red STOP button and waited for my rescue. They were very understanding and I thought, to my inner child's delight, that I would be going back to shore. Wrong. He told me to wait there while he sped off and came back with Dos, rhymes with Ross, a big Fijian man to drive while I sat on the back.
Lucky (Jupiter again maybe) they did because the wind got stronger and the waves got larger. Even Dos had to keep stopping because his eyes were so sore from the salty spray…..or he was crying cause he was scared? I can't be sure! We were flying high and then crashing down again over and over. Sometimes he would zig zag through to try and make the journey smoother. We were far away and with an experienced driver I felt scared.
Then I let go. I surrendered.I closed my eyes and pretended I was riding a dolphin. My imagination took over and my dolphin became half dragon. Like a winged Dolphin with special powers taking me through sacred water that was cleansing me from the inside out. I opened my eyes and instead of seeing scary waves I saw the setting sun shining a golden path and my friends on their jet ski's became the king and queen dragon/dolphin riders. I was filled with awe which then became joy! 
Pretty soon I was standing up on the jet ski, holding onto Dos with one hand and waving and whooping with the other!
Like 'Giligans Island' had their three hour cruise extended, our one hour safari turned into an epic 2 hour adventure.
The most awesome highlight of this holiday has been very limited wifi and phone connection. The only thing could use my mobile for was the camera. Its been JOYFUL! Seriously. I know mobile phones are a great luxury (like when you get a flat tyre on the way to work and you're ME) but they can also be stressful. Being contactable 24/7 is crazy. Even Doctors delivering babies go on holidays….its funny how its usually around your due date! Haha!
No phone means no reminders that my AGL bill is overdue, my car needs servicing, my daughter can't find her netball shoes, when will I be home for the man to fix the roof?
No texts from people who are mad with me! Joyful…I mean HEAVENLY! I've had a 'do not disturb' sign on my life! You can lay by the pool but still get sucked into checking emails and social media.
This was not just a physical break but a mental one too! 
I have read books, written about my dreams and my dream man. I have meditated at least twice a day, danced on the beach (way down the far end where no one could see), but most importantly, I have been PRESENT with everyone.
At meal times (and cocktail hour) I have had conversations with people, looking them in the eyes instead of looking down at my phone overtime it dings, rings or vibrates. I walked paths noticing the flowers and trees instead of looking down at my phone. I have made new friends, new laugh lines on my face and conga lines through the restaurant. I'm going dancing now with my new Fijian friends, the happiest,funniest people I have met in a while! Bula!
When I arrived home I found a beautiful invitation had arrived not in my 'inbox' but rather my letterbox. My Darling pink letterbox which is usually fed late parking fines and Priceline catalogues was beaming with 'Social September', an idea encouraging us to disconnect with social media etc and RECONNECT face to face!
This brilliant idea, dreamed up by Bianca Venutti 5 years ago, raises funds for the REACH foundation, helping all young Australian people, no matter their circumstances, to 'reach' their full potential with programs that promote connection and build self-belief. The average cost to provide a specialist program is just $80.00… you could save that on your downsizing your downloads!
There are over 100 ideas to try and you need only do 25, not even one a day, to be 'socialseptember'. There are awesome events, a great way to meet new people. IN THE FLESH!
I haven't been on Tinder etc but I've heard the profile pics are not always true to form so to speak.
Or, have your own event and reconnect with friends you haven't seen for a while. Spring is here! Meet a friend for a walk in the park, get your feet wet in the ocean, write a list of intentions to do before Christmas…..or go alone, and connect with yourSELF!
Reconnect with your kids! Just eating dinner together with the TV, phones and iPads turned OFF is a BIG change for some families. Reading a bedtime story is fun for you too. You can register for this awesome event here http://www.socialseptember.com.au
To help raise money for Social September, I am donating half the money I make from every mini mediation I sell to REACH. They are children's meditations but there is a great one for adults too, or just listen to with your Kids and indulge your inner child.
Only $2.99 each and they are available to download at zoesheridan.com
In the words of Deepak Chopra, 'Meditate, meditate, meditate.'
Remember, 'The most exciting, challenging and significant relationship of all is the one you have with yourself.' Carrie Bradshaw, Sex in the City.
Love, Zoe