Man Lists His Wife With 'Decent Bodywork And Skills In The Kitchen' For Sale On Ebay!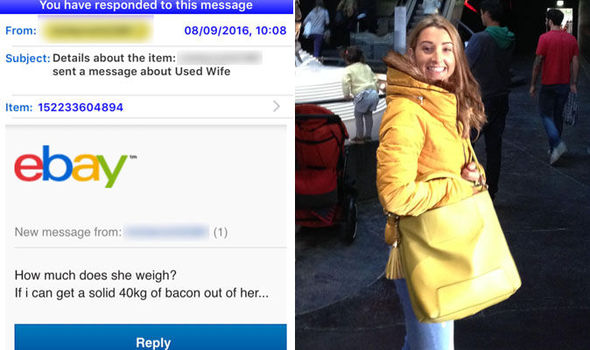 A husband put his wife up for sale on eBay saying she still had "decent bodywork and skills in the kitchen."
The Yorkshire man, Simon O'Kane, decided to 'sell his wife' Leandra, because she didn't give him enough sympathy when he complained he wasn't feeling well.
The tongue-in-cheek ad detailed his reasons for selling her and the pros and cons of the "purchase".
The prankster hubby uploaded the listing at around 10pm last Wednesday and just two days later the bids had reached an astonishing £65,880!
When Leandra found out about the ad she hit the roof and said she "wanted to kill him." Partly because he had chosen such an unflattering photo of her to begin with!
Mr O'Kane, a telecom engineer said: "I came in after work feeling a bit tired and unwell – my was wife doing the usual concerned bit but said I was burning the candle at both ends and was basically just whining at me.
I thought 'right I'm going to put you up for sale'."
The eBay listing continued with a list of reasons as to why his wife would make someone else very happy.
"Not new has been used but still got some good miles left in her. Reason for selling… I've had my fill and feel like there HAS to be someone me (oh dear God please let there be). Good points: Body work and paint work still in decent shape and has some skills in the kitchen.
Bad points: Often makes this noise that cannot be silenced unless you order brand new shiny parts of metal. Sometimes them skills in the kitchen result in you ending up in hospital. All in all not a bad model for the year, I'm sure some lucky guy will get lots of use."
Leandra said she had no sympathy for her complaining husband as hemalways managed to find time to go to the gym despite saying he was exhausted.
"He always moans he's poorly, he's a hypochondriac, then he swans off to the gym for three, four hours at a time. I told him if that if he can go to the gym then he doesn't deserve my sympathy," she said.
"If eBay hadn't taken the listing down, who knows how much I would have got?"
Photos: Google images