Fantastic Furniture Launch Their Wiggles Bedroom Furniture Range (Giveaway)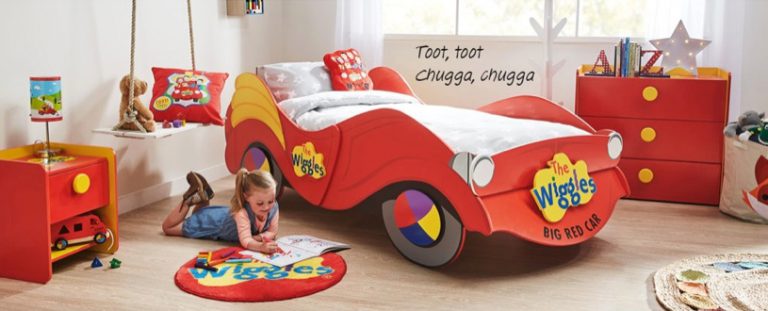 Toot Toot, Chugga, Chugga! Fantastic Furniture Launch Their Wiggles Bedroom Furniture Range (Giveaway)
Sponsored post
Get Ready to Wiggle! Fantastic Furniture have launched their new Wiggles bedroom furniture range, and we think you'll LOVE the fun, bright designs and (just as importantly) the price! We're talking affordable with a capital A!
Could this be the end of the bedtime struggles? Maybe, maybe not, but seriously, what Wiggles fan could resist sleeping in this fun 3D replica of the iconic Big Red Car?
The bed fits a single size mattress, and features contoured sides to keep little people snugly cocooned in their bed while they sleep. Price: $399
The Wiggles mattress is made with hardwearing cotton and features the world-renowned Bonnell Spring system to provide comfort and support whilst your child sleeps. Price: $199
For a co-ordinated look, you can also pair a bedside table and lowboy drawers with the Big Red Car bed.
The lowboy features 3 deep drawers fitted with large handles, designed specifically with little hands in mind. Perfect for teaching them not only to take things out to dress themselves, but also to help them learn to put things away! (A parent can dream!) Price: $269
The matching bedside table has also been designed with little ones in mind, and features the same large easy-to-grip drawer handle and a raised edge to avoid any spills or knocks. Price: $99
Serious Wiggles fans will also love the accessories available at Fantastic Furniture to complete the look, with a selection of cushions, a circular rug and a bedside lamp available.
Check out the Wiggles bedroom furniture collection for yourself here
Giveaway
Fantastic Furniture are giving away 5 x Ultimate Wiggles Accessory Packs (valued at $105 each) to 5 lucky Mums Lounge readers.
Each Wiggletastic prize pack includes:
Wiggles Rug ($30)
Wiggles Square Cushion ($28)
Wiggles Novelty Cushion ($18)
Wiggles Lamp ($30)
To enter, simply complete the entry form below. Good luck!