Welcome the Summer with This MEGA Peppa Pig Prize Pack!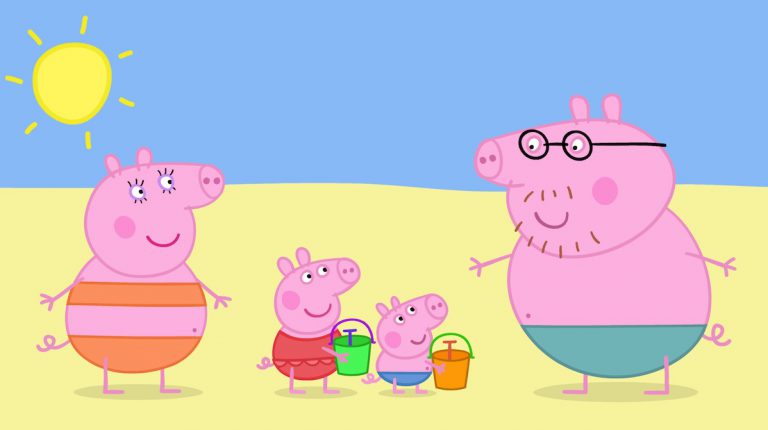 To celebrate the beginning of our Australian summer, Peppa Pig is rolling out a summer-fun range of toys, books, sunscreen, DVD and much more, so that this summer will be the best ever!

Peppa Pig has so much fun splashing around in muddy puddles, but when the sun is shining and the weather's warm and beautiful, she loves taking a summer holiday to the beach with her family.

As Cancer Council's newest ambassador, along with her Cancer Council sunscreen & Zoggs swimming aids range, Peppa always loves to be sun-safe and water-smart on her holidays. Below is what Peppa will be packing for these summer holidays to ensure she has safe 'fun in the sun.


Talking Holiday Peppa: RRP $34.99 (3+ years)
Press Peppa's tummy to hear cute holiday phrases like "Yippee it's sunny!"
Dressed in her cute bathing costume, with her sun hat and armbands, she's 'sun-smart' and ready for holiday adventures!

Sunshine Villa: RRP $34.99 (3+ years)
Peppa Pig and George are on their holidays! Open up the Peppa Pig Holiday Sunshine Villa Playset to play in the paddling pool, or relax on the sunlounger!
There's lots of holiday accessories and furniture for loads of holiday fun with Peppa and George!
Includes:
A bunkbed with ladder, shower cubicle, BBQ, paddling pool with inflatable, deck chair, sun lounger and lots more.

Ice Cream Van: RRP $34.99 (3+ years)
Introducing the Holiday Ice Cream Van with tricycle, table with sun umbrella and board sign.
Help Peppa sell some yummy ice creams, then connect up the tricycle & away Peppa goes!
Includes:
Free-wheeling wheels, lots of removable ice creams for Peppa & her friends and 'Holiday' Rebecca the Rabbit figure scaled for play with other little character toys.
Air Peppa Jumbo Jet: RRP $39.99 (3+ years)
Take off in Peppa's Jumbo Jet for some holiday sunshine.
Open up the baggage compartment and load in Peppa's suitcases. Open up the door and Peppa can board her flight.
Includes:
Articulated Peppa Pig figure & two suitcases, free- wheeling wheels and opening doors/luggage compartment.

Peppa and George Pig Sunglasses: RRP $20 each (2-6 years)
Help protect little eyes from the sun's rays, in true Peppa Pig style.
Designed with fun bright colours and character images on the arms, helping Peppa fans to be sun-smart is easy, as well as safe!

Peppa Pig Bubble Bath: RRP $5.00 (3+ years)
Make bath time fun with bubbles and Peppa Pig!
Little ones will love bath time with Peppa Pig and this sparkling bubble bath that really knows how to bring bubble fun to bath time.
Peppa Pig Summer Fun Sticker Book: RRP $7.99 (3+ years)
Peppa, George and all their friends enjoy the summer at fetes, funfairs, picnics and the beach too. With lots of puzzles and activities this sticker book will keep all little Peppa fans busy. The perfect activity for a long car journey.
Peppa Pig Cancer Council Sunscreen Range:
50ml RRP $10.94, 75ml RRP $11.95, 200ml RRP $19.45 
As Cancer Council's newest ambassador, Peppa wants everyone to keep sun-safe this summer. Peppa helps make the application of sunscreen child's play for parents, and lots of fun for young fans.
Parents will love that Peppa Pig sunscreen contains the same, very high-protection SPF 50+ Kids formula.

Peppa Goes on Holiday: RRP $7.99 (3+ years)
Peppa and her family go on their first holiday abroad. They pack their suitcases and fly all the way to Italy, where they eat pizza and go sightseeing. But there's somuch to see and do that Peppa keeps leaving poor Teddy behind! Will he make it home in the end? A first experience story that's perfect for pre-schoolers.
Zoggs Peppa Pig Family Soakers: RRP $10.99 (3+ mths)
For some real fun in the sun, introducing the Peppa & George Pig Pool Soakers, fun for all ages, and perfect to have hours of water play. Thesecharacters will encourage confidence and help children enjoy the feel of water as they learn to swim.

Zoggs Peppa Pig Roll-Ups: RRP $11.99 (1 year +)
These easy inflate pink Peppa Pig Roll-Ups made of heavy duty Vylux and dual air chambers for extra safety, will keep your little piglets buoyant and safe as they are learning to swim.

Peppa Pig: The Holiday RRP $14.95 Rated G
Peppa Pig: The Holiday contains a special 4-part episode about Peppa and her family's big adventure. Peppa is a loveable, cheeky little piggy who lives with her, little brother George, Mummy Pig and Daddy Pig.

Peppa Pig Holiday products will be available from all leading retailers nationally.
MEGA Peppa Pig Summer Fun Prize Pack Giveaway
We have a MEGA Peppa Pig Prize Pack to giveaway to one lucky little fan!  The prize includes:
Peppa Pig Holiday DVD
Peppa Pig Sun hat
George and Peppa sunglasses
Large roll on sunscreen and clip on sunscreen
Talking Holiday Peppa
Summer bubble bath
Zoggs swimbands
Zoggs back float
Zoggs swim bag
Peppa's Balloon Adventure book
To enter, simply complete the entry form below.  Good luck!
Love this giveaway?  You might be interested to hear that Go Ask Mum have got an equally awesome (but different) Peppa Pig prize pack up for grabs plus information on how you can get a FREE Peppa Pig DVD these September school holidays!  Enter here.
a Rafflecopter giveaway