Win 1 of 10 Copies of 'When Life Gives You Lululemons' by Lauren Weisberger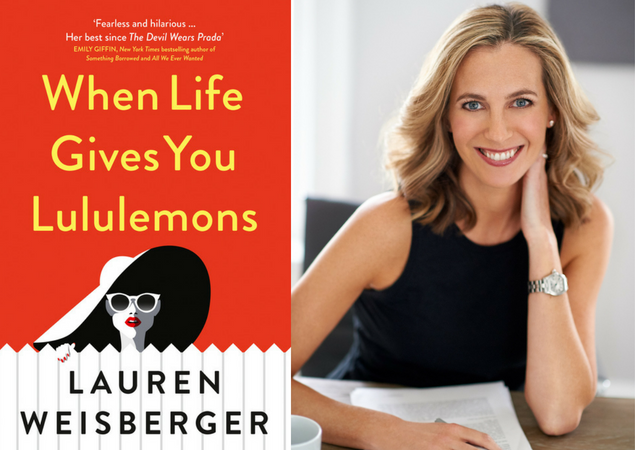 Win 1 of 10 Copies of 'When Life Gives You Lululemons' by Lauren Weisberger
It's been over a decade since the release of the much-loved novel 'The Devil Wears Prada'. Fans will not be disappointed by Lauren's Weisberger's sequel 'When Life Gives You Lululemons' in which she brings back one of everyone's favourite characters, ex-assistant to Miranda Priestly, Emily Charlton. 
Emily Charlton does not do the suburbs. A successful stylist and image consultant to Hollywood stars, she cut her teeth as assistant to legendary fashion editor Miranda Priestly in New York. But with Snapchatting millennials stealing her clients, Emily needs to get back in the game and fast.
She holes up at the home of her oldest friend Miriam in the upscale suburb of Greenwich. And when Miriam's friend, model Karolina Hartwell, is publicly dumped by her husband Graham, a senator with presidential ambitions, Emily scents the client of a lifetime.
It's not just Karolina's reputation that's ruined. It's her family. And Miriam and Emily are determined he won't get away with it. First they'll get Karolina's son back. Then they'll help her get her own back. Because the wives are mad as hell . . .
PRAISE FOR WHEN LIFE GIVES YOU LULULEMONS BY LAUREN WEISBERGER
"When Life Gives You Lululemons is a delicious sequel to The Devil Wears Prada.  [It] reads like 'The Real Housewives of Greenwich,' a reality show that doesn't exist, but should… underneath the shiny surface, both Lululemons and Prada are exploring what it's like to be a woman buffeted by conflicting messages about career, relationships and motherhood. I'm hoping that When Life Gives You Lululemons gets made into a movie so it can become my new favorite."—LISA SCOTTOLINE, WASHINGTON POST
"The Devil Wears Prada's Emily gets the spin-off she deserves."—COSMOPOLITAN
"If you ever wondered what happened to the Miranda Priestly's assistant from the Devil Wears Prada, you'll love this amazing novel about the character Emily Charlton. Weisberger once again weaves a fun tale of how things aren't always as they seem, especially in the most dazzling neighborhoods. When Life Gives You Lululemons is the story of truth, lies and how everyone is a little bit insecure."—ASSOCIATED PRESS
"The new novels, departing from an era in which so-called chick lit so often reinforced gender stereotypes, prove more adept at framing individual women as whole and human than the previous books were…That these books are hugely entertaining cannot be assumed–but they are…add laughs to all the warm-and-fuzzy female solidarity and it makes for a pretty great time."—TIME MAGAZINE
Win a Copy of When Life Gives You Lululemons
Thanks to HarperCollins we have 10 copies of Lauren Weisberger's novel 'When Life Gives You Lululemons' to giveaway!
Simply complete the entry form below! Good luck!