WIN 1 of 10 x HOME (Party Edition) DVD's and Groove Like the Boov!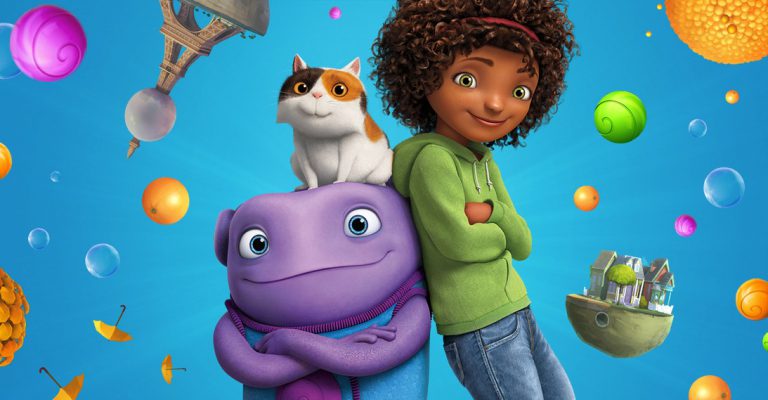 Family movie night's will be out of this world with Dreamworks' HOME.
When Oh, a loveable misfit from another planet, lands on Earth and finds himself on the run from his own people, he forms an unlikely friendship with an adventurous girl named Tip who is on a quest of her own. Through a series of comic adventures with Tip, Oh comes to understand that being different and making mistakes is all part of being human. And while he changes her planet and she changes his world, they discover the true meaning of the word HOME.
Special Features:
Best Party Ever! – A Boov-tastic introduction, featuring a HOME montage and voiceover from Oh, inviting you to enjoy all the out-of-this-world extras!
Oh's Shake Your Boov Thing – Get up and dance with this exciting mash-up of feature footage and music that combines to create an exciting HOME dance video!
Feel the Light" by Jennifer Lopez – Music Video – Move and groove to the Boov beat watching Jennifer Lopez's hit music video from the HOME soundtrack!
Feel the Light" by Jennifer Lopez – Lyric Video – Watch Jennifer Lopez's hit music video with colourful on-screen lyrics to help you sing along!
Oh's Boovy Jukebox – Oh's interactive jukebox includes 16 songs and will take you directly to all the magical music moments in HOME!
Oh's Party Planning Tips – Oh's top tip's for party planning let you create an impressive Boov bash of your own!
The World of DreamWorks Animation Gallery
Thanks to Dreamworks and Mission Foods we have 10 copies to giveaway. For your chance to win simply follow the instructions on the entry form below.
Only open to residents of Australia.
Read full Mums Lounge Giveaway – Terms and Conditions
This post is sponsored by Mission Foods
a Rafflecopter giveaway

Looking for the perfect family movie night treat? Checkout our recipe for Popcorn Ice-cream Dessert Tacos!