WIN an Oyster Max Pram Plus Your Choice of Oyster Max Carrycot OR Tandem Seat (total RRP $1048)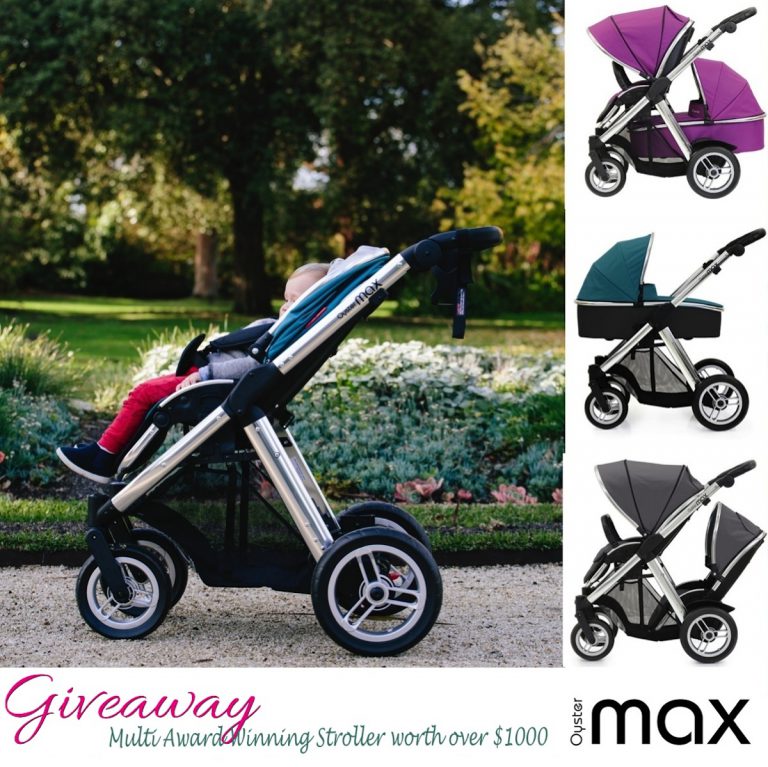 WIN an Oyster Max pram plus your choice of Oyster Max Carrycot OR Tandem Seat (total RRP $1048)
This stylish and sleek Multi Award Winning Oyster Max is the perfect choice for starting and/or growing your family. After hitting the UK by storm and receiving fantastic reviews and multiple awards, the Oyster Max has just landed in Australia and is already winning the hearts of Australians all over country.
Designed to grow with your family, the Oyster Max is stylish and practical – easily converting from a single stroller into an inline double stroller with the addition of an optional Tandem Seat Unit – the Oyster Max can take two seat units, two carrycots, two car seats or any combination of carrycot, car seat and seat unit, and the main seat can face forwards or rearwards.
At just 59 cm wide, the Oyster Max is easily manoeuvred through standard doorways, plush fabrics make the Oyster Max comfortable to be in, and the mirror chassis makes the Max as stylish as it is practical.
With so many different interchangeable combinations, there is a style to suit every need and taste. This beautiful stroller allows you to express yourself and create something that's perfect for you. The Oyster Max chassis is available in anodised silver and anodised black, while the seats and carrycots comes in 6 the choice of 6 fashionable colours to suit all tastes and can be mixed up into multiple combinations using Ocean, Grape, Black, Vogue Teal, Vogue Damson and Vogue Slate Grey.
Every journey out with the Oyster Max will be a pleasure as you can switch from one combination to another quickly and easily allowing you to get out and about more easily with your families growing needs, while always transporting your little one/s in style.
Features
Suitable from birth
Oyster Max can be converted from a single into a tandem pushchair with the optional Tandem Seat or Carrycot (both available separately)
Lightweight and compact, with compact fold
Forward or parent-facing seat
Multiple seat direction options
Lockable front swivel wheels for maneuverability
Cantilever independent suspension for a smooth ride
The prize includes 1 x Oyster Max pram (Chassis + Upper Seat) plus your choice of either an Oyster Max Carrycot OR Tandem Seat in your choice of colour). Total RRP $1048
Oyster Max + Choice of 2nd seat or cot