WIN a Beautiful Baby, Toddler & Kids Canvas Swing from Swingz n thingz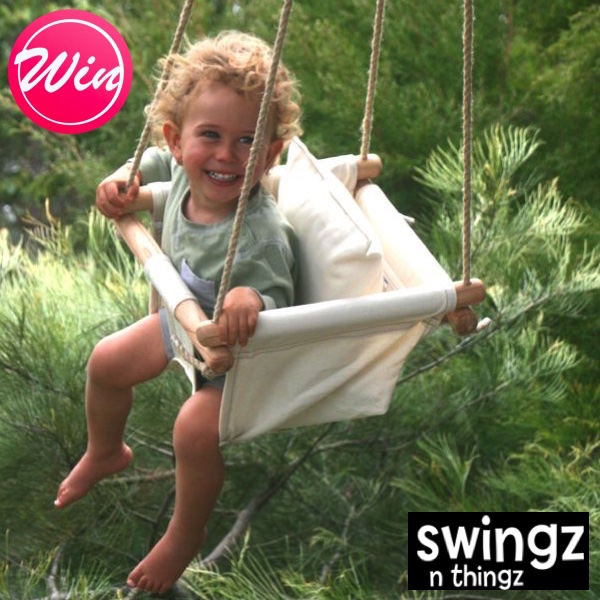 WIN a Beautiful Baby, Toddler & Kids Canvas Swing from Swingz n thingz
There is one gift that is sure to be a huge success in almost any home, a swing. From as soon as they were able to sit up unaided all of my little ones have delighted in spending time just swinging and they still haven't grown out of it.
Swingz n thingz have a beautiful range of swings, with something to suit everyone, including the delightful canvas baby, toddler & kids swing. It's suitable for a wide range of ages, starting from around only 6 months old (or when sitting up alone) right up to 8 years old. The toddler swings holds up to 100kg, so is sure to get plenty of use.
The first thing we noticed when getting the swing out for the first time was the superb quality, which you could almost smell! The fabric is high quality marine canvas, which not only looks and feels amazing, it is also really durable and able to withstand the outdoor elements without rotting or fading. The rope is smooth to touch, so won't rub against delicate little hands, is UV stabalised and of high quality. The hoops and carabena are made out of stainless steel, all ensuring that it will last plenty long enough to be handed down when my little ones have grown out of it.
My 5 year old twins have spent hours pushing each other back and forth in their Swingz n thingz canvas baby, toddler & kids swing and even my 7 year old has been known to come home from School and sneak a turn. The swing seems to offer my little ones both a safe place to play and laugh but also somewhere calming to unwind from a busy day at School or daycare.
The canvas baby, toddler & kids swing is so easy to hang up and take down that it can be used anywhere. We have it hanging under the beams of our sheltered area in the garden but have often moved it to hang from one of the trees at the front of our home, while the older kids are riding their bikes in the cul-de-sac and it often comes down to the beach with us, as it packs flat so pops into its little canvas bag ready to go anywhere.
We simply love the nautical look of the beautiful canvas baby, toddler & kids swing that we chose and the gorgeous little matching cushion just finishes off the look perfectly. There are so many colours and designs to choose from that it was hard to pick one, with beautiful bold bright colours to simple, natural colours, there is a design to appeal to most tastes and would look beautiful in any home.
The canvas baby, toddler & kids swings designs are delightfully beautiful, superior quality, extremely durable and are sure to be a much loved feature in any home for years to come. These beautiful swings can also be finished off with a personal message etched into the wood of the swing, for that personal and loving touch making it a treasured family keepsake for years to come.
Thanks to our friends at Swingz n Thingz https://www.swingz.com.au we have a beautiful baby, toddler and kids canvas swing RRP: $149 to GIVE AWAY to one of our lucky readers! If you know someone that would love one of these, simple enter below for your chance to WIN and good luck. X