Win a Luxury Weekend Getaway Worth Over $2,400 Thanks to Mercy Ships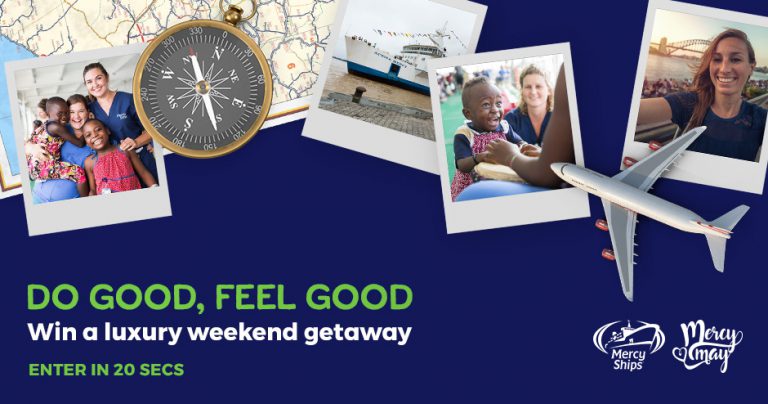 Win a Luxury Weekend Getaway Worth Over $2,400 Thanks to Mercy Ships
The world's largest hospital ship is celebrating Mercy May!
Enter now to win flights and a 2 night's stay overlooking the Sydney Harbour for you and a friend at the Hyatt Sydney worth $2,478.
Entry takes just 20 seconds!
Who Are Mercy Ships?
Over 5 billion people on the face of the Earth lack access to safe and affordable surgical and medical care. Each year, more than 1,200 volunteers including surgeons, dentists, nurses, health care trainers, teachers, cooks, seamen and engineers from over 40 nations serve with Mercy Ships. These dedicated individuals not only volunteer their own time and skills, they pay their own way so that 100% of all funds raised from the Mercy May fundraising event can go directly towards delivering their target of 1,500 surgical miracles.
Mercy Ships and its volunteers treat everything from life-threatening tumours, to orthopaedic deformities such as club foot and bowed legs.
Mercy May Fundraising Event
Helping is easy. You can host a get-together, or join one. You can cook on the BBQ or do some baking. Even just help by spreading the word to your friends. The opportunities are endless.
Registering is Easy!
When you register you'll get your very own online campaign page which you can personalise by adding images, a message and setting your campaign target. You'll even receive a host kit in the mail including invitations for you to invite your friends to join you!
Then you're ready to raise funds!
Share your campaign page with your friends through Facebook, Twitter or in an email and ask them to give. Share your campaign with as many people as you can to increase donations. Remember to remind people that they can donate online through your campaign page at any time.
Get everyone together for a great time and a great cause as an extra way to help raise funds. Host a dinner party, teach an art class, run a garage sale, ask for donations instead of birthday presents, run a marathon, anything you can think of!
Want to find out more? Visit the Mercy Ships website here for more information on how you can start your own fundraising campaign today.
Memories in the Making Giveaway
Don't miss your chance to win a luxury weekend getaway worth over $2,400! You and a friend could win flights and a 2 night stay overlooking the Sydney Harbour at the Hyatt Sydney.
Enter here! Good luck!