Your Next Adventure is About to Begin…Win the Ultimate Pokémon Fan Pack Worth $420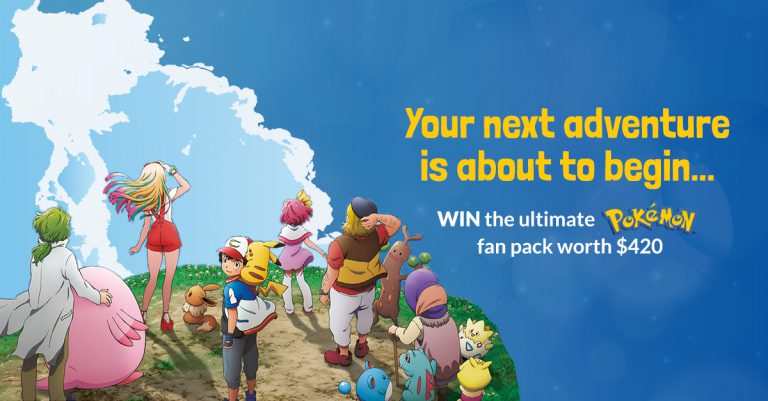 Your Next Adventure is About to Begin…Win the Ultimate Pokémon Fan Pack Worth $420
Sponsored post
Whether you are a die-hard Pokémon fan from way back looking to relive the magic with your own children, or you're the parent of a new gen fan, you are going to want to get in on this action! To celebrate the launch of the new Pokémon movie The Power of Uson DVD & Blu-Ray, Beyond Home Entertainment are giving you the chance to WIN the ultimate Pokémon fan pack worth $420. Click here to enter. It only takes 20 seconds!
The prize includes:
Pokémon the Movie: The Power Of Us ($24.95)
Pokémon Seasons 1-20 Ultra Collection ($299.95)
Pokémon the Series : Sun & Moon – Ultra Adventures Collection 1 ($24.95)
Pokémon Movie Double Pack: I Choose You and The Power of Us ($29.95)
Pokémon Movies 1-3 Collector's Edition ($44.95)
In The Power of Us you'll see all your faves like Pikachu and Ash back in action, as well as a whole new cast of trainers and the AWESOME new legendary Pokémon Zeroara. Join Ash and the gang on their latest adventure in Fula City this summer.
Plus, if you're more of an old-school fan, you can enjoy all of the classics as well with the newly released Pokémon Movies 1 – 3 Collector's Edition and Pokémon Seasons 1 – 20 Ultra Collection. 
You can find Pokémon the Movie: The Power of Us and all of the other titles listed above available this Christmas at your local JB Hifi store. Perfect for little and big Pokémon fans alike.
Merry Christmas, and good luck!
Don't forget to enter to WIN the ultimate Pokemon fan pack worth $420. It takes just 20 seconds!