16 Gift Ideas That are Perfect for Wine Lovers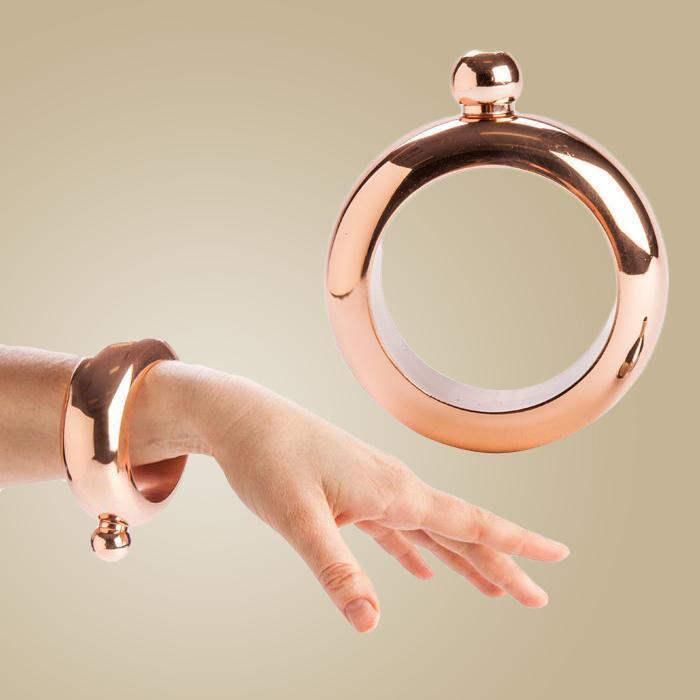 16 Gift Ideas That are Perfect for Wine Lovers
Looking for the perfect gift for someone who loves wine? Look no further!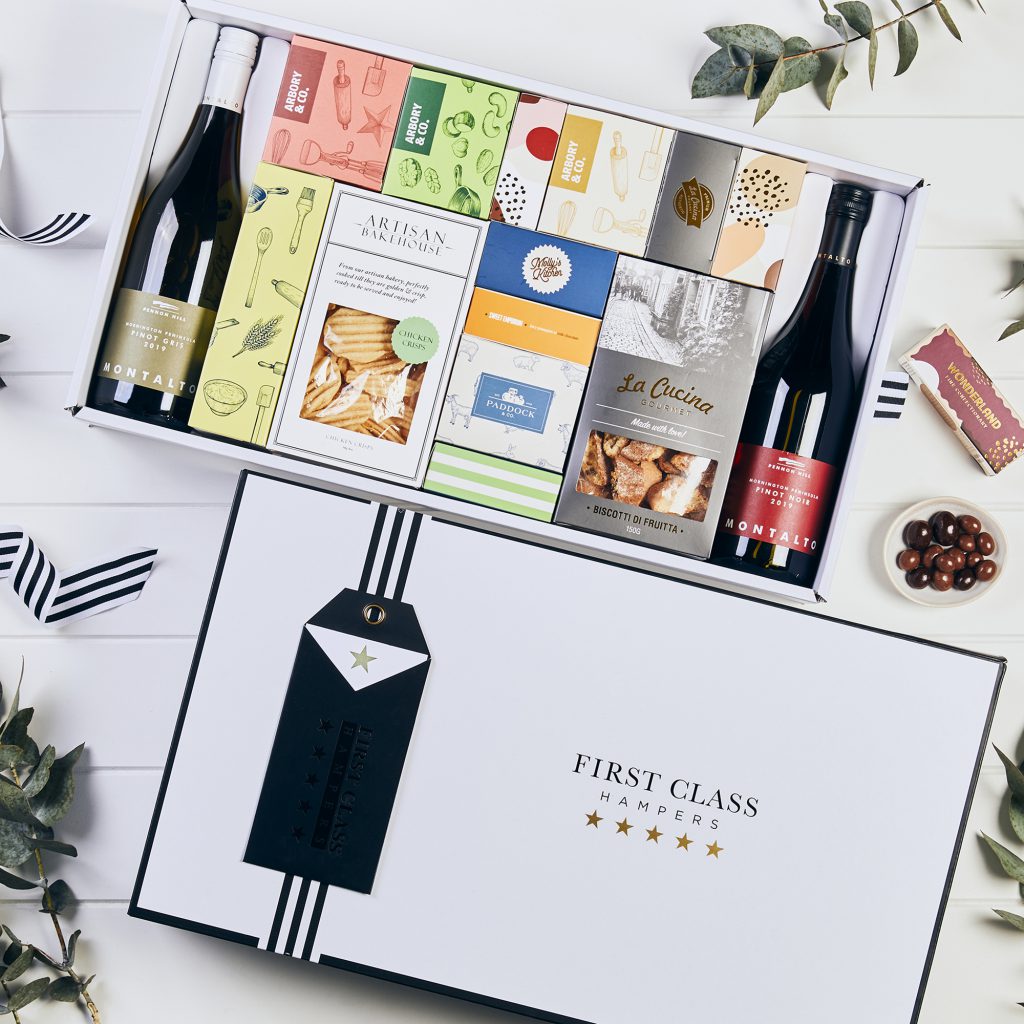 First Class Hampers
Like coffee lovers, wine lovers can be hard to please. Luckily, First Class Hampers thoughtfully curates their boutique wine hampers to ensure even the most distinguished sommelier will be impressed. Straight from the cellars of some of Australia's award-winning vineyards, you can select from Montalto, Mott's Creek, Hugo's, Hunter Valley First Creek, McLaren Vale, and of course Moet hamper, Chandon, and Veuve Clicquot. Paired with artisanal sweet and savoury treats, these wine hampers are the perfect gift for friends, family members, corporate clients, and colleagues. Browse their Australian-made gift hampers here.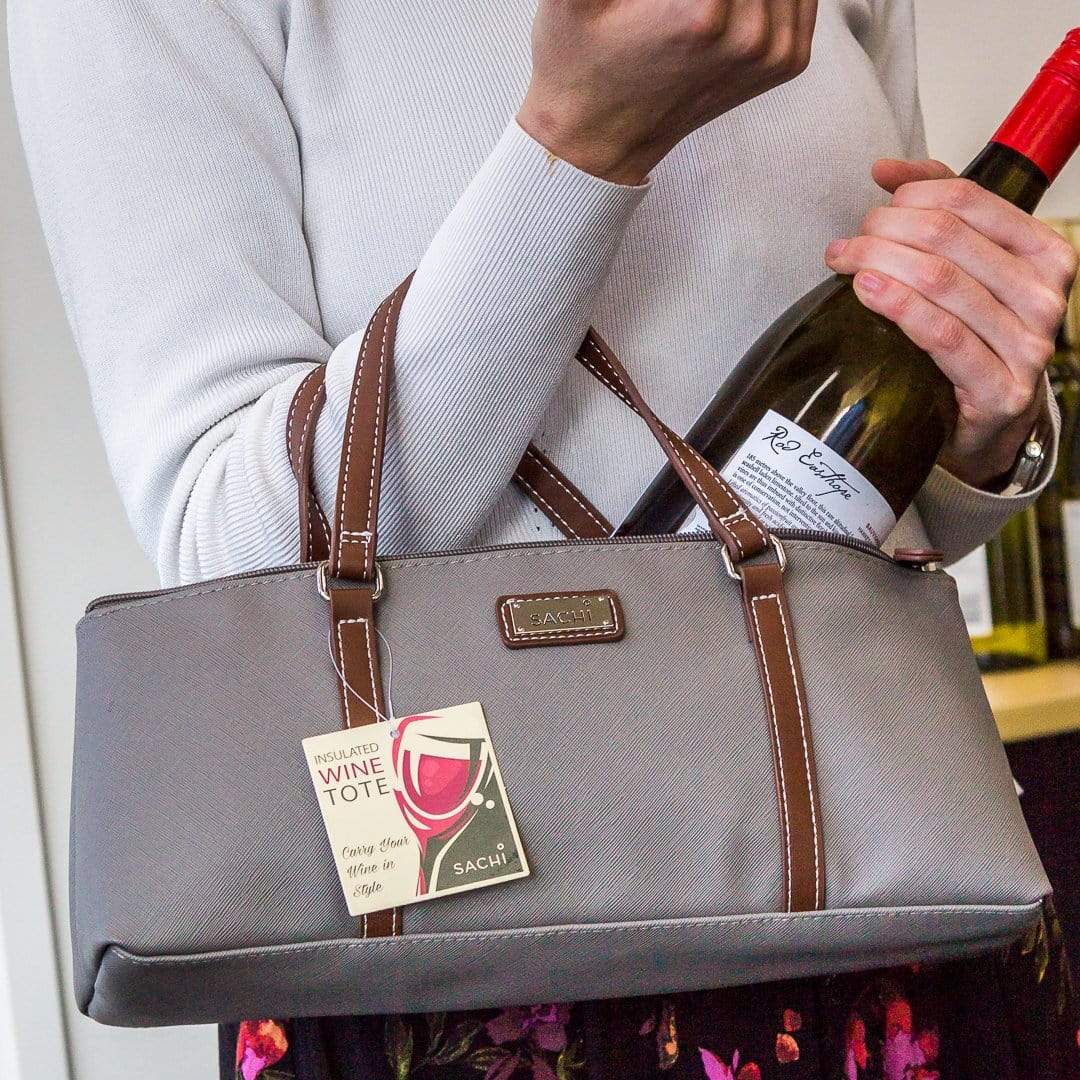 Wine Tote Insulated Wine Bottle Cooler Purse Bag

Cool camouflaged carry is what we got here for all you wine loving ladies out there. No more gross paper bags and/or having to wait for your wine to cool in the fridge. Just a stylish insulated handbag specifically designed to keep your wine ice-cold and you looking good while you carry it to whatever gathering you must bring wine to.
The durable two-tone taupe outer disguises a 100% waterproof insulated inner. Slide your bottle of wine inside – and add a little ice too to keep it super-cool – then zip it up tight and off you trot. The comfortable carry handles making toting your tipple as easy as polishing off a bottle of Bordeaux.
What an impressive practical gift for wine loving ladies! They'll never be caught with a warm wine in a paper bag ever again. And they'll thank you… probably with wine. Win – Win! Buy here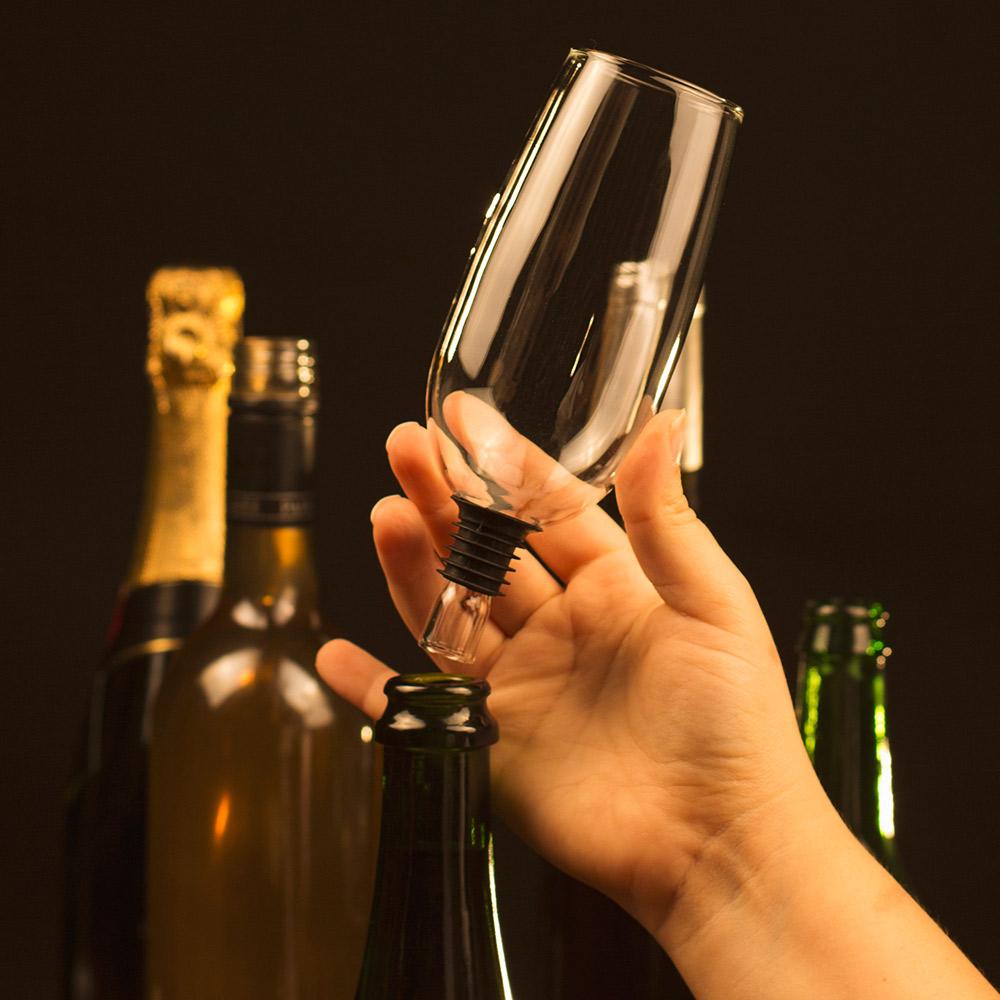 Bottomless Bubbles Sparkling Wine Glass
When it's time to celebrate, one glass simply will not do! Unless it's this glass…
The Bottomless Bubbles sparkling wine glass slots right into the bottle so you won't need to keep heading back to the fridge for refills. But when your judgmental in laws ask how much you've had to drink you can say "Oh me? Just one glass!" with confidence!
It's a cheeky gift for your pal who is always down to party! Buy here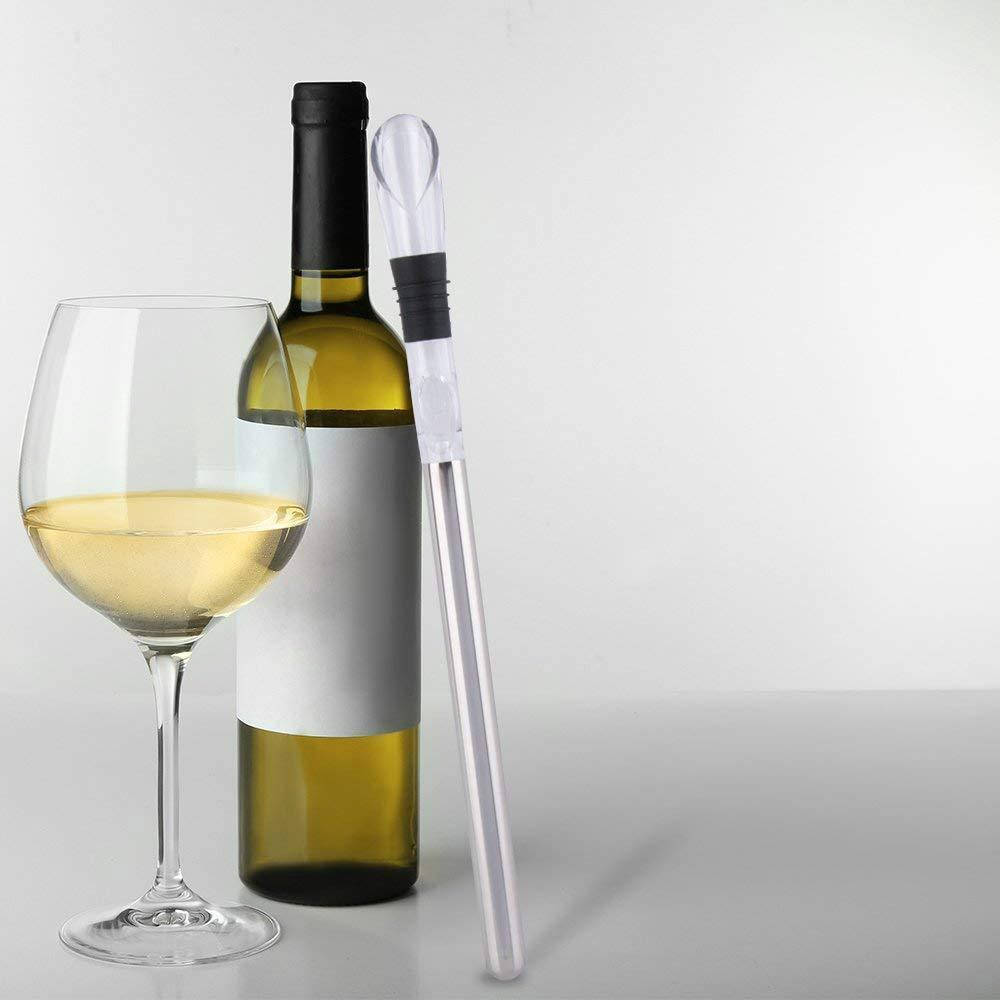 Wine Chill Stick with Pourer Spout
One of the girls popped by to surprise you and you haven't got any wine chilled?
First of all, get it together. Always have wine in the fridge for a special occasion, like.. A Wednesday, for example. Secondly, I've got good news…
This awesome chill stick can cool your wine in as little as 5 minutes! Just make sure the stainless steel chill stick is in the freezer. Pop the frozen chill stick in the wine and you'll have pleasantly chilled Savvy B in minutes.
Better still, it comes complete with an easy-pour spout on top so you're always ready to go. Once you finish the bottle, wash the chill stick and pop it back in the freezer so your're ready for the next surprise visit!
A great Kris Kringle or birthday gift for any wine lover. Buy here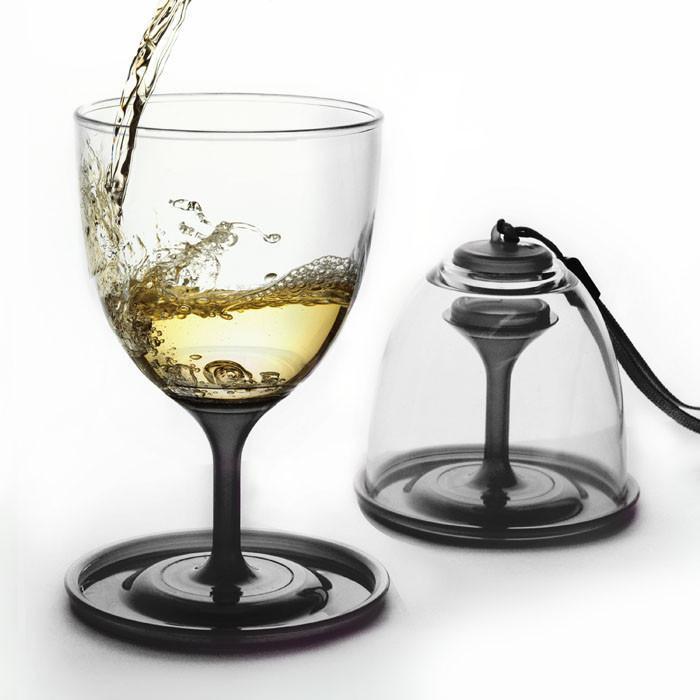 Portable Wine Glasses
Drinking wine at a picnic is usually an experience made possible only through the use of disposable plastic cups, which are really only suitable for serving soft drinks at a kid's birthday party. No one wants to pack wine glasses in picnic baskets just 'cos they're so delicate and inconvenient to pack.
Well, wine drinkers no longer have to suffer the ignominy of quaffing their wine in cheap-looking party cups. These portable wine glasses are shaped like regular wine glasses, except the stems are removable and stored inside the glass for travel! Made of plastic instead of glass, these portable wine glasses will not shatter and are light-weight, making them easily transportable. What's more, each glass is a decent size, holding nearly 300mL or 10 fl oz each!
Great for picnics, travel, camping and more. Buy here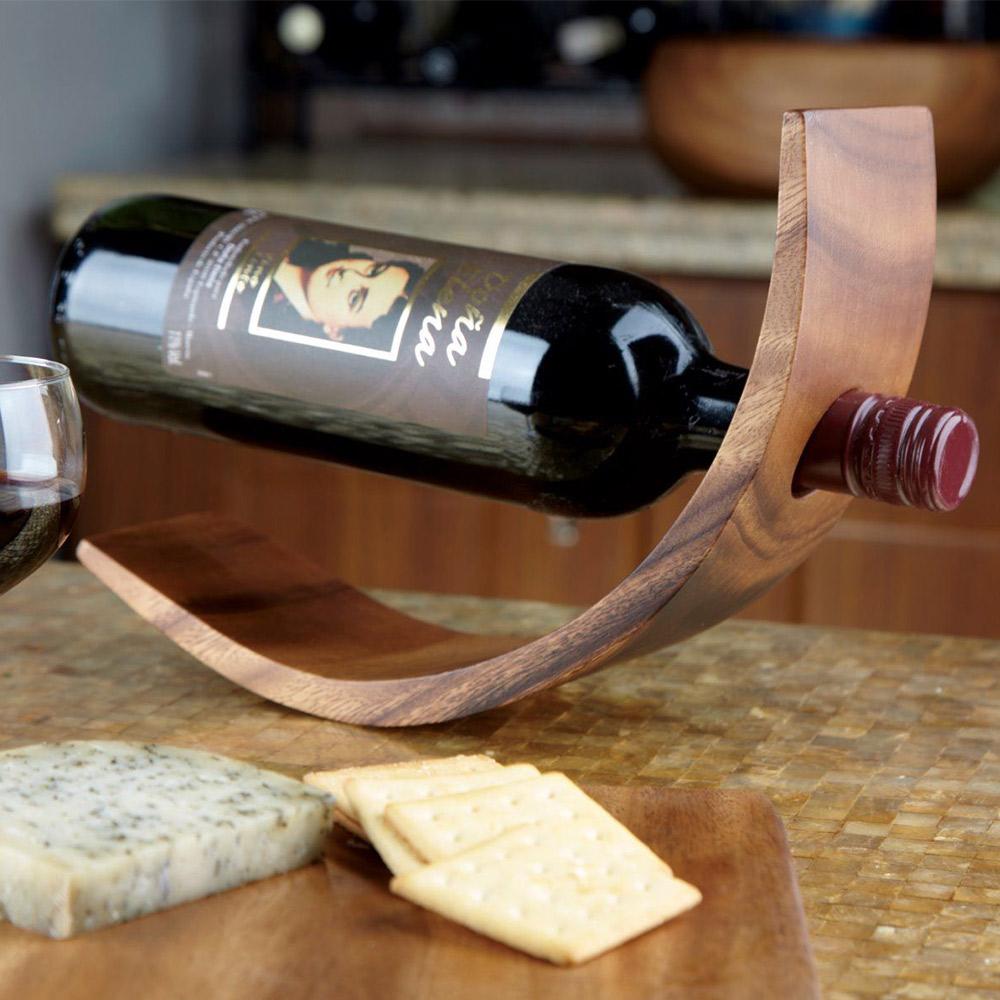 Acacia Curved Wine Bottle Holder
This unique wine bottle holder is sure to be a talking point at your next dinner party.
It's hand crafted from a solid piece of sustainable acacia wood so you won't need to worry about the wood splitting. The design is so simple it's stunning, celebrating the natural wood tones and creating curves and lines to impress your guests.
The wood is food safe and doesn't stain or retain odours, but we recommend oiling as needed to retain the colour and longevity.
It's a fabulous gift for wine lovers with serious style. Buy here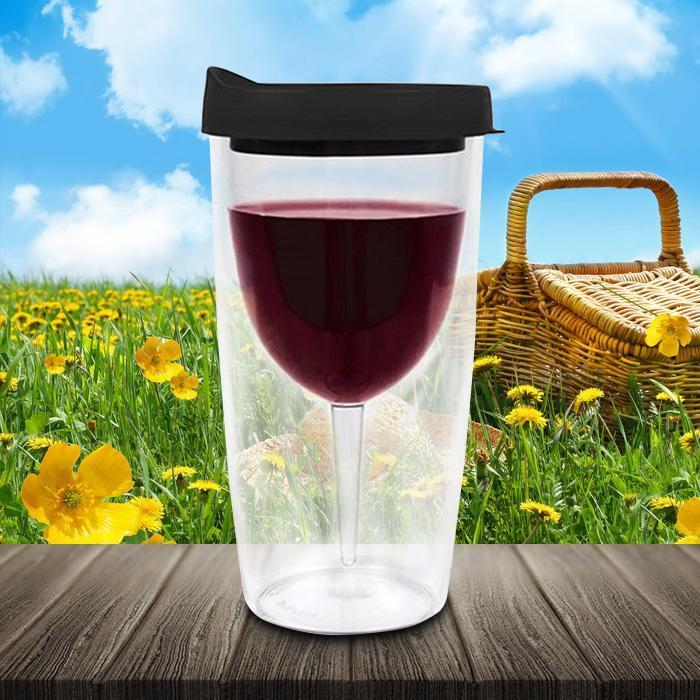 Spill-Proof Wine Sippy Cup
Do you drink wine? Of course you do. I mean, who doesn't? People we should consider with suspicion, that's who.
And as a committed and enthusiastic wine connoisseur I'm sure you'll agree there's nothing worse than:
1) spilling your wine;
2) breaking your glass; or
3) SHOCK HORROR: warm wine!
So I was simply delighted to discover that some genius has taken inspiration from toddlers and their penchant for spilling liquids on every accessable surface, and created the Wine Cooler Spill-Proof Sippy Cup or as I like to call it, the answer to drinking deliciously chilled wine anywhere, anytime.
This nifty little vino vessel features double wall insulation so your wine stays cooler for longer, a resealable lid so you can carry your wine on-the-go and not spill a mil, and it's made of hardy drop-proof plastic so shattering glass will be a thing of the past. Think relaxing boozy picnics, lazy days at the beach and overpriced music festivals.
The Wine Cooler Spill-Proof Sippy Cup. Buy one! And while you're at it, why not buy one for your bestie too? Guaranteed to prevent envy-whines. Buy here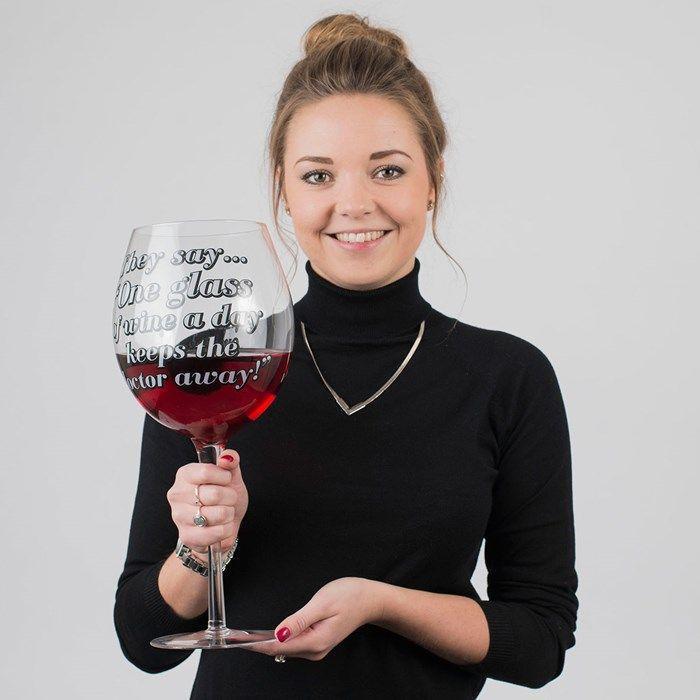 World's Largest Wine Glass
Nothing is better than a glass of wine… except maybe the whole bottle.
The girls are all visiting, it's a Friday night, you've survived yet another week and it's finally wine o'clock. Problem is that you really can't be bothered wasting your time by continually refilling that piddly little excuse you have for a wine glass when we all know that bottle of Cab Sav has got your name all over it. Time to get serious. This wine glass is the big daddy of proper drinking. There's more than enough room to hold a full bottle of wine plus some, so you'll never be far from a good gulp of grape juice. We do recommend you use two hands though, the red wine stain that may result from spilling this bad boy is enough to flood your lounge. Buy here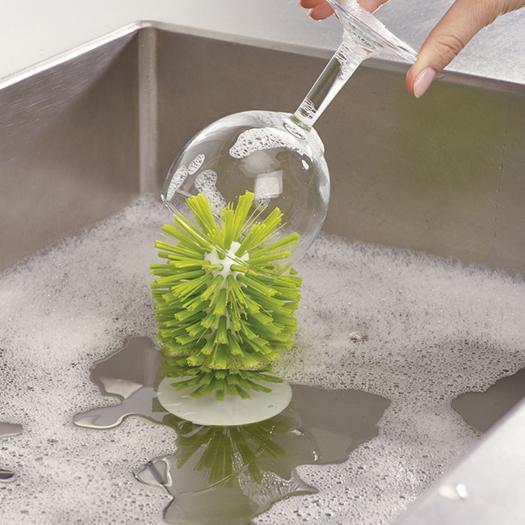 Joseph Joseph In-Sink Suction Cup Wine Glass Brush
How great is wine? Yes, it's pretty damn great. I mean, it's a Monday morning and if it was socially acceptable I'd be downing a cheeky pinot, you know?
But unfortunately life is cruel and Mondays are less wine and more whine, and if you're anything like me you've got a hangover that won't quit and a sink full of dishes waiting to welcome you home. Well, fear not, friend! For I can help you fix ONE of those problems.
This in-sink suction cup wine glass cleaning brush is a godsend: just adhere the suction cup to the bottom of your sink, fill the sink with soapy water, grab your glasses and twist over the brush. No more awkward dish brushes or lipstick residue, and for those of you who prefer (read: substitute wine for) caffeine, it'll clean your trusty mug too. Buy here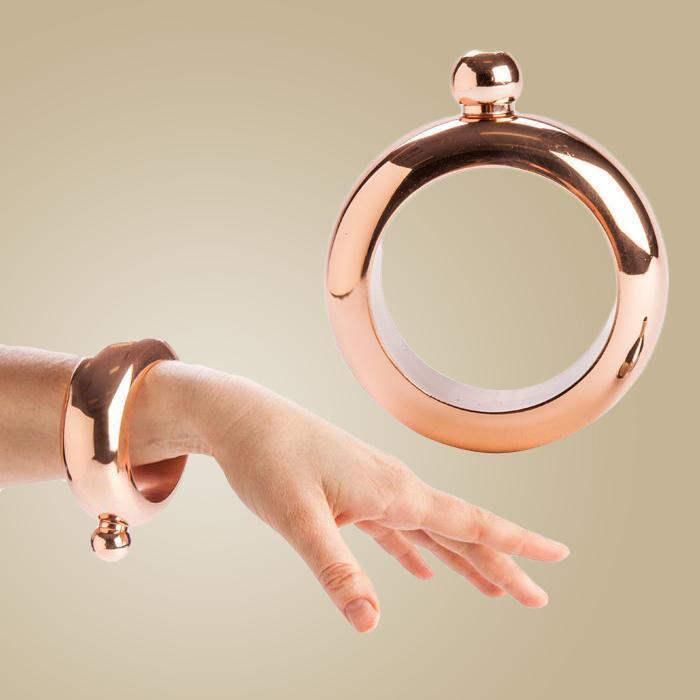 Booze Bangle Stealth Flask
Music festivals and public events are notorious for restricting the consumption of your own alcohol, only to sting you with ridiculously expensive drinks prices at the bar.
How dare they?
Foil the security guards and take a tipple wherever you roam with our ultra-stealthy Booze Bracelet – the flask you wear on your wrist!
In this on-trend rose gold hue, no one will be the wiser to your plans, simply assuming you're a fashionista who loves herself an oversized accessory. It's made of long-lasting stainless steel too, so you'll be boozing incognito for many a moon.
To fill, simply unscrew the decorative-looking bulbous cap to reveal the mouth of your flask.
Beautifully boxed, the Booze Bracelet will make a wonderful practical pressie for your alcoholic friend or family member. Buy here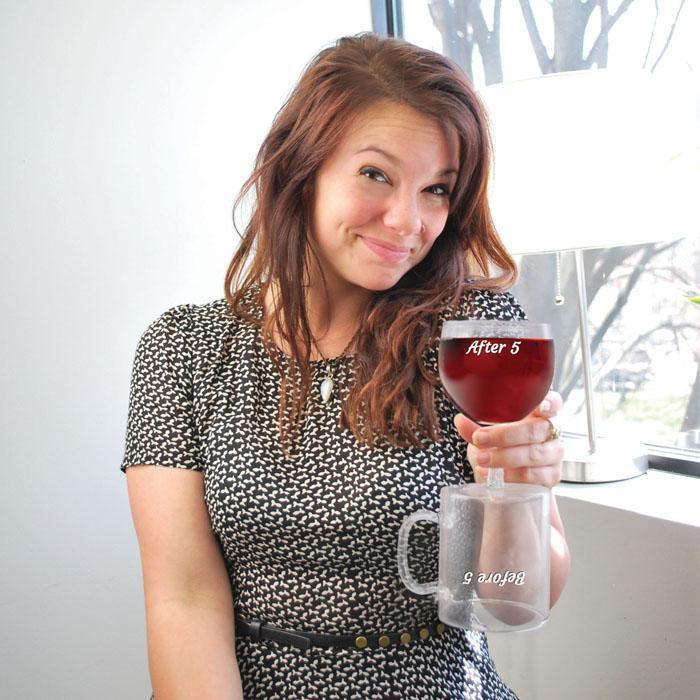 Before and After Coffee and Wine Glass – The Only Glass You'll Need
Got the doldrums on a Monday morning? Or feeling positively jubilant, late Friday afternoon. It's a morning roast or an evening toast at some point during the day. Whether it's too late for coffee or too early for a wine. It seemingly remains a daily conundrum for you daily 9-5ers. Oh wait! Except now you don't have to choose.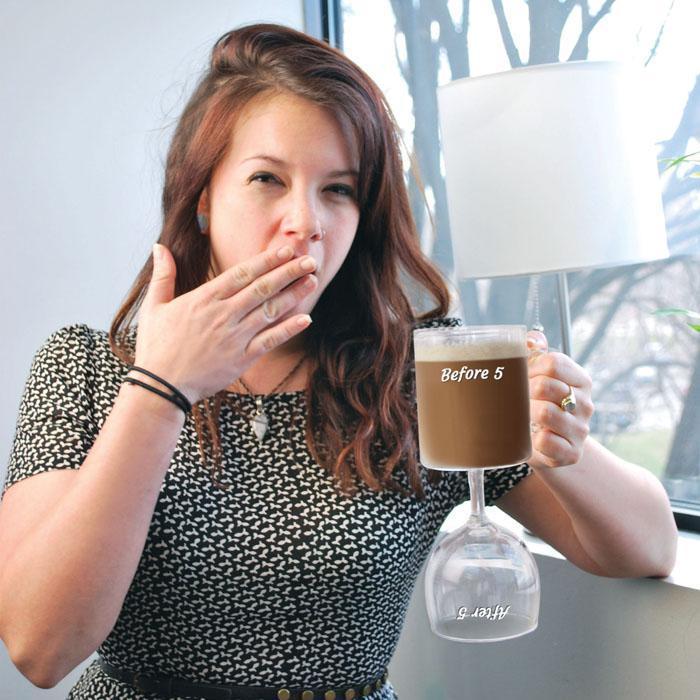 We have a coffee and wine glass in one. This is heaven sent! The choice is made simple with a glass for a well-deserving chardonnay at one end and a coffee mug at the other. You can keep this glass handy beside your bed Monday to Friday and toggle it one way or the other depending on the mood. So whether you've got the blues or want to put on your dancing shoes you'll never be left dry again. Buy here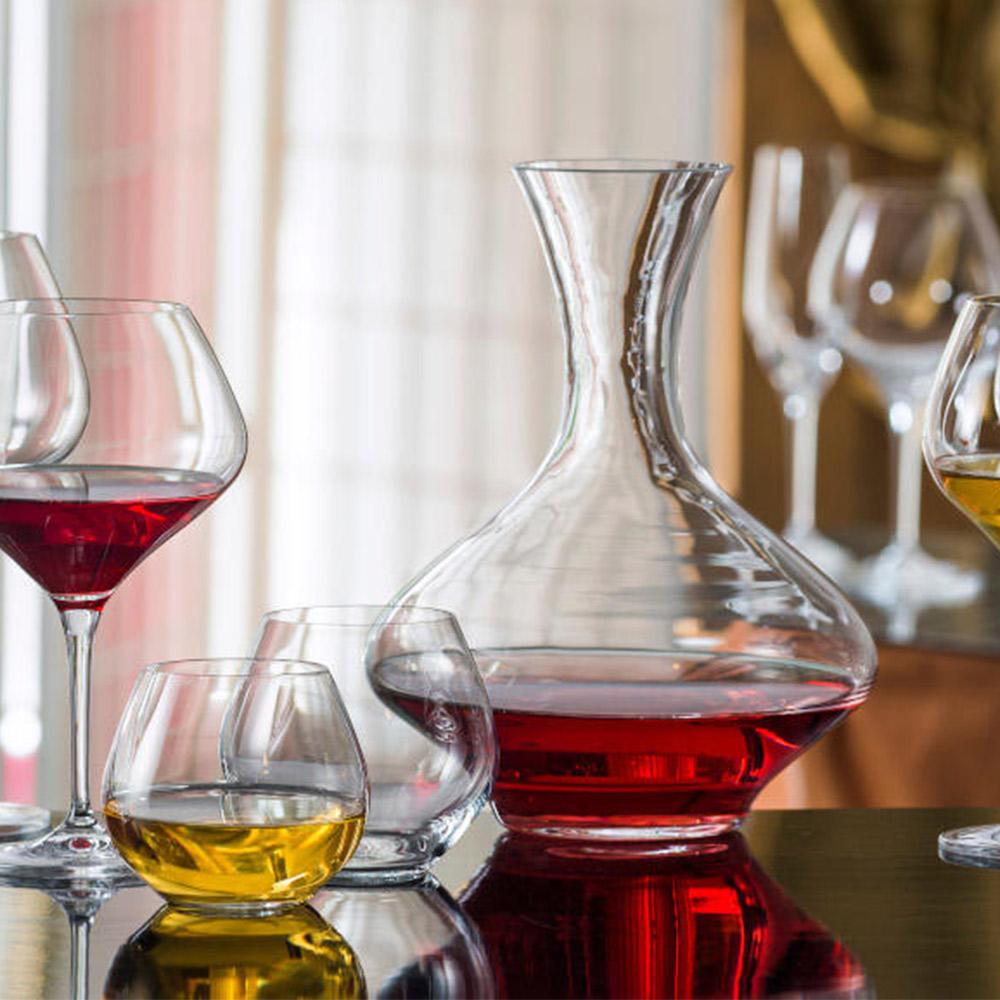 Bohemia Crystal Glass Wine Decanter 1.7L
Wine must be consumed at the perfect temperature, and red wine especially, needs care and attention prior to being consumed in order for the drinkers to experience every aspect of the wine's flavour.
This Glass Wine Decanter has been crafted from high quality Bohemia Crystal glass in the style that encourages wine aeration and allows for an easy, drip-free pour. As beautiful to look at as it is clever to use, this wine decanter is sure to make an impressive gift for the wine drinker in your life. Buy here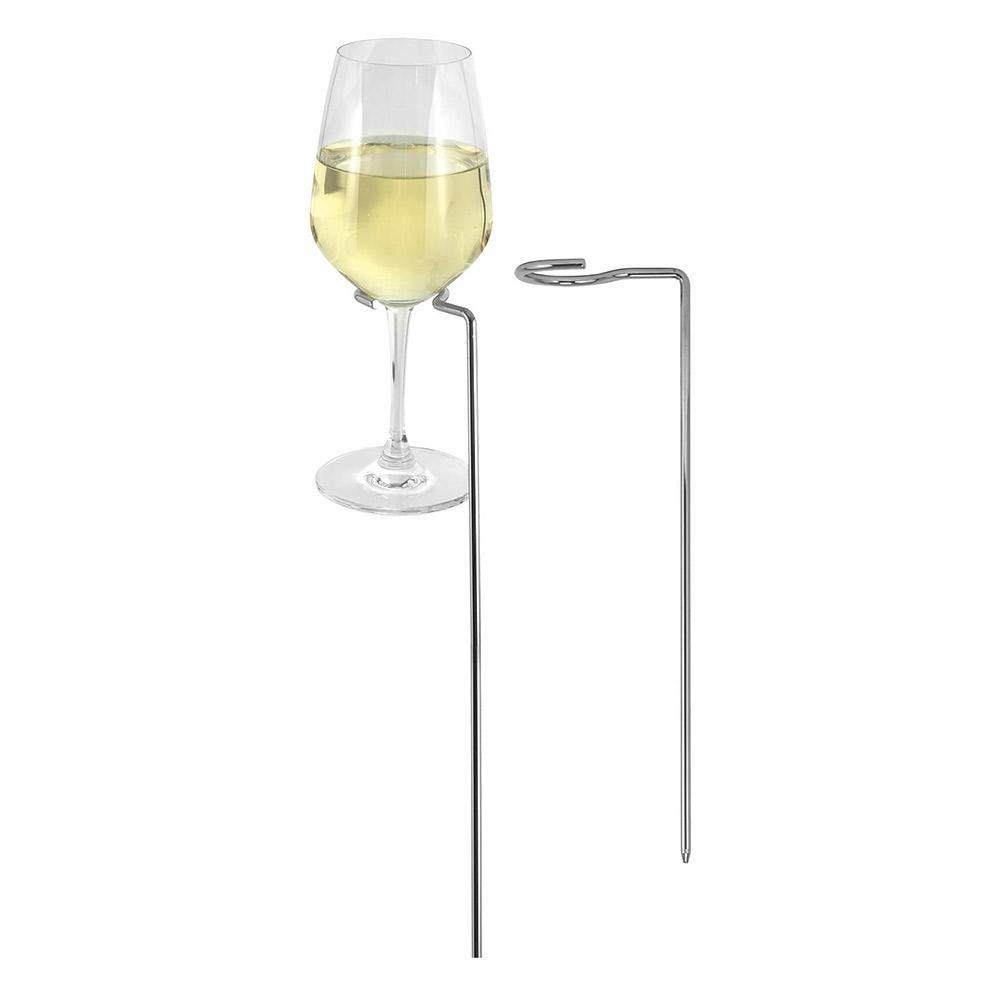 2 Piece Wine Glass Holders Picnic Set

Take your next wine-fuelled outdoor outing to another level with our 2 Piece Wine Glass Holders Picnic Set.
This beautifully crafted 2-piece wine holder set consists of two wine glass holders, each piece constructed of chrome metal curled to cup your precious wine!
The holders are designed to stick into soft ground – be it grass, sand or soil – to keep your glasses upright. Take this set with you to the park, the beach, camping or festivals, and never have to try and rest your glasses on uneven surfaces ever again!
Beautifully gift packaged, this set will make a practical, stylish gift for the wine-lovers in your life. Buy here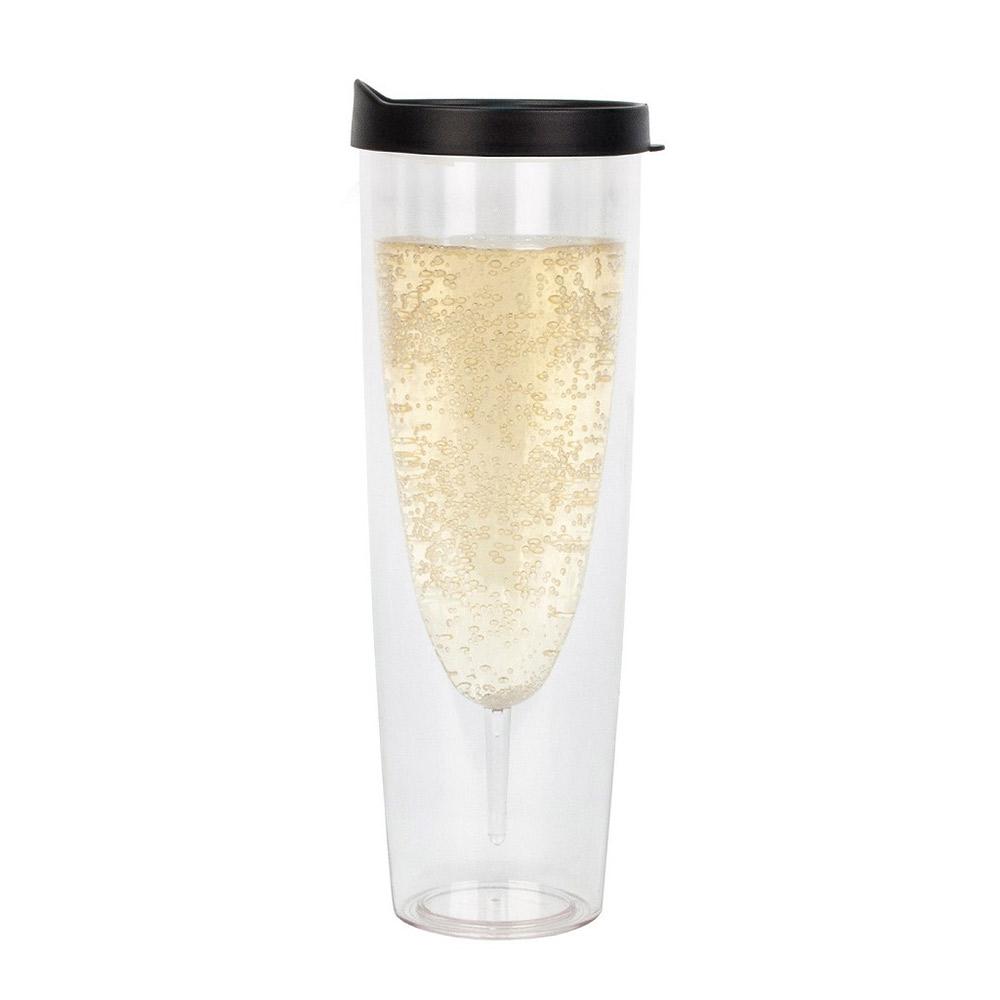 Spill-Proof Champagne Sippy Cup
Everybody loves celebrating with a cheeky glass of champers, but when you're celebrating outdoors it can be a heck of a task.

Those tall, skinny glasses, though exciting, are simply not made for the outside world. Any surface that isn't perfectly flat or stable presents a threat to your bubbly.
This PortaSparkle Champagne Sippy Cup is here to change all that. Going to the races? An outdoor wedding? Picnic, BBQ, pool party? Don't be that messy friend who ends up spilling half the bottle. Be the innovative friend who prepared for this exact situation.
It's BPA free plastic, and double-wall insulated to make sure that vino stays nice and cold for as long as possible. Buy here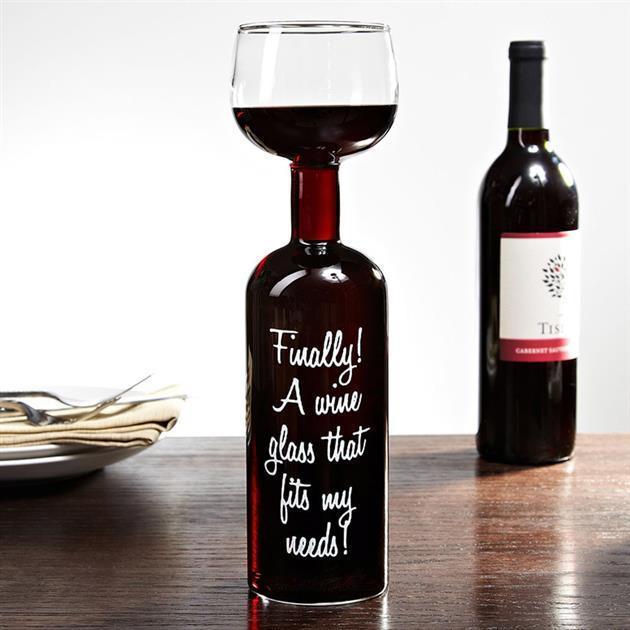 The Wine Glass Bottle
Who pops open a bottle of plonk to drink just one glass? People you should consider with suspicion, that's who.
Designed to look just like a wine bottle, this fantastical invention has been outfitted with a wine glass on the top half of the bottle so you can put down a entire 750 ml of wine in one sitting without having to go back to the bottle for seconds. We're not saying you have a problem, we're simply saying that refills (until now) have been a part of life.
Useful for red or whites, this wine bottle glass is a hilarious and useful gift. The phrase "Finally! A wine glass that fits my needs!" is featured on the front. Buy here
Disclosure: This article may contain affiliate links. This means, should you make a purchase, we may receive a small commission at no extra cost to you.