12 Super Cute Winter Dresses for Little Girls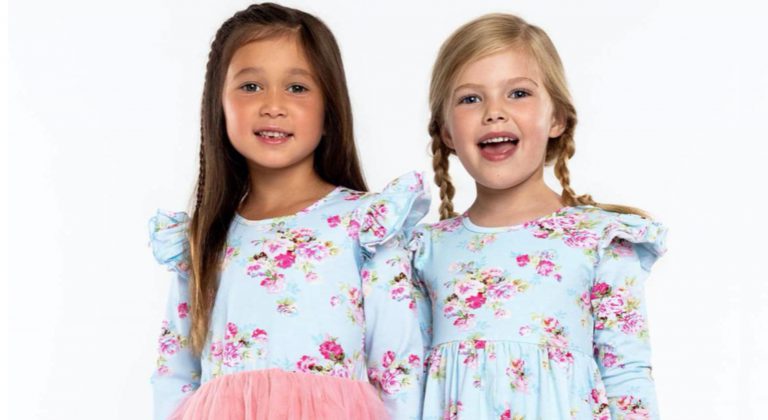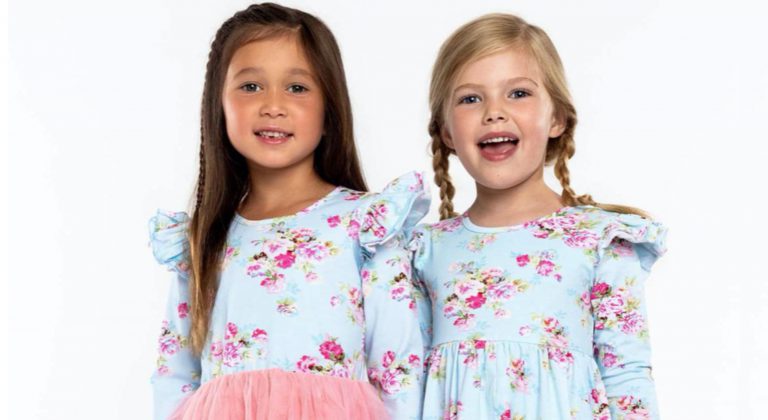 12 Super Cute Winter Dresses for Little Girls
Layer long sleeved dresses with colourful tights during the cooler weather for the perfect winter outfit! We've picked out 12 of our favourites that we think you'll love!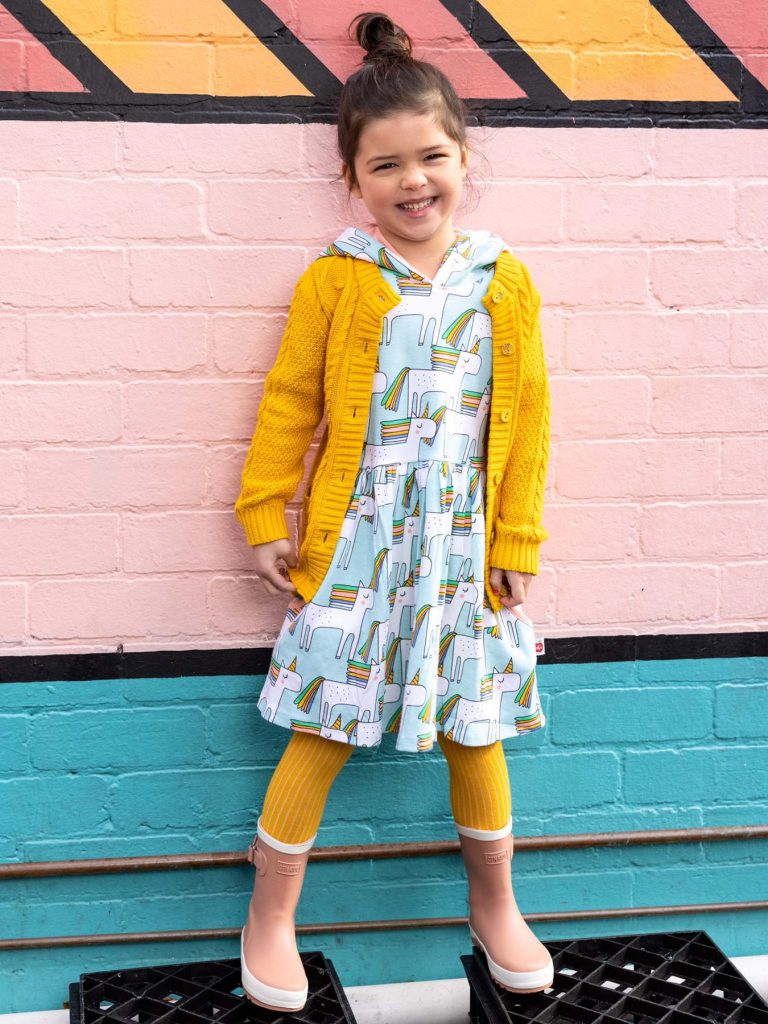 Unicorn Hoodie Dress
Everybody loves a little bit of extra snuggle in winter, and a little hoodie will give your little one a break from the wind and weather, while looking super cute! Unicorns are magical and made for special moments, creating a colourful dose of happiness to every day.
Available in size 2 – 8 years Buy here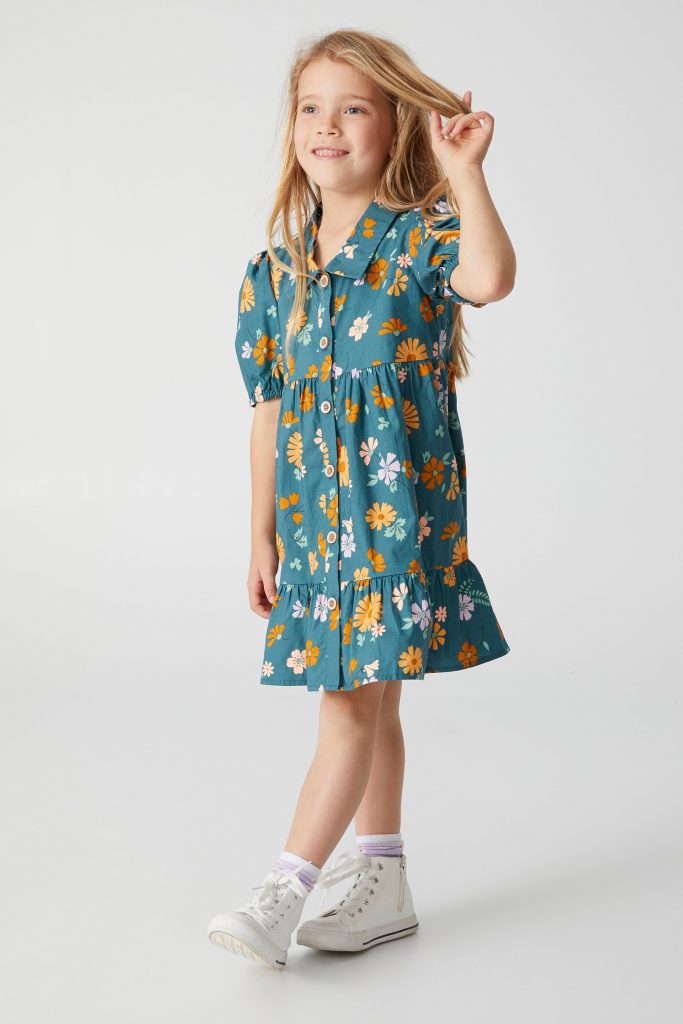 Jamala Short Sleeved Dress
The Jamala dress features short puffed sleeves, with collar and button placket detail. Comes in a variety of colours including turtle green (as shown above), Newport floral, blue torquay ditsy, smokey lilac, musk rose, and red brick.
Available in size 2-10 years. Buy here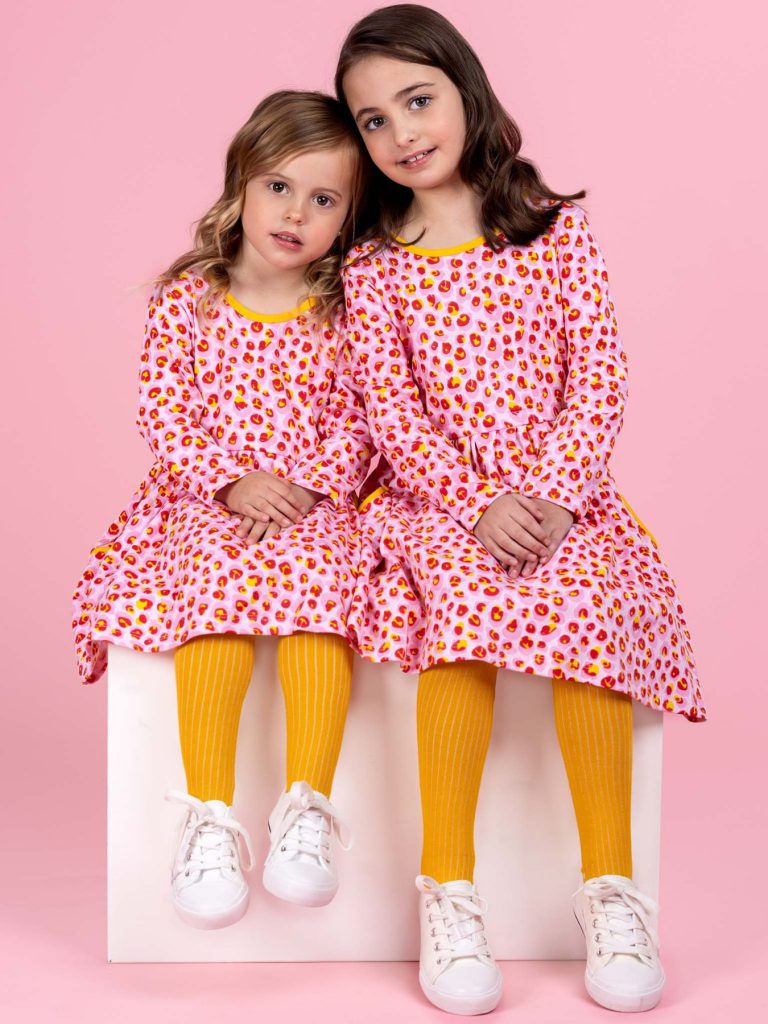 Amelia Pink Leopard Dress
You'll adore the Oobi-licious colour with pops of yellow and pink, the amazing quality and fit plus the ease of wear. And your little girl will love the pockets, elastic through the waist and long sleeves – making this a pretty AND practical dress to love for years to come.
Available in size 6 months – 12 years Buy here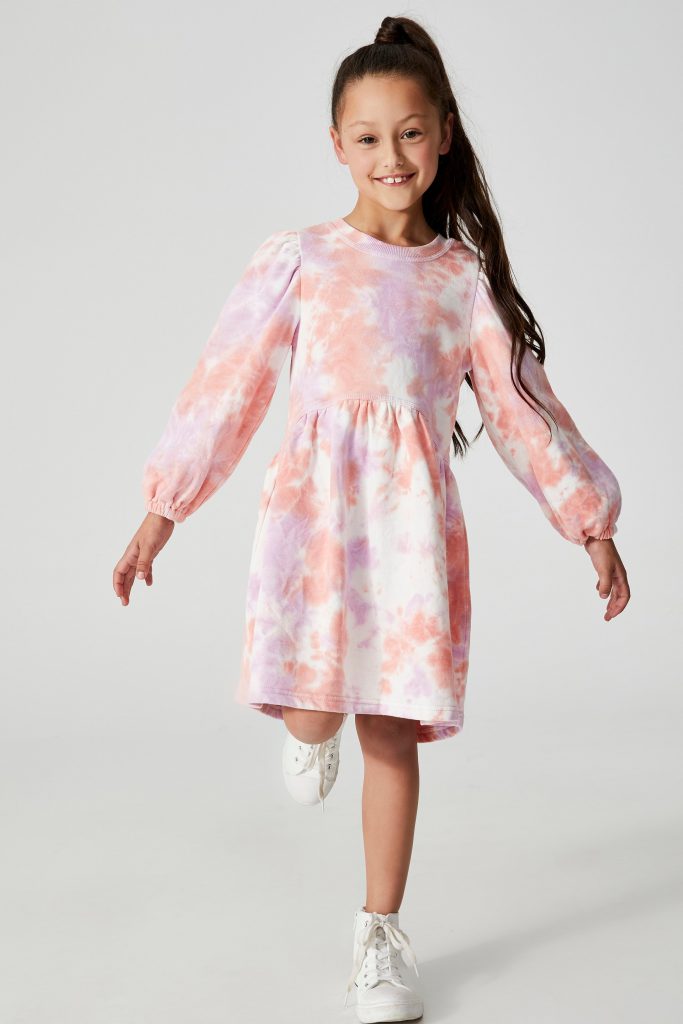 Flora Long Sleeved Dress
The Flora Long Sleeve Dress is a relaxed fit making it the perfect dress for being comfortable and stylish. 6 colour variations available.
Available in size 2-10 years. Buy here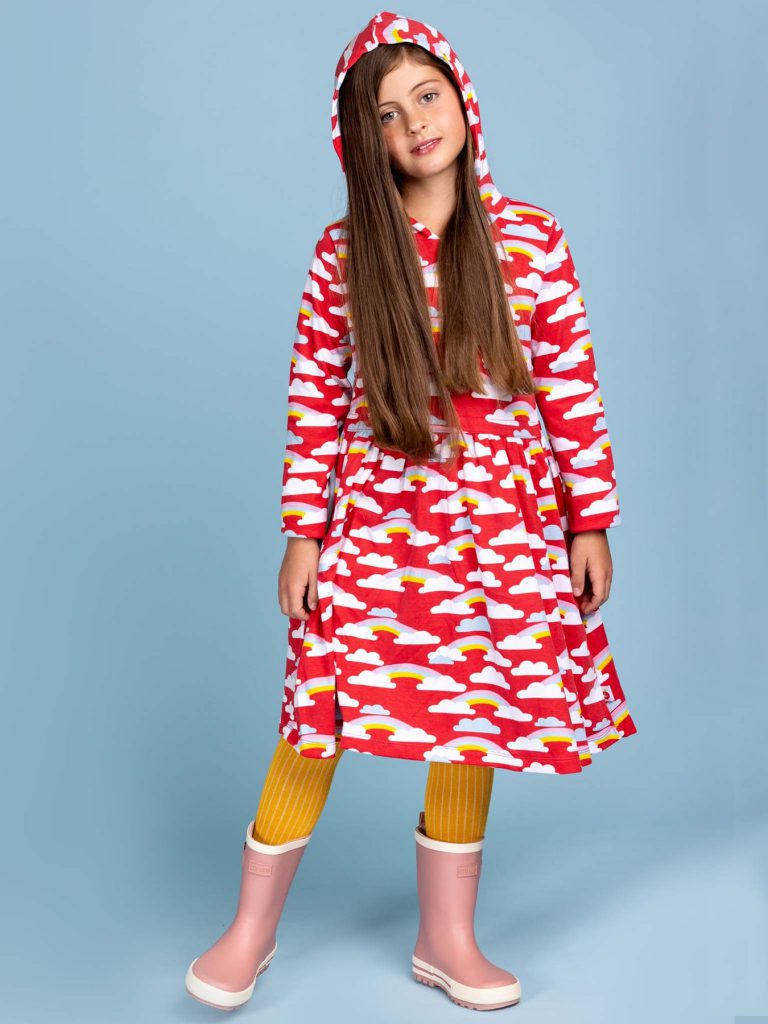 Red Hooded Rainbow Dress
For every bright and lively girl, our soft cotton stretch jersey hoodie dress is going to be a wardrobe favourite for sure! With a cool hood, and fun retro '70s pockets, plus a warm knee-length, it's practical, fun and super bright for a dreary winter's day.
Available in size 2-10 years. Buy here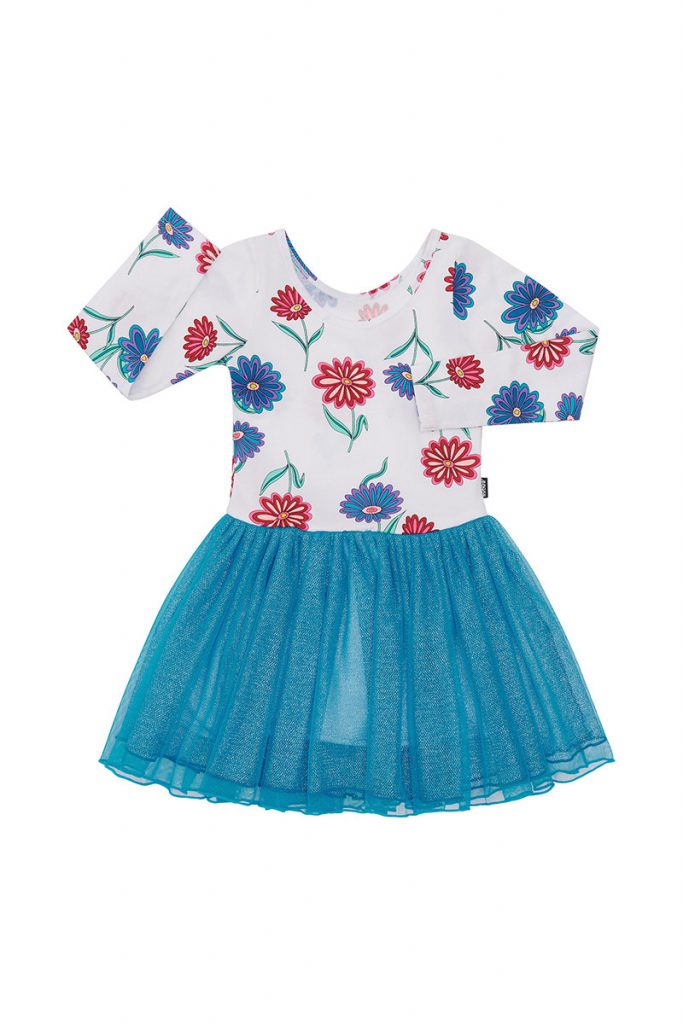 Dance Long Sleeve Tutu Dress
Your tiny twirler will dance through her days in our Girls Dance Long Sleeve Tutu Dress made from super soft mesh and with a layered tutu skirt. 4 different colour/design options.
Available in size 1-7 years. Buy here

Rosie Blue Bunny Jersey Dress
Cutie-Cutie Bunny Style! Your little one will adore this lightweight but snuggly bunny raglan sleeve dress. Perfect for hopping around, Easter weekends and any time you want to celebrate the sweetness of simply being a little bun.
Available in size 3-8 years. Buy here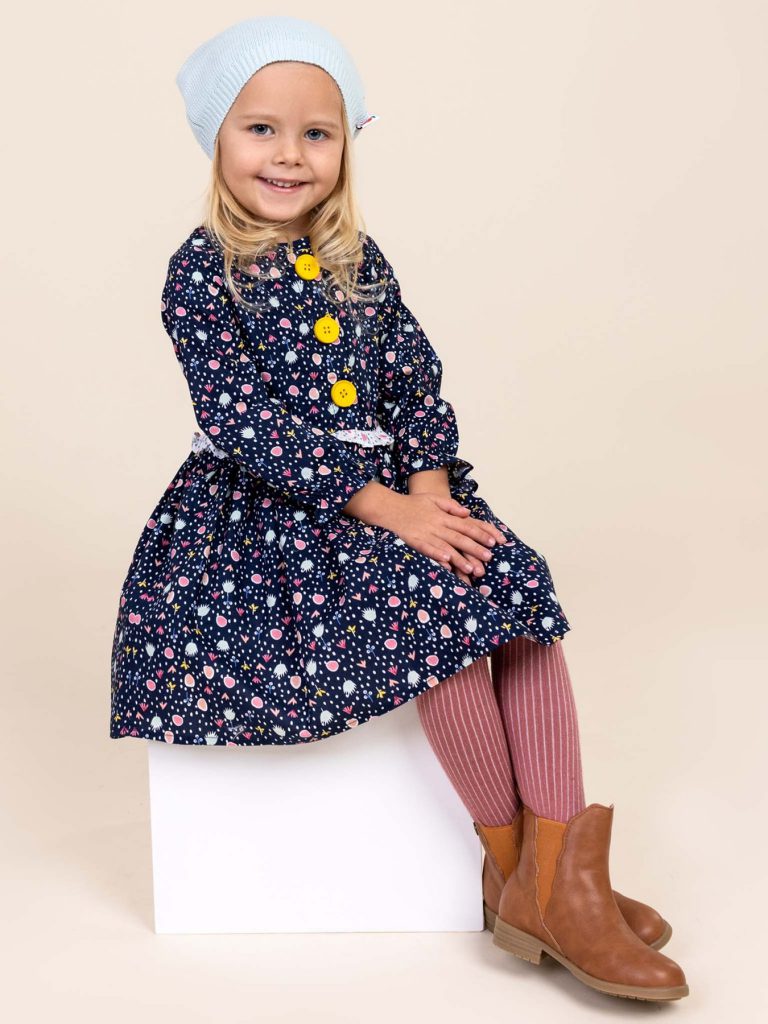 Greta Navy Jumble Dress
The Greta dress is a delicious wintery piece – with little pops of colour to make any day just a little more colourful. She's got the sweetest ruffles through the centre (in the reverse of the Jumble print) – clever huh?
Greta's has real buttons at the front – easy to wear, it's just the loveliest smock dress to pop on with socks or tights and twirl your way through the day.
Available in size 2-12 years. Buy here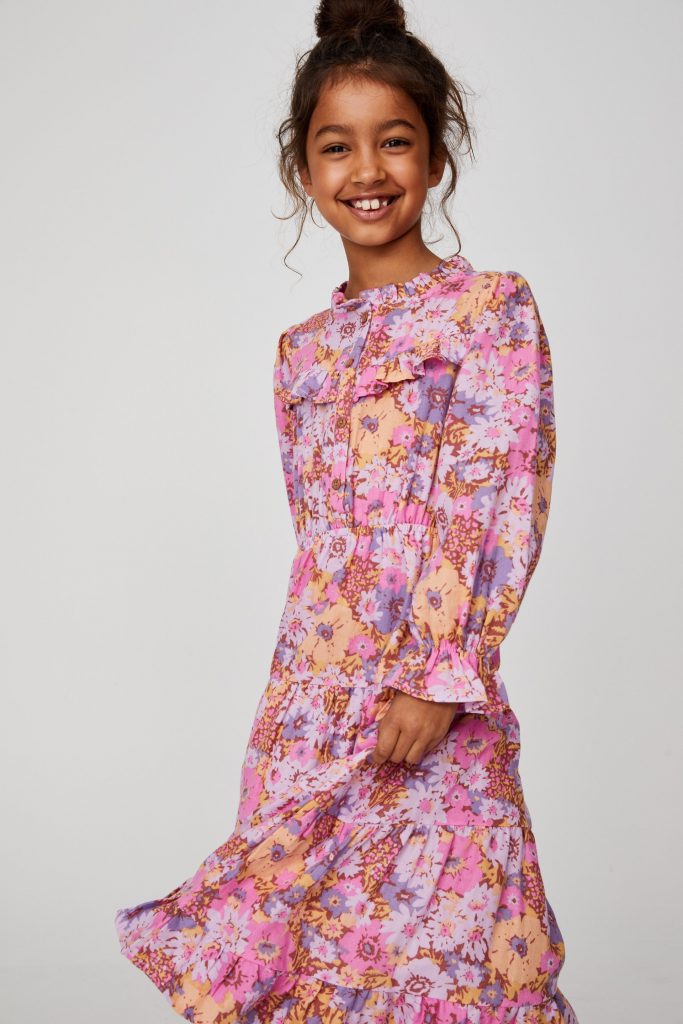 Andi Long Sleeve Dress
The Andi Long Sleeve Dress comes in a variety of colour designs, including chutney/pop floral (as pictured above), phantom botanical sprigs, chutney gingham, pale violet botanical sprigs, and tulip.
Available in size 2 – 6 years. Buy here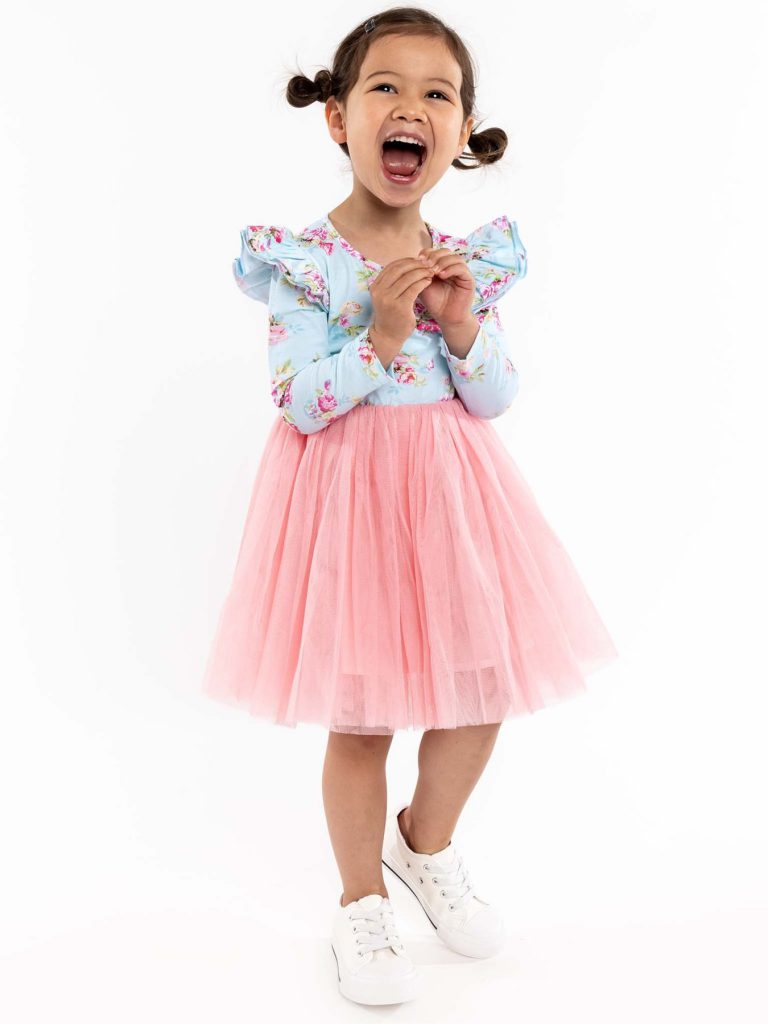 Ariel Icy Floral Dress
Ariel is our beautiful tulle dress, with layers and layers of soft tulle and the prettiest Icy Floral bodice – for your ice princess vibes!
Ariel has an incredible fit, with a stretch jersey bodice, no-iron style, and all the tutu goodness that little ones love!
Available in size 2-8 years. Buy here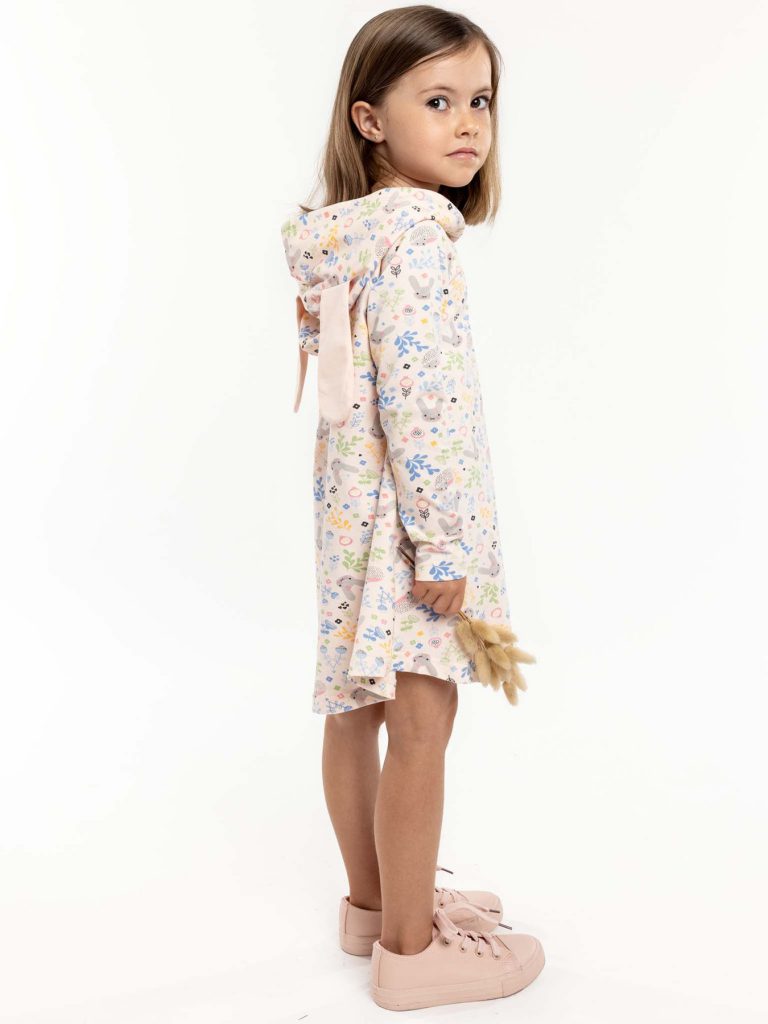 Jersey Hooded Dress with Ears
You're not seeing things, this sweet-as-sugar, snuggly jersey hoodie dress has bunny ears! With the sweetest Honey Bunny print, a high stretch jersey for super-duper comfort and… well… ears. Stand back and wait for everyone to smile at your little bun!
With a bit of stretch to the jersey, and 100% machine washable, this beautifully made and sweet printed treat is going to delight you and your little girl!
Available in size 2 – 6 years. Buy here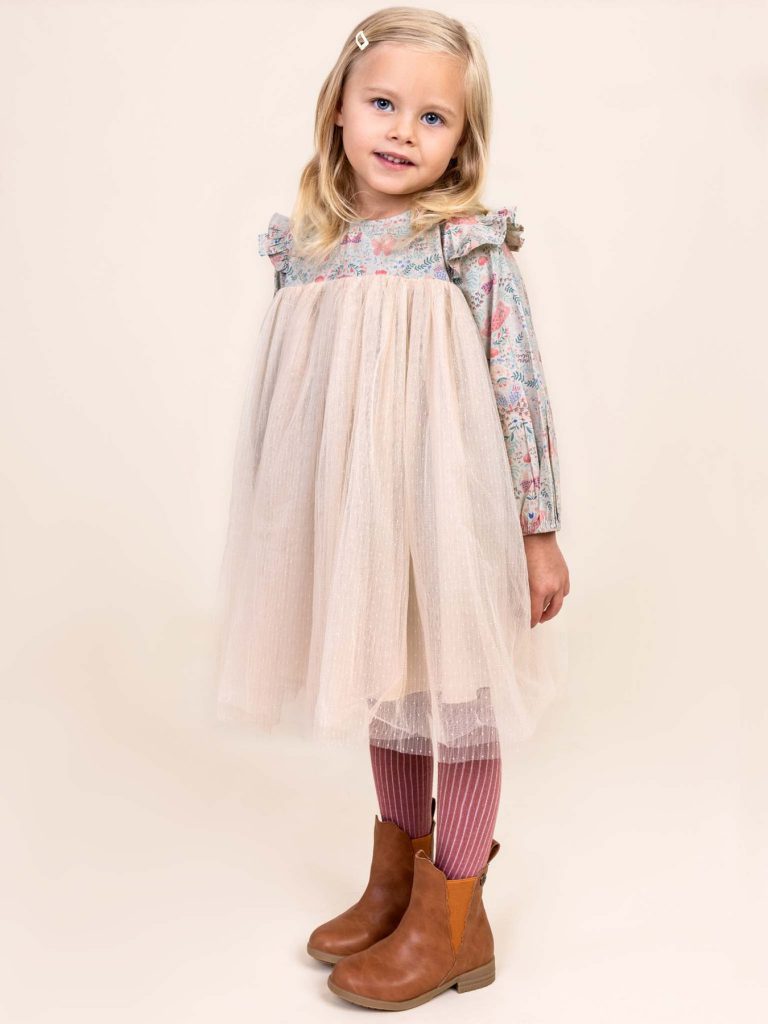 Babydoll Butterfly Dress
Our Babydoll Dress just goes BOOM! with the addition of loads and loads of sparkly tulle! It's hard to find amazing and versatile party wear that can be worn with boots and dressed down, or dressed up with tights and ballet flats AND look great in winter. Plus it's just so easy to wear – simply zip and go!
Available in size 2 – 8 years. Buy here
Disclosure: This article contains affiliate links. This means that should make a purchase, we may receive a small commission at no extra cost to you.