6 Amazingly Refreshing Alcohol-Free Drinks That'll Pique Your Sober Curiosity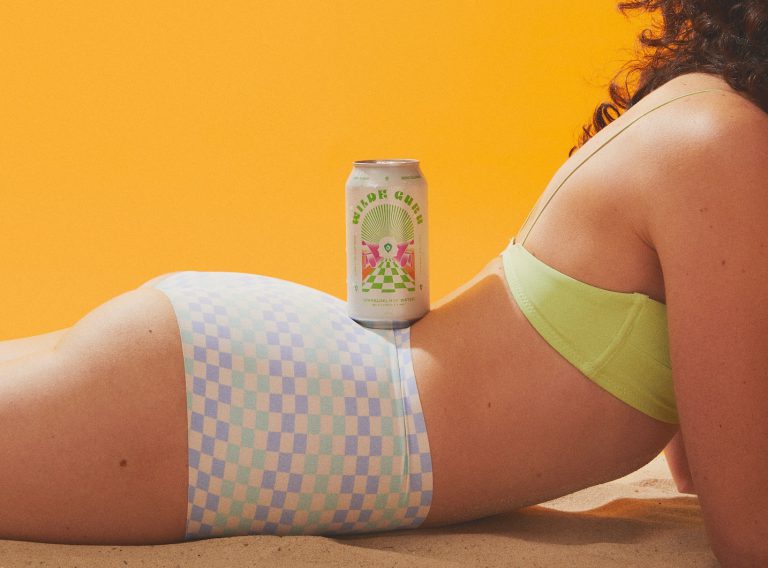 Whether it's for the health benefits, or to raise funds for people affected by cancer, since 2008 The Dry July campaign has inspired 290, 200 Aussies to give up booze for a month. If the stats are correct, a break from the booze is exactly what some of us need. According to the Dry July Foundation, 1.9 million Australians drink more than six standard drinks a day, and 17% of us are drinking at levels that put them at risk of alcohol-related disease.
The good news is, that opting for a non-alcoholic beverage on a night out no longer means you're the designated driver, or the uptight control-freak of your social group. Not only are younger generations drinking less than their parents, brands are making non-alcoholic drinks that all the cool kids drink. Not only do these drinks allow you to dodge the hangover bullet, there is a whole host of other benefits from taking a break from alcohol.
Benefits of Giving up Alcohol for a month may include:
Improved quality of sleep
Improved concentration
Weight loss
Decrease in cholesterol
Lower blood glucose
Decrease in liver fat
Enhanced work performance
Other benefits:
Improved mental health – alcohol can trigger and worsen symptoms of depression and anxiety
Financial – The average Australian household will save $140 a month, or $1600 a year
Consume fewer calories – Alcohol is high in calories, cutting it from your diet can make a significant difference to the amount of calories you consume over a week.
Healthier skin – Alcohol can negatively affect your appearance by causing dehydration.
Memories intact – No wondering what embarrassing things you may have done or said during a blackout.
Improved relationships with family and friends – no drunken fallouts with your nearest and dearest.
Alcohol-free Alternatives
Have you checked out the alcohol-free section of your local bottle shop recently? We think you'll be amazed at the taste, quality and variety that is on offer these days. Not drinking is no longer boring – it's had a sexy new make-over.
We've recently put some to the test for the sober-curious of you out there, and these are the ones we loved.
Wilde Guru – Non Alcoholic Sparkling Hop Water
If seltzer's are more of your vibe on a night out, then the Wilde Guru Sparkling Hop Water might be the thing for you to try this July. A 100% sparkling water, Wilde Guru is infused with real beer hops, giving it the slight bitterness of a seltzer or beer, just without the bad stuff – with no alcohol, carbs, calories or sugar. Available in natural and lemon and lime flavours, Wilde Guru is designed in unique, psychedelic packaging to make your sober exploration less socially abrasive.
ABV: <0.5% (non-alcoholic) RRP:  $11.99 / 4-packs from Dan Murphy's 
Wilde Isotonic – Electrolyte Beer
With soccer and footy seasons back in full swing, switching to non-alcoholic alternatives during July can be quite difficult for those who love a good bevvy after a match. Well, the good news is that there are fantastic electrolyte beers on the market designed to replenish you post-exercise. What's different about Wilde Isotonic however is that due to its specialised tonicity ratio, it can completely replenish 100% of the electrolytes and vitamins you lose whilst sweating it out. It's also Australia's first Isotonic beer, so be sure to add it to your booze-free cart. Wilde Isotonic is brewed as a non-alcoholic Australian Pale Ale with B1, B3 and B9 vitamins – finished with tropical passionfruit and pear notes.  
ABV: <0.5% (non-alcoholic)RRP: $11.99 / 4-packs from Dan Murphy's
Mornington Free – Pale Ale
If you love knocking back a few beers at the pub, why not try swapping it out for a non-alcoholic beer this July? Crafted by award-winning brewery, Mornington Peninsula Brewery, the 'Mornington Free' range was one of Australia's first non-alcoholic Pale Ale's to hit shelves. After launching two years ago, the Pale Ale is now the brand's second best-seller. Mornington Free Pale Ale uses aroma hops to give the beer a fruity flavour, with citrus and passionfruit notes. Pouring light golden, this deliciously easy-going beer is balanced and refreshing. 
ABV: <0.5% (Non-Alcoholic) RRP: $15 per six pack at Dan Murphy's.
Mornington Free – XPA
Who says that you also can't have a 'craft' non-alcoholic experience? Launched in Australia last month, Mornington Peninsula Brewery has introduced their second addition to their non-alcoholic beer line, Mornington Free. The XPA has stronger craft-beer notes to deliver on a flavourful beer taste. A non-alcoholic fruit bomb featuring passionfruit, mango and pineapple notes, XPA pours light golden with a full taste and balanced bitterness. 
ABV: <0.5% (non-alcoholic) 
RRP: $45 / case of 24 at Dan Murphy's. 
Bullpen Cider Co
Bilpin Non Alcoholic Cider has the crisp taste of Granny Smiths, Pink Lady and Red Delicious apples. It's a refreshing summer drink.
ABV: <0.5% (non-alcoholic)
RRP: $16.99/pack of 6 at Dan Murphys
Yes You Can G&T Alcohol Free
G&T by Yes You Can:
Just the tonic (and more!) – a jolt of juniper with a classic bitter hit and that familiar G&T warmth. Best enjoyed when it clinks in a fancy glass with a squeeze of fresh lemon and a clear mind… or straight from the can!
Alcohol Free
100% Vegan
All national flavours
Gluten Free
Less Calories
ABV: <0.5% (non-alcoholic)
RRP: $89.99/case of 24 at Dan Murphys
This is just the tip of the alcohol-free iceberg though. We encourage you to dip your toe in and try some healthier alternatives to alcohol for yourself. Happy Dry July!