6 Easy Hairstyles for Mums on the Go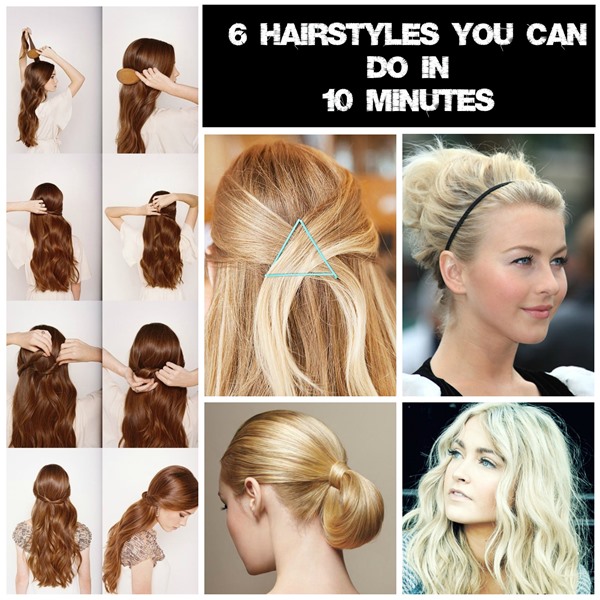 Mornings can be so rushed and busy, there is little time for faffing around. By the time you have washed, fed and clothed your children, there is not much time left to spend creating a refined hairstyle so we have put together 6 styles you can do under 10 minutes.
6 Easy Hairstyles for Mums on the Go
1. The tucked in pony tail is as simple as brushing your hair into a pony and keeping all but one strand tucked into the hair elastic. The remaining strand can be wrapped around the band and fastened with a bobby pin underneath the half pony. It's a simple and polished look.
2. Messy beach waves can look like a I just got out of bed look so to make the waves tighter split your hair into two sections. Twist the ends of each section and run your hair iron down the length of the hair to create gorgeous, curly waves. For a tighter curl, part the hair into smaller sections.
3. Messy twisted bun. This look is perfect for mums that want hair off their face.  No need for a hair tie for this style. Simply part your hair into two sections, tie it into a know and twist the sections around the knot, fastening with bobby pins. It can also be accessorized with a headband.
4. Let the bobby pins do the talking by sliding them into place to make a shape design. Coloured bobby pins work well for this style, and if you don't have any, borrow your daughter's. This style pins the sides of the hair to create a half up and down look.
5. The half up and down twist is a new take on the half up pony tail. Take each side section of hair and twist until they meet into the middle and use bobby pins to secure together. Alternatively, knot the two twisted sections of hair together.
6. The easy chignon is a style that needs a bit more time to complete in the morning, but looks stunning when done. It does require a hair tie and some bobby pins to keep in place. It works best for short to shoulder length hair.
Which hair style are you going to try this week? What's an easy style solution for your hair when you're on the go?