Eyesential Under Eye Enhancer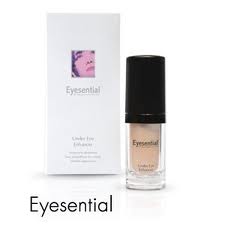 Many women are constantly looking for products to help reverse the ageing process.
Whether it be miracle creams or covering up with some make up, we all want to look younger.
A big issue that I think most of you will agree with me on is our under eye area.
It could be fine lines, wrinkles, dark circles or puffiness – there is always something we pick on ourselves for. I want to share with you all a product that I have just found out about, some of you may have heard of it on A Current Affair, Mornings with Kerri-Anne or 7 News.
It is called Eyesential Under Eye Enchancer.
How does this product work I hear you asking? Well, Eyesential works by forming an "invisible" film under the eye. When viewed under a microscope, this lotion looks sort of like a spider web, acting as a camouflage that hides wrinkles, dark circles, puffiness and fine lines.
It is dermalogically recommended so it is perfectly safe for your skin.
Now, it is not a treatment, it is not claiming to cure all the aging symptoms, but users have noticed an definite improvement in the under eye area after constant use.
I believe that it is never too early to start caring about your skin so remember, even if you are in your late teens or even 20's – it's never too early to start using anti-aging products to help prevent the signs of aging.
Want to see how it works? The link below has a few videos showing how the product works, this product
definitely seems to make a difference!
Who else wants to run out and grab one now?!
http://www.eternalbeautyproducts.com.au/as-seen-on-tv/