Review: Olay Total Effects Foundation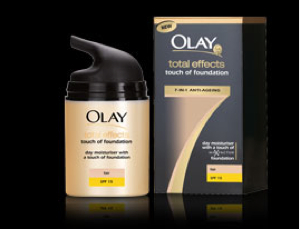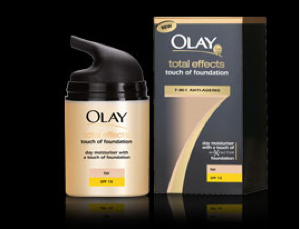 Aging. We are all trying to get our hands on products that will help postpone this process.
For as long as I can remember, Olay have been known for their miracle face creams that help slow down the aging process. I grew up always seeing a bottle on my Mum's side under the bathroom sink. Recently,I decided to give one of their new creams a go – Touch of Foundation Day Cream (RRP $30) and put it tothe test. I am a big believer in "It's never too early to start using Anti-aging products" so even though I am only 22, I love this moisturiser!
I was a little worried when I put the cream onto my hand that it would be too dark for my skin tone, but was pleasantly surprised when it absorbed into my skin and only left a hint of colour, leaving my skin with a nice, slight glow.
It has a nice, creamy texture that leaves your skin feeling soft not greasy. With added SPF 15, this cream is perfect for those of us that are naughty and forget to put sunscreen on when leaving the house.
And you only need a tiny bit of this cream to cover your face and neck (one pump is plenty) so it will last ages too.
I am not a big fan of wearing a full face of make up every day, so this is great for putting on before running out of the house and not looking like a complete zombie!
This cream evens out skin tone, reduces the appearence of fine lines and wrinkles , evens out skin texture, reduces the appearence of age spots, hydrates the skin, give skin a healthy radiance and minimizes the appearence of pores. All that in one little cream? I love it!
This moisturiser has fast become my go to face cream at the moment. I highly reccomend this one ladies!
Tara-Lee is a proud Stay At Home Mummy to a gorgeous 2 1/2 year old girl, engaged to be engaged to a wonderful man and has a slight obsession with all things cupcakes.
She is very passionate about the beauty industry and is looking into starting a make up course in the next year or so, so she can hopefully start following the dream she has had for many years now.
You can follow Tara-Lee's adventures on her blog – Tara-Lee.In.Candyland (http://tara-leeincandyland.blogspot.com.au/) and Facebook (http://www.facebook.com/taraleeincandyland)