Scientists Introduce an Anti-Aging Chocolate Bar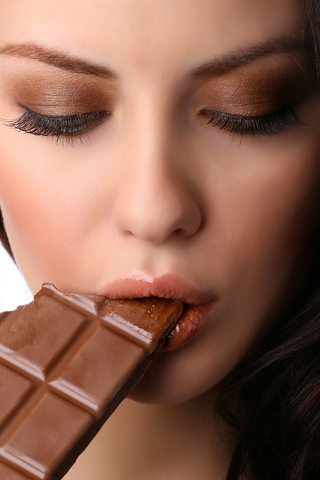 First we told you that champagne may be good for keeping dementia at bay and now we have an anti-aging product that is just too 'sweet' for words! Forget wrinkle creams, the secret to younger looking skin may be in CHOCOLATE! Yes, you read that right.
Scientists at a UK-based company with ties to Cambridge University have created Esthechoc, a 70 percent dark chocolate enriched with cocoa polyphenols and a potent algae extract. It's said the just one 7.5 gram piece packs the same antioxidant power as 300 grams of wild Alaskan salmon or 100 grams of traditional dark chocolate.
The first ever "beauty" chocolate claims to have the power to slow aging, boost circulation, oxygenation and detoxification to keep skin looking up to 30 years younger. And who doesn't want that!
At just 39 calories per bar, the wrinkle-fighting cocoa sounds too good to be true, yet clinical trials showed study subjects (between the ages of 50 and 60) had less inflammation in their blood and increased blood supply to their tissue after consuming the bar every day for just three weeks.
"While these early reports are exciting, additional clinical trials must be performed to confirm the results," says Joshua Zeichner, M.D., director of cosmetic and clinical research in dermatology at Mount Sinai Hospital in New York City. "This chocolate could be an additional measure to prevent skin aging, but it shouldn't take the place of a healthy lifestyle and diet rich in fresh fish, fruits and leafy green, along with proper sun protective behavior."
Esthechoc bars are vegan, diabetic-friendly and suitable for all skin types. Not sure yet on how expensive they will be but we will find out next month when they are due to hit the shelves.
Will you be trying this new wonder chocolate? I know I will!