Thread That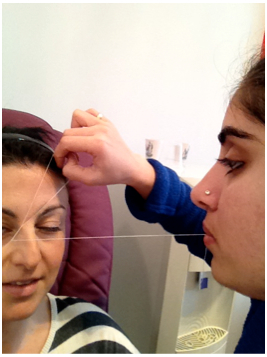 The other night Bethenny Frankel (from Housewives of NY fame) popped into her local beauty salon in Brooklyn to have some eyebrow threading done. It looked so painless, simple and effective that I was instantly intrigued. The things this beautician did with a piece of thread defied logic. How someone can perform hair removal with such precision is beyond me – I struggle to pass thread through a needle!
So what is eyebrow threading? Threading is a method of hair removal commonly used in Eastern countries like Egypt and India. It is done using only a cotton thread and results can last up to 6 weeks. Watching someone perform eyebrow threading is truly amazing. A cotton thread is pulled along unwanted hair in a twisting motion to trap hair in a mini lasso that lifts the hair right out of the follicle. It is commonly used for eyebrows, upper lip and chin. It's not recommended for the body.
The Pros are many:
No chemicals are needed on the skin.

It's quick and leaves minimal (if any) redness. Perfect for lunch time appointments between work.

It's extremely hygienic as nothing but the thread touches the skin. Each piece of thread used is then thrown out.

Threading is amazingly precise for shaping eyebrows.

It's quite affordable – ie $15-$20 for eyebrows, $6-$12 for upper lip.

It's relatively pain free. It feels like tweezing but much quicker.
Needless to say I had to try eyebrow threading ASAP. I did what every tech savvy woman does and Googled to find my nearest salon. The very next day I was on my way.
The lady that greeted me at the door was Indian so I knew I was in good hands. She told me she had been taught this technique from her mother and grandmother and that it was a very common method of hair removal in India.
And apart from that she had the most amazingly shaped eyebrows – the kind I had as a teenager before I started tweezing the bejesus out of them!
I asked her if it would hurt. She asked me if I had kids. I said I did. She said I'd be fine. I forgot to mention I had my twins by Caesarean. Does that count in the pain stakes? I'm not sure.
Anywho – she did a practice run on the back of my hand so I could see how it felt- except I don't have hair on the back of my hand – so I felt nothing.
She began by putting the string in her mouth and then winding it over her fingers. I felt like I was in a scene from Edward Scissorhands (except she had string, not scissors and unfortunately she wasn't Johnny Depp). She worked on my eyebrows so quickly that before I had time to say – not too thin – she was done.
She handed me a mirror and said " What do you think?"
What did I think?? This girl was a genius! I have always had trouble getting my eyebrows to look even and she managed to do it in 2 minutes with a piece of string! Step aside Johnny Depp- the Oscar goes to the eyebrow threading Master! I was hooked- so precise, so smooth. I have never had a result like this from waxing- ever. Good-bye Benefit Brow bar…it's been nice knowing you.
So would I recommend threading? Absolutely! It's cheap, effective and relatively painfree. And it's been around for centuries! Give it a go for yourself. You'll be hooked.
My threading was done at Red Silk Nail Salon @ 237 Canterbury Rd, Canterbury., Melbourne.