Black Friday: Save Big on Kids Outdoor Toys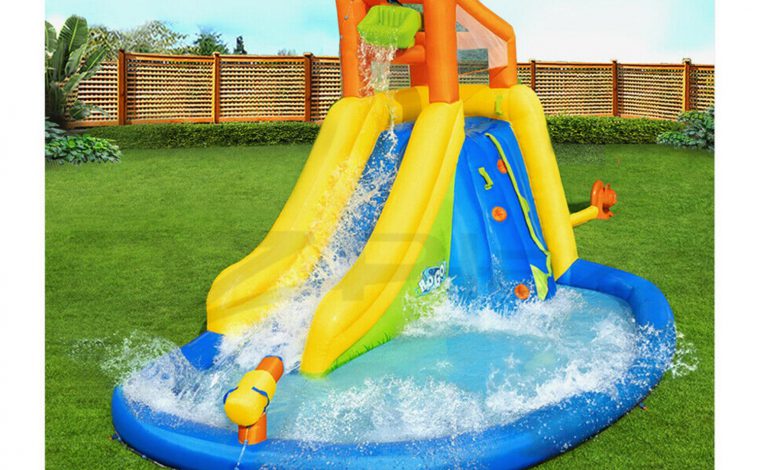 Black Friday: Save Big on Kids Outdoor Toys
After the year we've all had, having to spend so much time at home during lockdown, most of us can't wait to spend the summer outdoors! eBay's Black Friday deals are on all weekend and there are some incredible bargains to be found on outdoor toys for kids. We've put together a list of our favourite kids outdoor toys, but we encourage you to head over to the eBay Black Friday Hub to check out the millions of deals for yourself. It's great way to hang on to some your own hard-earned money and also smash out that Christmas shopping list without having to even enter a busy shopping centre!
Did you Know eBay Now Offers Afterpay?
Earlier this year eBay partnered with Afterpay, Australia's number one buy now, pay later platform, to give Aussie shoppers greater payment flexibility when purchasing online and a way to responsibly manage their personal finances.
Our Top Picks in Kids Outdoor Toys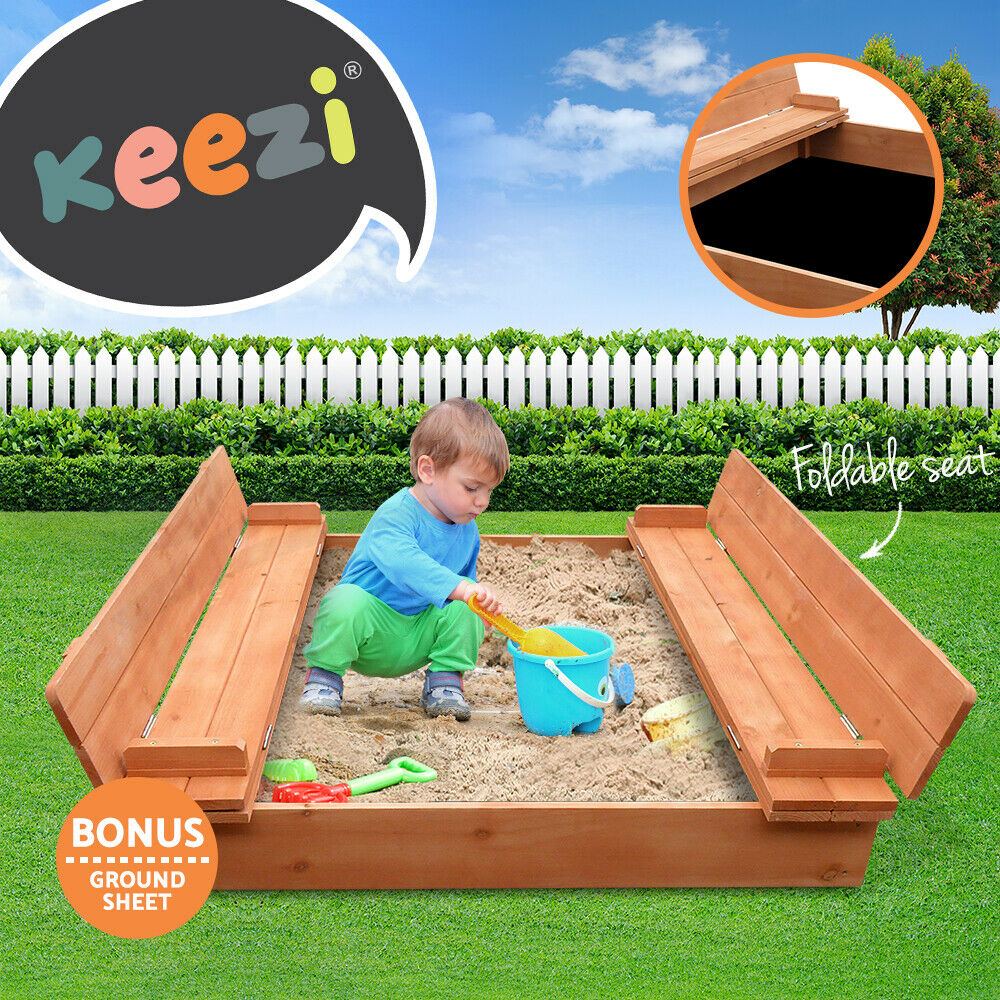 Keezi Kids Outdoor Toys Sandpit Box
Was $257.95 Now $105.95 – Use code PRESS20 at checkout for a further 20% off
Great outdoor fun for kids
Rounded corners for added safety
Comfortable seating area
Treated timber with protection against wood rot and insect damage
Supplied flat packed and pre-drilled with easy assembly instruction
Encouraging outdoor play and exercises
Comes with a ground sheet
AS8124 Safety of Toys Set certified Buy here
Rigo Kids Pedal Go Kart Car Ride On
Was $369.95 Now $143.95 Use code PRESS20 to get a further 20% off
Made of a very sturdy steel frame with oxygen-welded joints for extra stability and durability, the Kids Go Kart has a large and adjustable seat with a high back rest for maximum comfort. Pedal power is assisted by a forward and reverse control and a sporty and highly responsive 3-point steering wheel. The large pneumatic rubber tyres provide good grip and traction as well as good shock absorption for a smooth ride. And for safety, the bike chain is fully covered to prevent any injury whilst the manual brake is super effective too. Not least, the striking colours and finishing simply look awesome. Buy here
Bestway Inflatable Water Slide Jumping Castle Water Park
Was $1569.95 Now $599 Use Code PRESS20 to get a further 20% off
Slide, splash and a whole lot more. This inflatable Bestway Water Park is one great water play centre. It comprises a curved slide, splash pool, tipping bucket, water cannon, climbing wall and a mesh-protected bouncing playpen. With so much to play with, your kids will definitely enjoy every single moment with it. Made of the durable and colourful PVC-coated polyester that is resistant to punctures and tears, the water park is also UV-resistant for more fun in the sun. It inflates in under 2 minutes with the supplied blower. The tipping bucket and water cannon keep the slide and rider wet for more thrilling rides. Ground stakes are also provided to ensure the structure stays firmly in place with all the robust play. It is made to last, but should an accidental tear occur, our supplied repair kit should be adequate to patch the fun back with minimum fuss. So get ready for summer with this water park and let your children have a splashing great ride. Buy here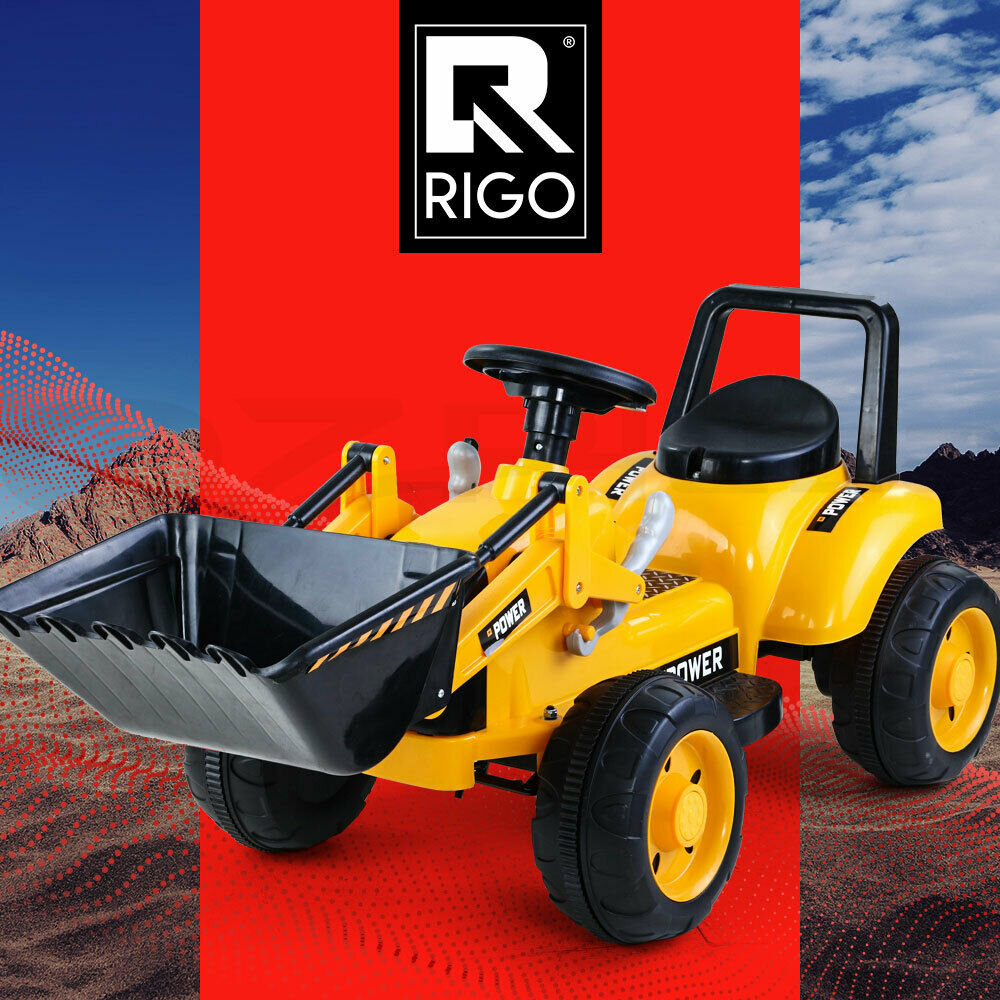 Rigo Kids Ride On Car Electric Digger Excavator
Was $425.95 Now $179.90 Use code PRESS20 to get a further 20% off
Perfect for a bulldozing time in the backyard, this Rigo Ride-on Bulldozer is heaps of fun for your child who simply loves things mechanical. Let your child experience the battery-operated version first before the real thing two decades or so down the road. Sitting on a strong seat with an anti-slip surface and a roll bar that acts as a high backrest and a convenient handle when moving the vehicle, your child can use the functional bucket lever to push, scoop or dig sand and gravel with delightful realism. Just like the real deal, there is a foot pedal to control speed and forward/reverse switch to control direction. The large non-slip wheels with stylish chrome-looking alloys give the ride-on bulldozer ample safety while travelling at a speed of up to 3km/h. And if things get a little carried away, parents have an override remote control that takes over the driving manually. Buy here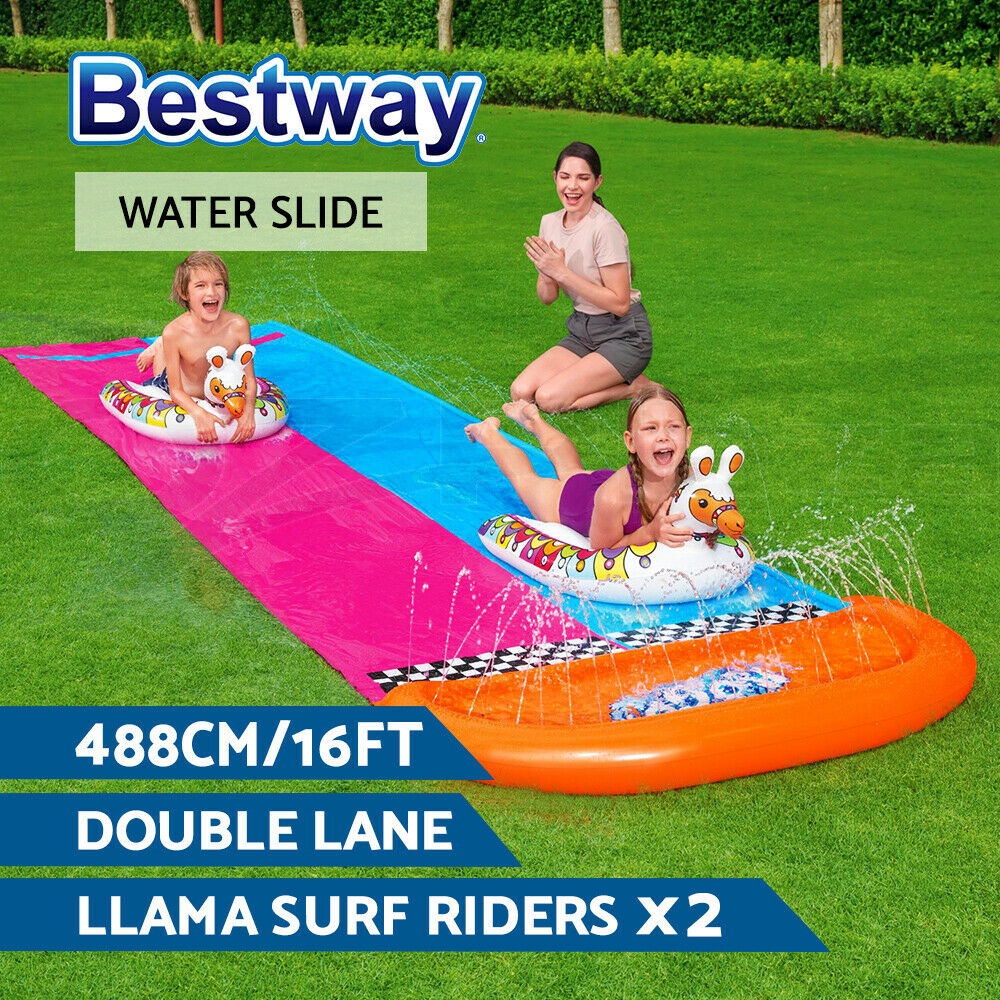 Bestway Inflatable Water Slip And Slide 4.88m
Was $129.95 Now $42.66 Use code PRESS20 to get a further 20% off
Your children will be making a splash among their friends this summer with our Bestway Inflatable Water Slide. This 4.88m long double-lane water slide is suitable for children aged between 5 and 12 years and comes with everything you need to turn your backyard into a veritable water park. Buy here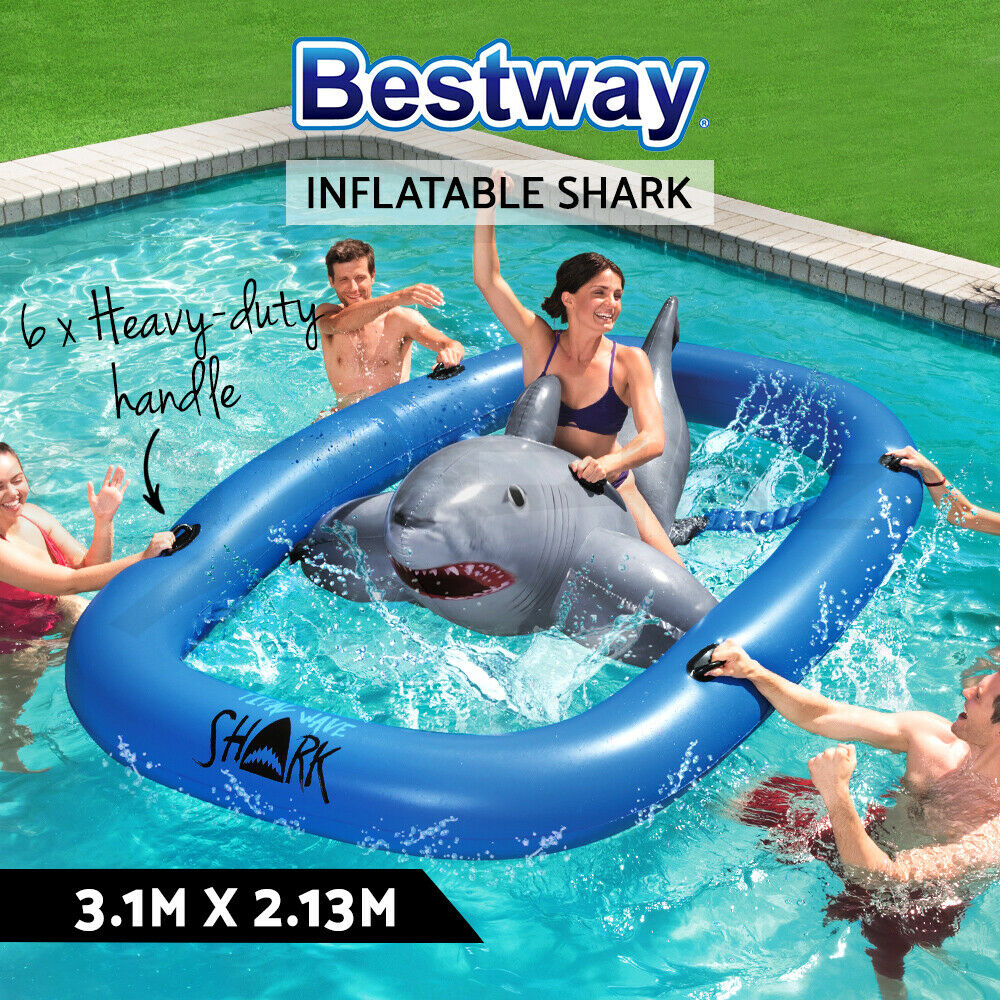 Bestway Inflatable Shark Float
Was $280.95 Now $68.90 Use code PRESS20 for a further 20% off
Swim with the sharks this summer (without the fear of them attacking you) with this Bestway Inflatable Shark. In the shape of a ferocious shark with realistic size and captivating graphics, the inflatable shark is guaranteed to provide you and your friends, family or children plenty of aquatic fun and relaxation. Built of sturdy polyester fibre mesh and heavy-gauge PVC vinyl that is resistant to UV, tear and wear, the shark is durable and has two leak-proof air chambers. A large outer ring is connected to the shark to ensure balance and safety. It also comes equipped with six heavy-duty handles – two on the shark for you to hold onto, and four on the outer ring for your friends to guide you around the pool. Not least, a repair patch is also included for any unforeseen tears. So get ready for summer with our inflatable shark and have a splashing great ride. Buy here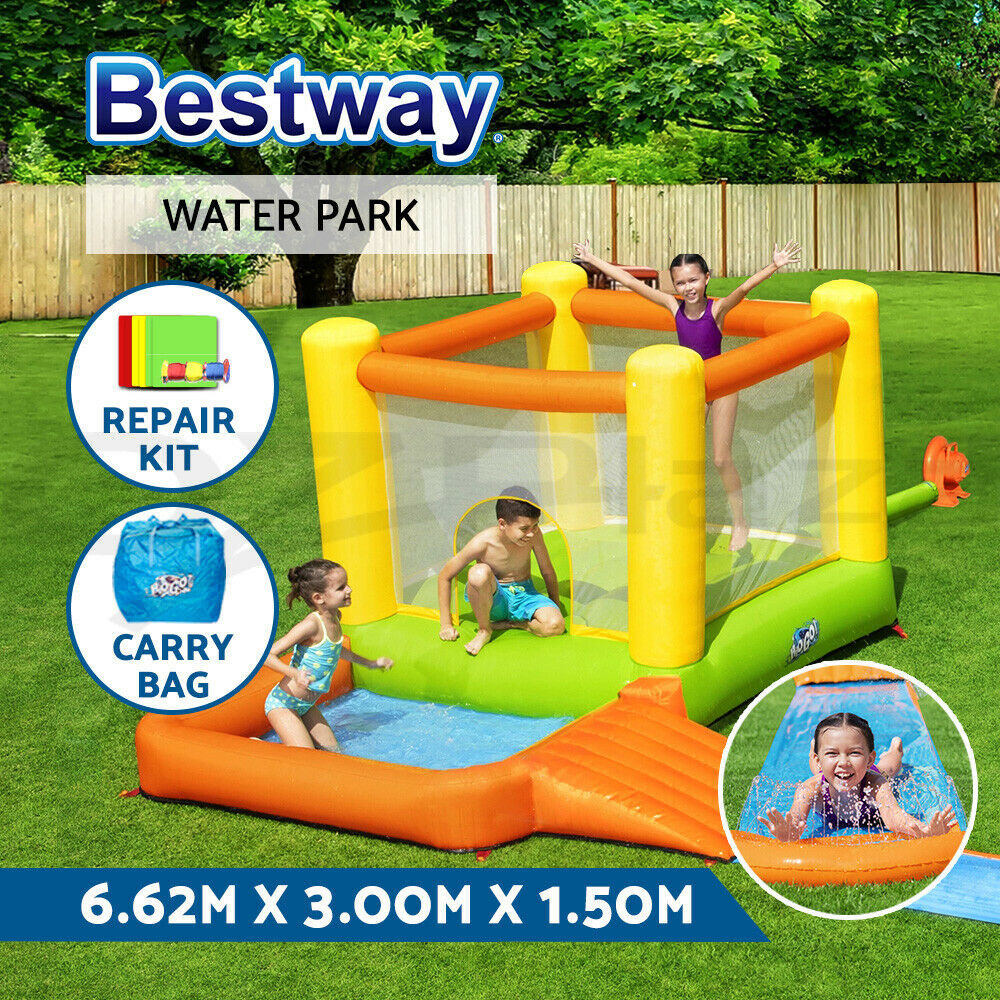 Bestway Inflatable Water Slide Water Park Jumping Splash
Was $940.95 Now $329 Use code PRESS20 to get a further 20% off
Slide, splash and a whole lot more. This inflatable Bestway Water Park is one great water play centre. Your child can start with jumping in the bouncing playpen that has secure mesh sidewalls for safe play and easy parental supervision. Then crawl through to the splash pool with ramp access onto the water slide. And finish off with sliding down the slick water slide and touching down with a splash. Buy here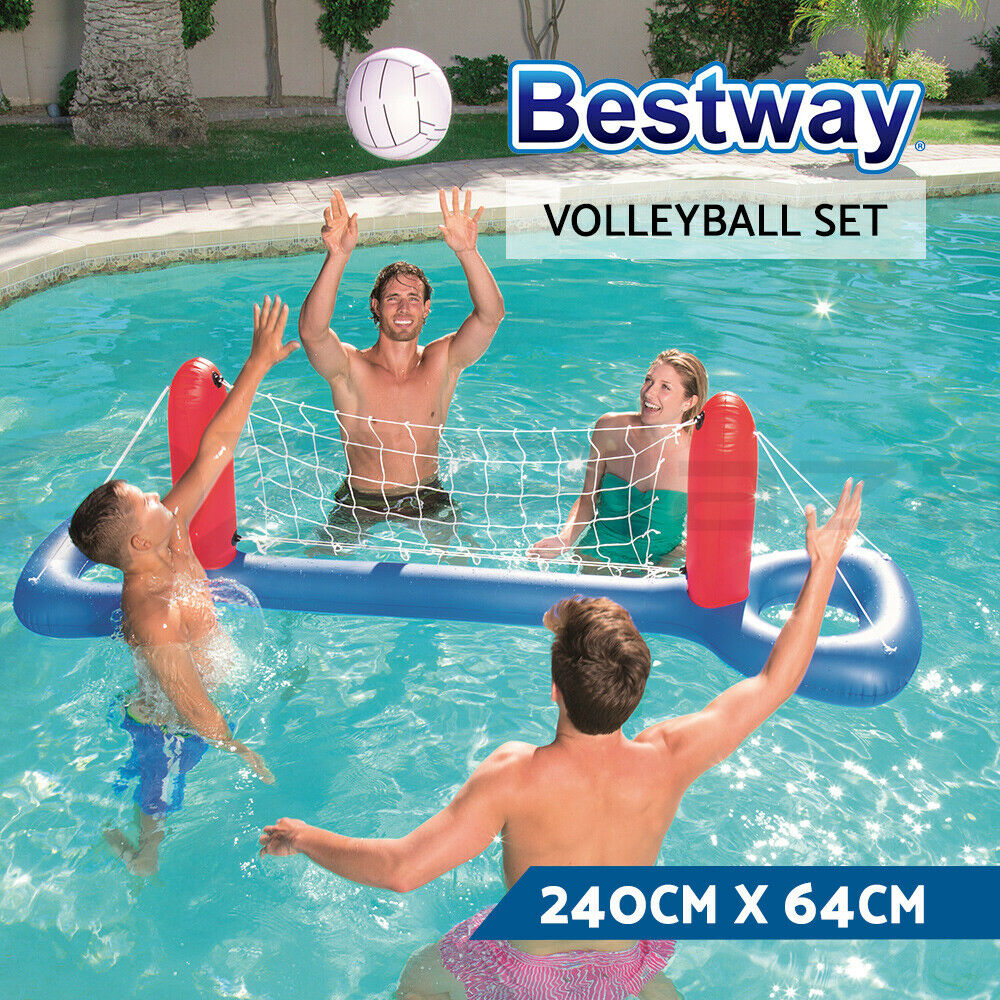 Bestway Inflatable Volleyball Set & Ball
Was $114.95 Now $39.90 Use code PRESS20 to get a further 20% off
Ready for some great fun in the wet? Then the Bestway Volley Set is just the game for you. Comprising all the elements of a volleyball game including a nylon net, this inflatable ensemble is designed for exciting matches in the pool for kids and adults alike. The inflatable poles have grommets on the bottom that allows you to attach weights and keep the net in place. Not least, a 16-inch ball is provided to get the game started once the set is inflated. Designed to be child-safe, the set has smooth edges and three interconnected nozzles for easy inflating and deflating. And for emergency repairs, a repair patch is also included. Buy here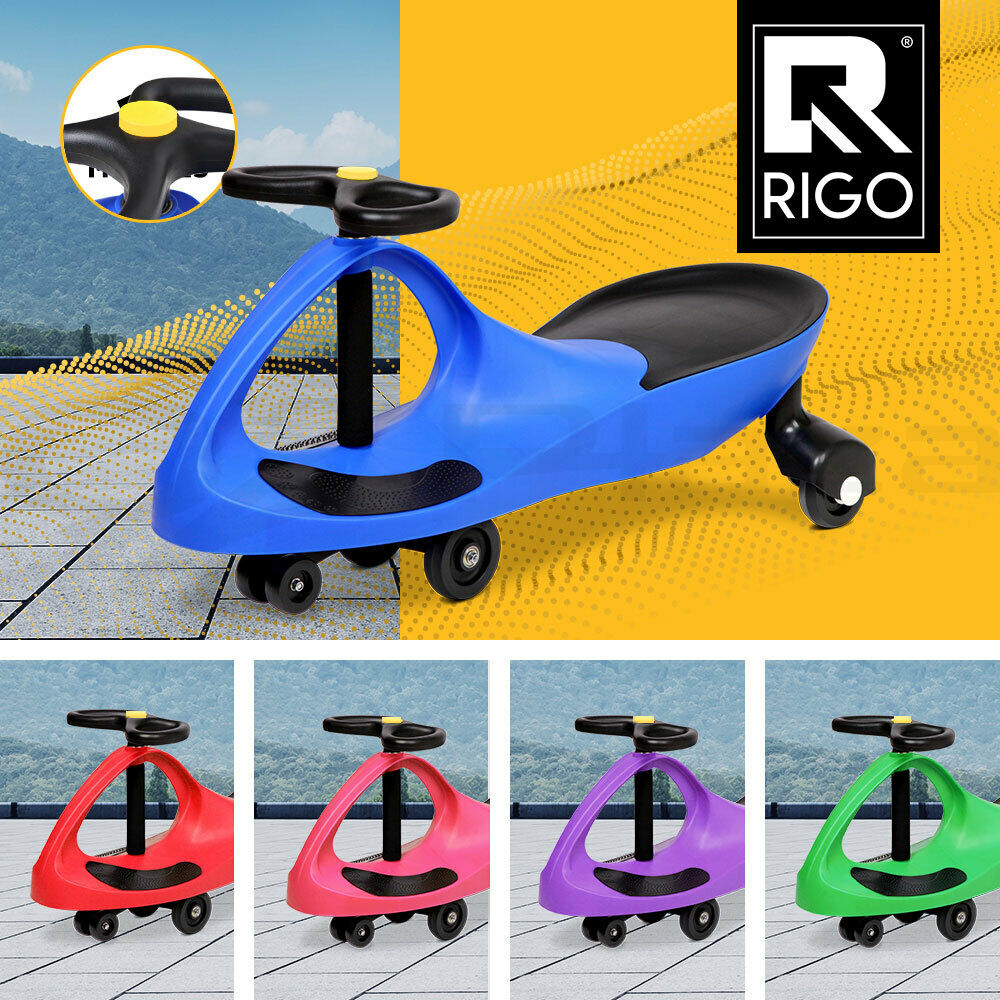 Rigo Kids Wiggle Swivel Scooter
Was $134.95 Now $34.95 Use code PRESS20 for a further 20% off
It's revolutionary to say the least. No pedalling needed. Just swing the steering wheel back and forth to set the speed and direction. Your kid will love the crazy movements as the Swing Car goes through its paces. Buy here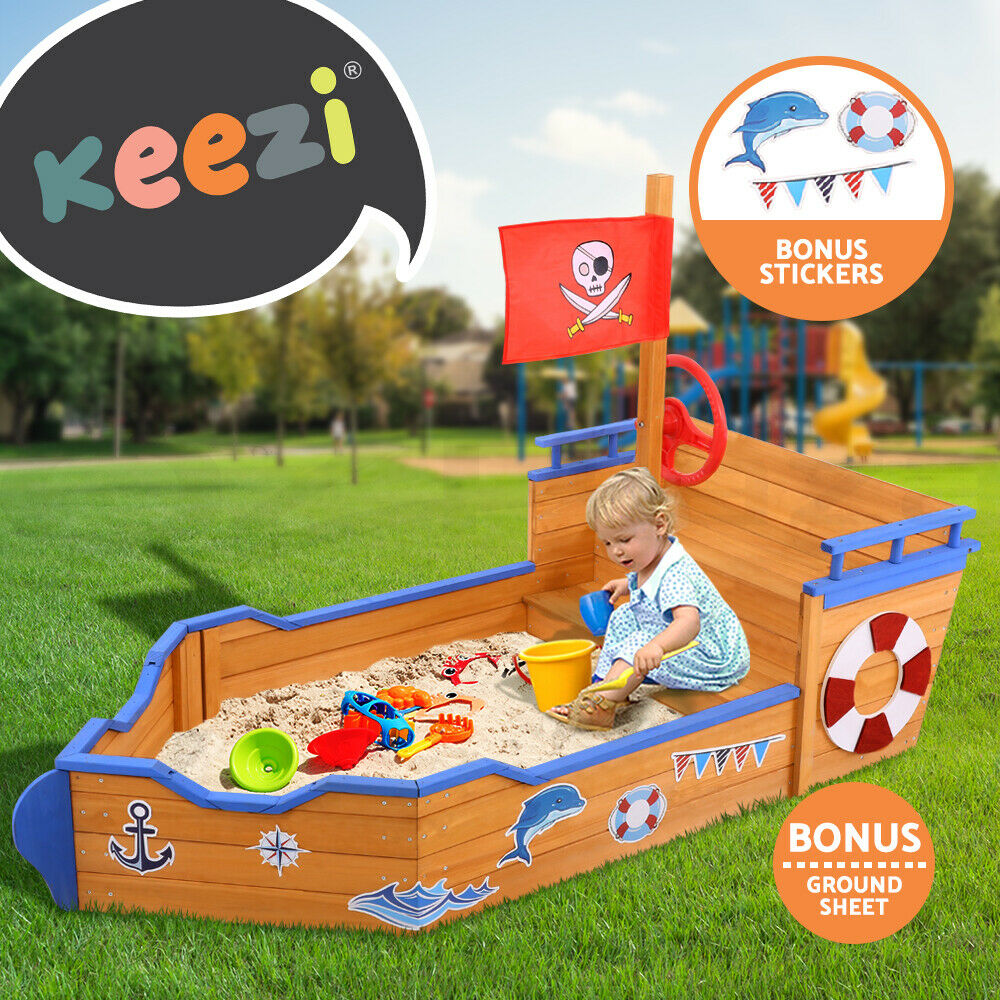 Keezi Kids Boat Sandpit
Was $328.95 Now $136.90 Use code PRESS20 for a further 20% off
Sand ahoy! This  Keezi Boat-shaped Sand Pit promises hours of outdoor fun for your kids and friends. With ample space for two to three kids, the sand pit is constructed of treated timber to withstand the elements. The boat-shaped sand pit also comes with a realistic steering wheel to 'steer' the craft and adorable cartoon stickers for your kids to decorate and customize their 'pirate ship'. Yes, it also comes with a Jolly Roger flag. Not least, the spacious bench seats and an included ground sheet ensures the sand pit is comfortable for rest and play without worrying about dirt or moisture from the ground. Sail on kids! Buy here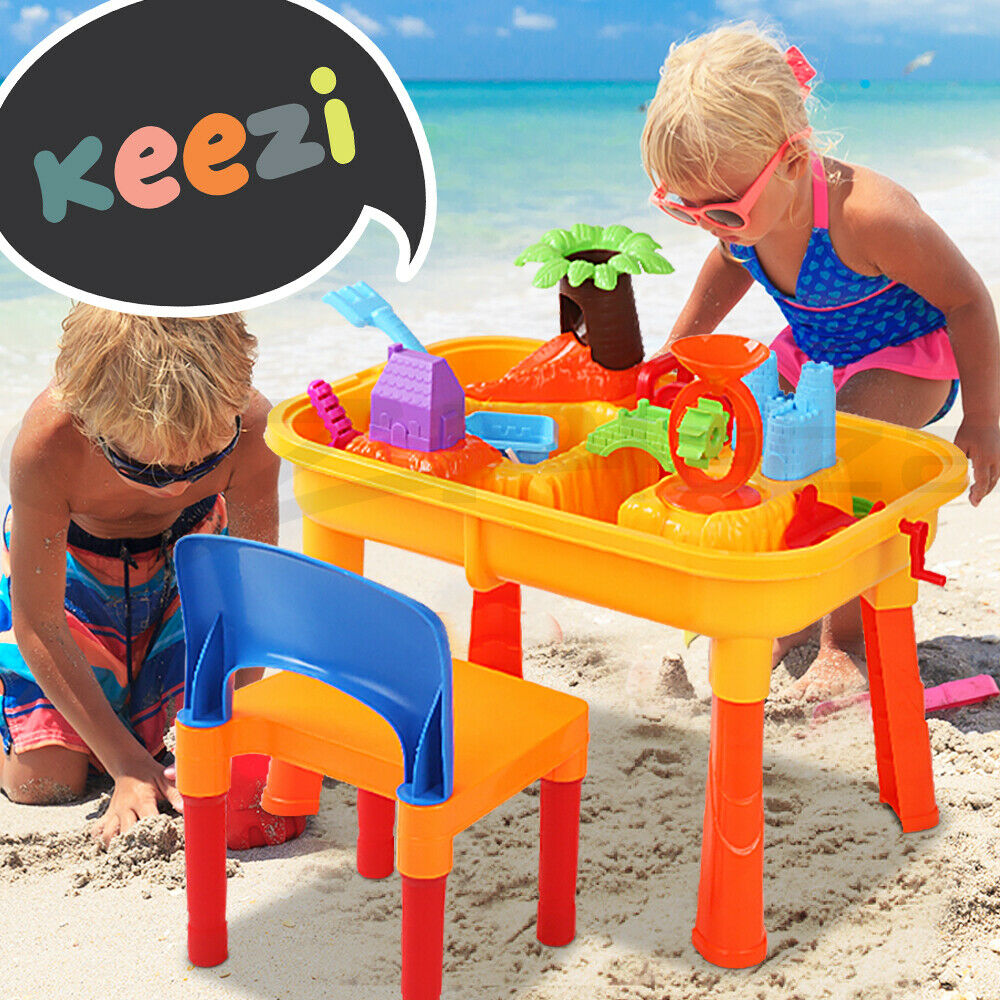 Keezi Kids Outdoor Beach Sand Pit Table
Was $168.95 Now $59.90 Use code PRESS20 for a further 20% off
Looking for a great toy that encourages outdoor play for your child? Why not get them a Sand and Water Table Set. Your child will love every minute playing with it!
Complete with table and chair, the vibrant and colourful Sand and Water Table Set features various play things for your child to develop their creativity. Fill the Table with sand and water and watch your child have fun with the movable water wheel and sand tipper or building sand castles and the like with the sand moulds, shovel, rake and bucket. There are also little boats and other engaging toys to offer hours of intriguing play with every push, twist, slide and turn. Buy here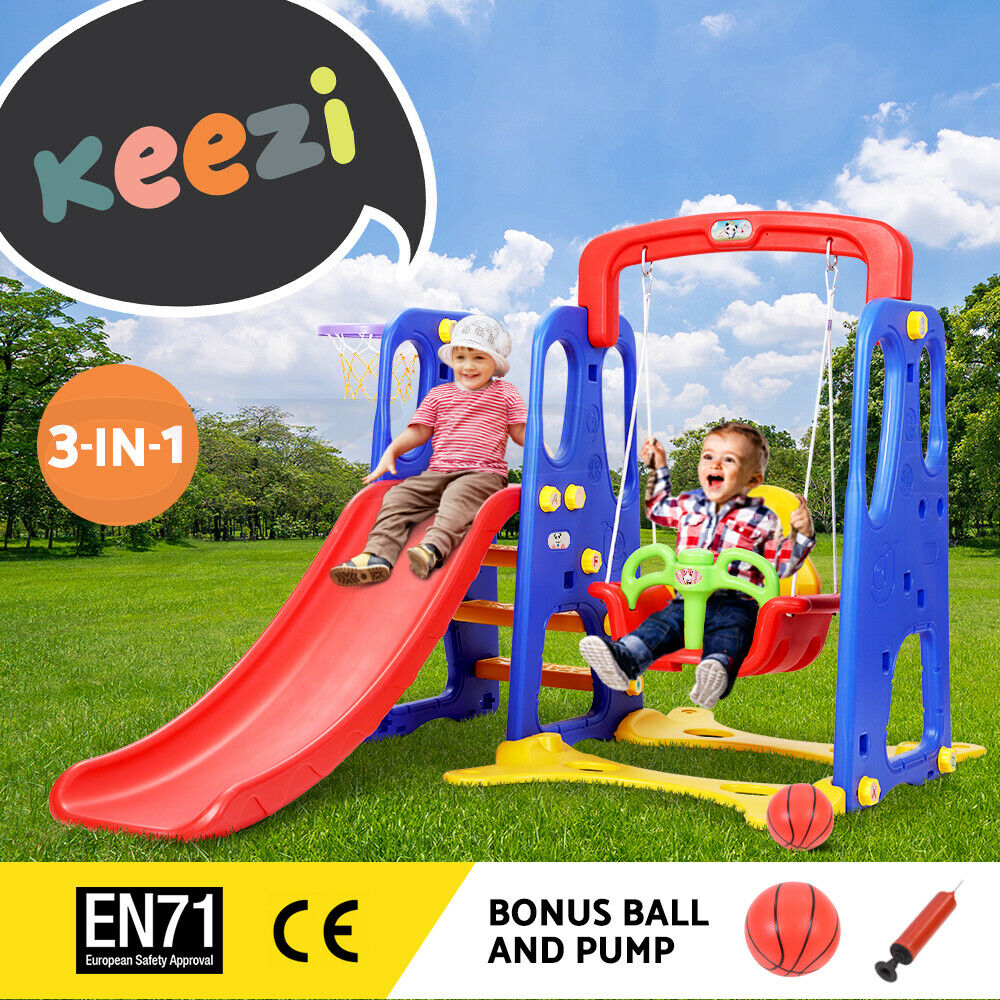 Keezi Kids Slide Swing w/ Basketball Hoop Outdoor Indoor Toddler Playground
Was $481.95 Now $219.95 Use code PRESS20 for a further 20% off
With this Keezi Play Centre, your kids can have a great time in more ways than one. This multi-play zone comprises a 130cm long slide, a happy swing and a basketball hoop. Made with eco-friendly and non-toxic PE plastics, the play centre is also designed for safe play. Such a smart slide that allows for more gradual sliding and stopping with less chances of injury. A U-shaped base also ensures better stability even with robust play. The anti-slip steps and wide handles also make it easier for kids to walk and hold onto the equipment without slipping or falling over. The play centre comes with a bonus football, some stickers and a pump. Installation is totally hassle-free with no tools needed. Buy here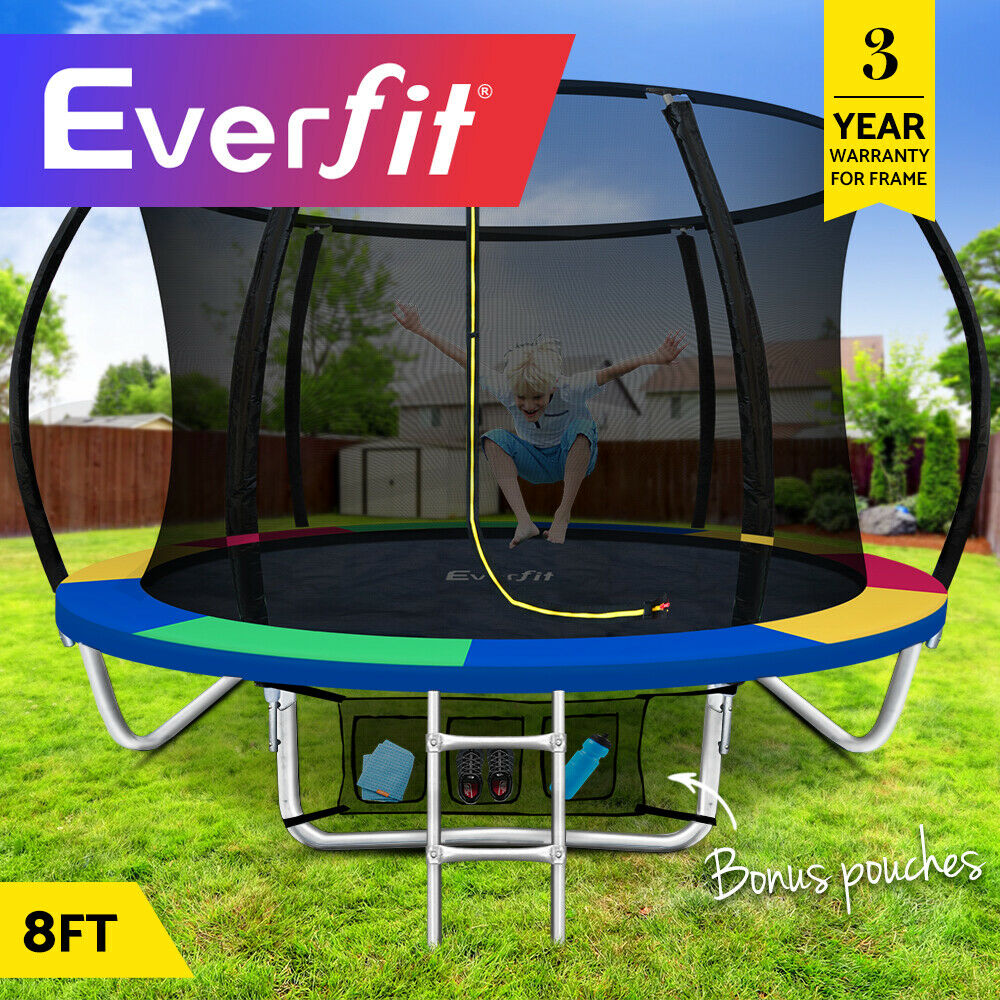 Everfit 8FT Trampoline Round Trampolines Kids Enclosure Safety Net
Was $974.95 Now $279.95 Use code PRESS20 for a further 20% off
Bounce to your heart's content with the Everfit Trampoline. With its superior bounce characteristics featuring 48-piece triple rate springs, the 8-foot Trampoline enables safe and durable bouncing with no worries. The heavy-gauge steel framework is designed to handle all robust play and is UV-tested for quality and reliability. Other great features include a curve design for more rigidness, 20mm thick padding, anti-graze mat, safety netting and a double-lock zip-and-clip entry. Buy here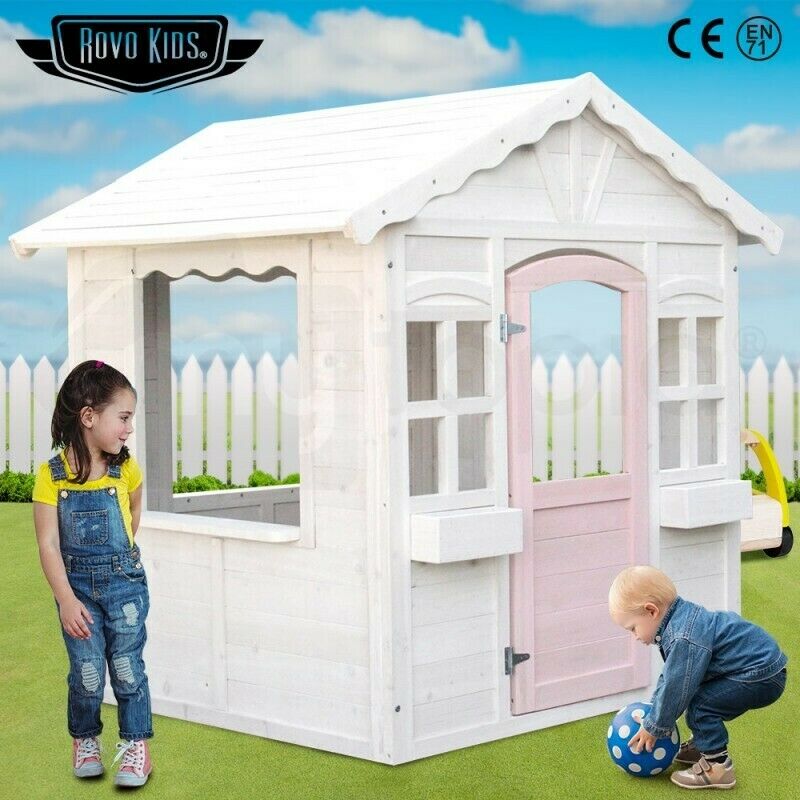 ROVO KIDS Cubby House Wooden Outdoor Playhouse
Was $899 Now $619 Use code PRESS20 for a further 20% off
Aussie kids enjoy playing in the great outdoors no matter what time of day it is. With the new Rovo Kids Wooden Cubby House, there will be smiles and laughter as your little ones enjoy playing safely in their very own outdoor home. With the weather-resistant wood construction providing for year-round outdoor play, your only problem will be in getting them to come inside! Buy here
Head on over to the eBay Black Friday deals hub now and shop 'til you drop!. New members can sign up for their 30 day free eBay Plus trial here  for a whole host of other benefits including free shipping and returns.
Happy shopping!!!!