Baby Food Recipe: Roasted Salmon, Pumpkin & Sweet Potato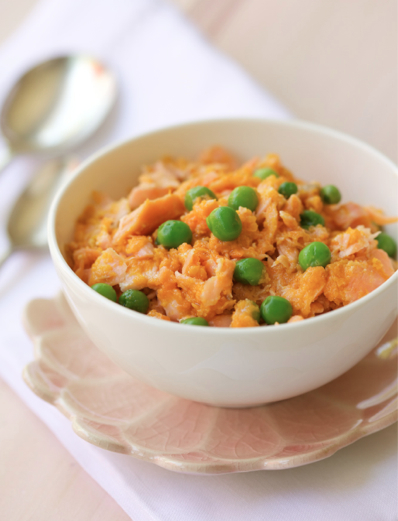 Roast Salmon, Pumpkin and Sweet Potato Baby Food Recipe
Age: second month of eating, plus
Suitable for freezing
Makes: 2 cups
Prep time: 5 mins
Cooking time: 30 mins
100g pumpkin
100g sweet potato
1 tbs olive oil
150g f illet of salmon, bones removed
1/4 cup frozen peas
4 tsp grated tasty cheese
Roast pumpkin and sweet potato lend a lovely natural sweetness to this goodness-packed first taste of fish. Just make sure there are no bones in your salmon before you cook it.
Preheat oven to 180°C. Line a small tray with baking paper.
Peel and roughly dice pumpkin and sweet potato into 2cm pieces. Place on lined tray and drizzle with olive oil. Roast for 20 mins. Add salmon fillet and roast for a further 7-10 mins. If your vegies are getting too much colour, remove them from the oven as you don't want too much of a crust on them.
Meanwhile, microwave steam the peas according to packet directions. Remove vegies from oven and mash pumpkin and sweet potato with tasty cheese (you may need to microwave the mix quickly to help melt the cheese). Remove skin from salmon and flake with a fork, double-checking for any bones as you go.
Combine mash, peas and salmon. Can be pureed to desired consistency or left as is. Divide into portions and freeze.
Emily Dupuche is a Melbourne mum of three and a self-professed foodie. She loves cooking for her family and has shared her commonsense approach to the introduction of solids in her recipe book, Food Babies Love. Follow her musings on her blog at www.foodbabieslove.com.au