Play with Food: Halloween Monster Balls Recipe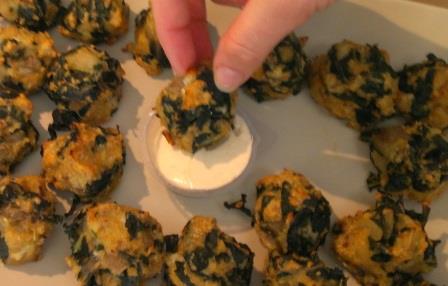 Whether or not you participate in any Halloween activities, this recipe is wonderful for your budding chefs to help you with.
It may be a sensorial challenge for kids that don't like to get their fingers dirty – but they can use two spoons to make their balls instead.
My recipe for monster balls calls for sautéed onion & silverbeet which you can do ahead of time for the children. However, don't feel limited to having to use these vegetables only. This recipe can be transformed into "Pirate Bites" by substituting the silverbeet with nuggets of gold (corn), "Little Red Riding Hood Snacks" subbing in capsicum & sundried tomato or "Jack-o-lantern Chews" with grated pumpkin & sweet potato. It is a relatively simple recipe and can be adapted to include your child's preferred & tolerated foods.
Ingredients:
1 Onion (chopped & sautéed in 1 tbsp butter)
1 Garlic Clove (chopped & sautéed with onion)
5 Stalks of Silverbeet (Ribs removed, chopped and wilted with onion)
2 cups of multigrain breadcrumbs
2 eggs
1 cup of grated cheddar cheese
1 tsp dried oregano (or other herbs for flavour)
Salt and Pepper
Method: (Where you see an A – it is an Adult step and LO – is something the little ones can do)
Step One:
A – Preheat oven to 180oC and place a sheet of baking paper on a tray. Get out all ingredients ready for your LO. Ensure onion & silverbeet mix has cooled down.
LO – In a large bowl combine the breadcrumbs, onion & silverbeet mix, eggs and cheese. Mix all these well with a wooden spoon.
Step Two:
A – Season the mix with herbs, salt and pepper to your liking
LO – Use your hands or some spoons to grab balls of mixture (the size of golf balls) and place them on the baking tray. They aren't meant to be perfect ball shapes – they can be lumpy just like monsters!
Step Three:
A – Place in the oven for 15-20 minutes until the balls are slightly browned. Remove and let cool down for a few minutes before serving.
If you want, you can use a variety of dipping sauces for the monster balls – like hummus, pesto, and cannellini bean dip or (one of my childhood favourites) cottage cheese mixed with corn relish. You can also give your dipping sauces Halloween names like "monster puss" or "sewer delight".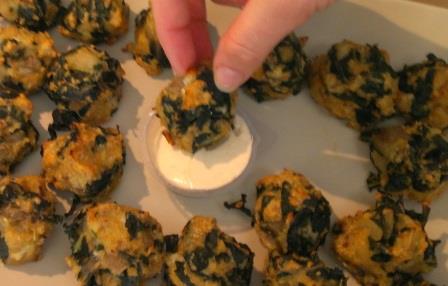 Happy Eating!
Simone Emery is a mum and owner of Sydney based, Play with Food. Play with Food run fun-filled classes and workshops about fruit and vegetables. We use seasonal produce and give parents lots of ideas for encouraging happy and healthy eating in the home environment. Check out our website for more information on singing, playing and laughing your way to happier family eating experiences www.playwithfood.com.au