Snow-flecked Christmas Brownies Recipe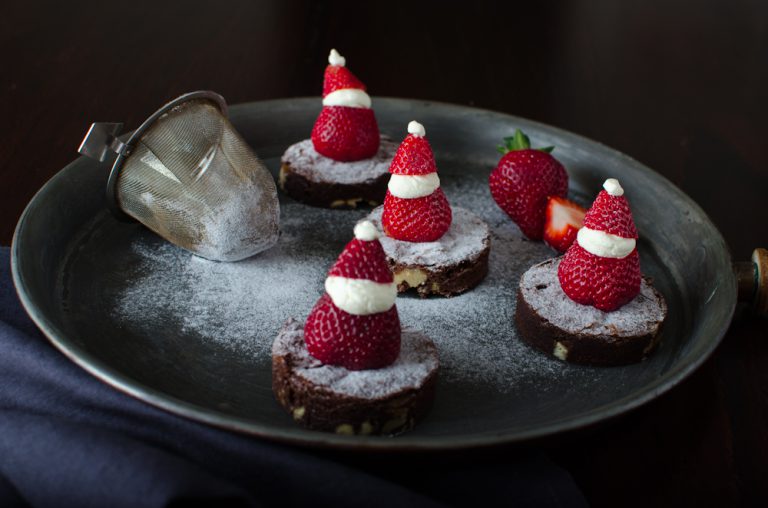 Delicous Christmas Brownies Recipe
Can you believe it? Christmas time has rolled around again. I know right? Every year it feels like it comes around faster and faster. You've just packed away the Christmas decorations and BAM it's Christmas again. Don't get me wrong, I actually love Christmas; spending time with family and friends, parties, bbq's and warm weather, what's not to love? Oh yes Christmas shopping…
After every Christmas I vow to myself that I will be more organised – buy presents throughout the year so I can actually buy gifts that my family and friends will really love and ultimately avoid the crazy Christmas shopping stampede. But alas, every year I find myself the day before Christmas in the Chadstone car park, banging my head against the steering wheel while I stalk people in a desperate effort to get a car park and then frantically run around like a mad woman buying presents that cost way too much. Sound familiar?
One thing I do get excited about is Christmas food….roast turkey, glazed ham, fresh from the sea seafood, and a bowlful of plump crimson red cherries.
Today I'm giving you a recipe for these awesome chocolate brownies. Not that these have to just be reserved for Christmas, but I've kitched them up with these super cute strawberry Santa's. So easy and how cute will these look on your Christmas table?
What you need:
115 g dark chocolate (70% cocoa), roughly chopped
115 g unsalted butter, cut into chunks
175 g brown sugar
2 large eggs
1 tsp vanilla extract
½ tsp flaky sea salt
85 g plain flour
50 g walnuts
50 g white chocolate chips
8 strawberries
150 ml thickened cream, whipped
icing sugar
Method:
Preheat your oven to 180C
Prepare a square 8 x 8 inch tin with baking paper and lightly grease the baking paper with butter or oil spray.
Place a heatproof bowl over a simmering pan of water making sure that the bowl does not touch the water. Put the chocolate and butter into the bowl and gently melt. Take the bowl off the heat.
Whisk in the brown sugar and eggs (one at a time) into the chocolate. Add the vanilla extract and salt.
With a spoon or spatula, stir through the flour until just combined and then add the white chocolate chips and walnuts and gently stir through until evenly distributed.
Pour into the prepared baking pan and bake for 25 mins or until a skewer comes out without any raw batter.
Let the brownies cool in the pan before cutting.
Using a 2 inch biscuit cutter, cut out rounds of brownies and place them on a serving platter.
Dust the brownies with icing sugar.
Cut a centimetre off the pointy end of the strawberry, this will form the Santa's hat. On the base, pipe some cream and then place the hat on the top and pipe a little cream pom pom on top of the hat. Pop the Santa's onto the brownies and serve.
Julia Cauchi – Merci Mama
With a dream of spending her days in the kitchen cooking up a storm Julia left her career in HR and swapped her suits for chef whites and went back to culinary school. Based in Melbourne she writes a blog called Merci Mama which documents her adventures in the kitchen and is full of recipes inspired by her travels, experiences and background. She also has a catering business under the same name which focuses on seasonal, fresh, locally sourced produce. With a focus on creating bespoke menus to suit each client's vision Julia is available to cater your next private or corporate event.
Blog: www.merci-mama.com
Email: [email protected]