What You Need to Know About Swaddling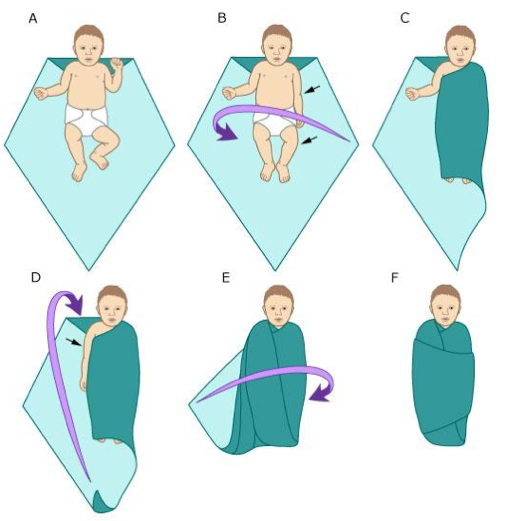 When your precious newborn enters the world, he is in for a surprise. He leaves behind the comfort of your womb where he is safe, secure and used to the swishing sounds of the amniotic fluid surrounding him. The real world is frightening for a new infant and it can take a while for your little one to get adjusted to his new environment. One of the best methods of comforting an infant recommended by many doctors, nurses, and mothers is the age-old practice of swaddling.
For those of you not familiar with the term swaddling, it is snugly wrapping a baby in a large blanket or specially designed swaddle cloth. Swaddling is great because in many ways it recreates the tight space of your womb for your little one and helps him feel secure. It also controls the startle reflex in young infants. Most newborns will startle when exposed to loud sounds or quick movements and this could disturb a relaxing nap. Swaddling a baby makes him less aware of his surroundings and provides comfort when he does get startled, allowing him to go back to sleep. It also offers a safe way to keep a baby warm without the risk of suffocation as loose blankets or comforters in the crib are strongly discouraged for young infants.
Swaddling is ideal for infants up to twelve months but while most mums will swaddle their newborn, not many continue the practice beyond six months. This is because the practice of swaddling does come with some drawbacks and risks. While swaddling enables a newborn to feel safe in his new environment, it also prevents him from exploring his surroundings. One of the first ways a baby will learn and develop his relationship with our world is by feeling textures with his little fingers. This exposure can be limited if a young infant is swaddled continuously. Another risk of swaddling is hip dysplasia. Hip dysplasia is generally a malformation or dislocation at the hip joint and while this is very unlikely, there is a correlation with swaddling too tightly. Safe swaddling practices recommend tightly wrapping the baby's torso while leaving plenty of room for the legs to move around.
While the risk of hip dysplasia may be frightening, it is important to remember that is unlikely and almost impossible if swaddling is done safely. Most mums find swaddling to be incredibly beneficial for their little ones and it can make a good night's sleep a reality for both a new mum and her baby.
~Janell
Janell Fowler is a WAHM to her 2 year old daughter Addison whilst running her own company www.babybutton.com.au. BabyButton evolved from realising the needs of essential products for mums to feel relaxed and confident in all stages of their baby's lives. See how we can enhance your life as a busy mum, whilst continuing to be stylish and unique with the help of BabyButton.