The Thrifty Issue: Taco Salad Recipe


The beauty with this Taco Salad recipe is it's diversity …
we have presented it to guests, and we regularly serve it up as a mid-week favourite for our family including two toddlers as well. With Taco Salad, it doesn't matter whether you have all the ingredients, you can add or delete whatever you like, or adjust according to what's in your pantry.
A cross between Nachos and Tacos … it's loaded with healthy salad and yummy toppings, and for the Mum's watching their waistlines, it's easy to remove or reduce the corn chips and portion size of mince (where the calories are).
Now for the Recipe …
Serves 4
Mince:
1 tbsp olive oil (or 2-3 second spray with canola oil)
500g beef mince
1 brown onion, diced
125g canned kidney beans
400g canned diced tomatoes
40g packet of Taco Seasoning
Or you could make your own Taco Seasoning with the following spices:
1 tbsp cumin
1 tsp paprika
1 tsp ginger
1 tsp chilli flakes (optional)
Salad:
2 tomatoes, diced
½ cucumber, diced
¼ lettuce, sliced and diced
Shredded cheese
Optional Sides:
Avocado mashed with dash lemon juice, Sour Cream, Salsa, Tabasco sauce, Jalapenos, Coriander.
Large packet of corn chips (or you could use tortillas, or pita bread cut into triangles and toasted lightly in oven)
Method
Heat oil in pan over medium heat. Add onions and sauté until soft. Add mince and cook, stirring with a wooden spoon to break up any lumps, until browned. Add Taco Seasoning mix (or spices) and cook, stirring for 1 minute. Add kidney beans and canned tomatoes, reduce heat and simmer for approximately 10 minutes, or until mixture thickens.
You can serve everything on the table in individual bowls, and guests help themselves. Alternatively, you can serve beef mixture in the middle, arrange corn chips (or tortillas / pita bread) around the edge of the plate, and then top with cheese and optional sides.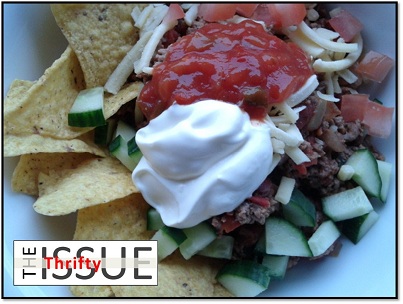 I'm Alison and I created THE THRIFTY ISSUE because I enjoy sharing ideas and creating things with my family and friends, on a budget. The Thrifty Issue is a place to visit for stylish, funky and fun ideas on saving time, money and stress. A place to meet and greet, to share and explore The Thrifty Issue.