How to wear Monochrome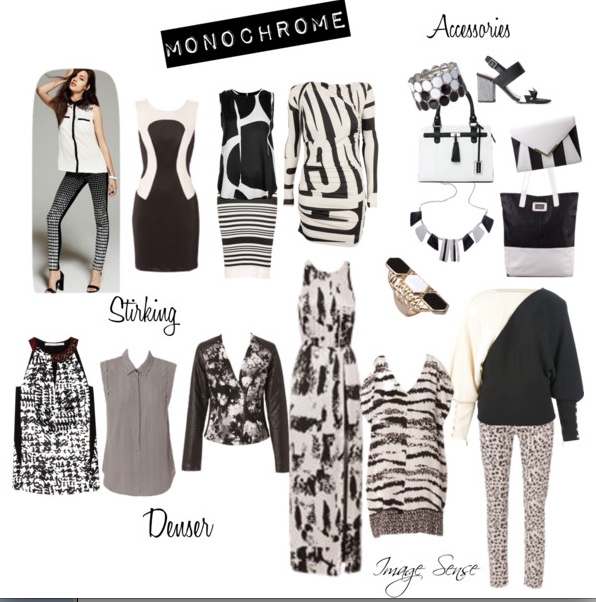 One of the hottest trends this spring is the Monochrome effect, which consists of the combination of black and white.
This look is often dramatic because you are seeing a strong value contrast of two neutrals, ie: black being the darkest hue paired with the lightest hue of white. However, often designers will also incorporate the colour ecru instead of white, which is a warmer alternative.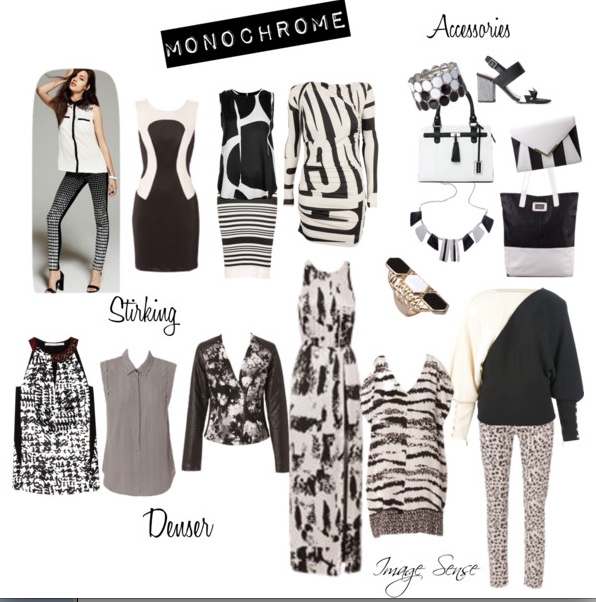 Prints are a must-have in your wardrobe this year and monochrome is no different. Larger prints that are more spacious suit a larger frame, whereas the smaller delicate prints are ideal for the petite person.
Who can wear Monochrome?
Those of us who are high in our value contrast naturally, ie dark hair with fair skin will find you suit the more dramatic sharp lines of black against white. If our natural value colouring is more low contrast ie blonde with fair skin then the denser, blurred prints are better for us.
If black doesn't suit you then opt for a white/ecru top and use black or a print on your bottom half.
Another option although not strictly monochrome is to combine it with a third colour of equal intensity (brightness) such as a bright pink, purple, blue, orange, or red.
If all out monochrome just isn't your style then wear this trend in your accessories such as neckpieces, cuffs, totes or shoes, to keep abreast with this fashion trend.
Lastly choose styles that are flattering to your body shape like the black dress (2nd from the top left) that has flattering white panels to slim your waistline.
Joanne McEwen is an Image, Style & Colour Consultant at Image Sense based in Geelong, Victoria. She draws her wealth of knowledge from having worked in the fashion industry for over 25 years. Working as a designer and patternmaker gave her insight into the challenges that "off the rack" clothing brings too many of us.
Using her Image, style and Colour training partnered with her experience, gives Joanne the edge in offering expert advice in Image and Style as well as analysing Personal Colours, Wardrobe editing, & personal shopping for her clients. Her clients often consist of mums just like you who need to know "how I do I dress for my figure now?"
Joanne enjoys working closely with her clientele to achieve their desired results while expressing their personality through their image, & flattering their natural shape, with the designs & colours that suit them individually. She takes her natural flair & artistic eye for colour & design combining it with her attention to detail to offer a service that empowers people to look their best, feel their best and to be their best.
Enjoy my latest ebook "Swimwear Style Secrets" – The Ultimate guide to choosing your swimwear before you purchase your next swimsuit.
Receive my FREE 'A-Z of fabulous style tips,' when you sign-up for my monthly e-zine full of insider style tips and specials. Read my Image Sense Style blog for more articles on dressing for your body shape, personality & lifestyle.
You can connect with Joanne on Facebook, Twitter, Linkedin, Google+ and Youtube