Playing with the Peplum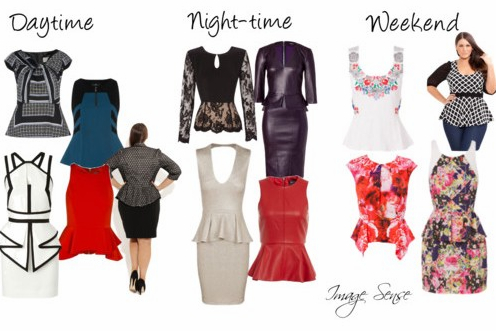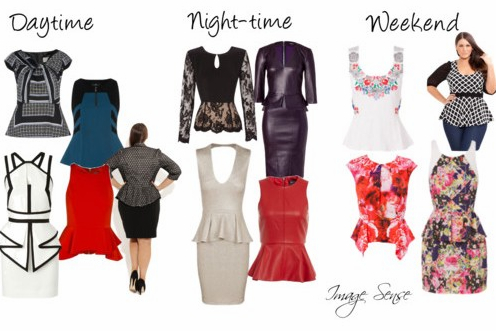 We saw the introduction of the fabulous peplum last season, and it has fast become a staple fashion piece this Autumn/Winter. This fantastic style is now seen in many fabrics and colours, from floral to geometric patterns; from leather to lace; and even more casual knits.
With this amount of variety, there's a peplum style to suit any occasion and personality.
For Daytime or Work:
Try a peplum top in a geometric or digital print to team with the ever-popular pencil skirt or a smart slim pair of ankle biters and team it with a pair of heels or ankle boots.
A peplum jacket can add some feminine flair to a somewhat classic styled suit; purchase it in a textured fabric to add an aesthetic dimension to your work place.
Of Course the peplum gives an interesting detail to the sheath style dress, whether the peplum is gathered, pleated or cut in a more circular shape, the choice is yours.
For Night-time:
Wow the crowds with these glamour styles. Any fabric that has sheen or sparkle will brighten up any night affair. Lace adds elegance to an already feminine silhouette.
Leather or pleather gives the "Rock chic "look for those fun nights out. Pair it with some embellished pumps and heavy metal neckpieces and you're ready to party!
For the Weekend:
Add some charm with pretty florals in the brights or go for a fun pattern that adds a sharp contrast or an interesting hemline like a handkerchief edge.
Keep the fabrics casual like a soft knit or cotton blend to give that weekend vibe.
Who suits the peplum best?
The peplum is great for adding shape to the straight figure, or balance to a broad shoulder, but is particularly flattering for the "8" figure, (known as an hourglass) and the "A" shape (known as a pear) or anyone with a defined waist. A longer peplum that just covers the bottom, gives the room needed to accommodate the more generous hips.
Peplum styles vary in fullness and length. If you need to lengthen your torso then choose one that sits onto a lower waist/hipline.
Fabric plays an important part in how it will fall. A stiffer fabric such as a taffeta will sit away from the body whereas a softer fabric will drape more and follow the curve of the hip.
Next time you're shopping, why not have some fun playing with the peplum and see if it will soon become your favourite!
Join me for A Colour Sense
playshop
to discover your personal colour palette on
Saturday 6th April.
Enjoy my latest ebook "
Swimwear Style Secrets
" – The Ultimate guide to choosing your swimwear before you purchase your next swimsuit.
Receive my FREE "A-Z of fabulous style tips", when you sign-up for my
monthly e-zine full of insider style tips and specials. Read my Image Sense Style blog for more articles on dressing for your body shape & personality.
Connect with me on facebook, twitter, pinterest, linkedin, google+ youtube
Joanne McEwen is an Image, Style & Colour Consultant at Image Sense based in Geelong, Victoria. She draws her wealth of knowledge from having worked in the fashion industry for over 25 years. Working as a designer and patternmaker gave her insight into the challenges that "off the rack" clothing brings too many of us.
Using her Image, style and Colour training partnered with her experience, gives Joanne the edge in offering expert advice in Image and Style as well as analysing Personal Colours, Wardrobe editing, & personal shopping for her clients. Her clients often consist of mums just like you who need to know "how I do I dress for my figure now?"
Joanne enjoys working closely with her clientele to achieve their desired results while expressing their personality through their image, & flattering their natural shape, with the designs & colours that suit them individually. She takes her natural flair & artistic eye for colour & design combining it with her attention to detail to offer a service that empowers people to look their best, feel their best and to be their best.