Everyday Fitness Tips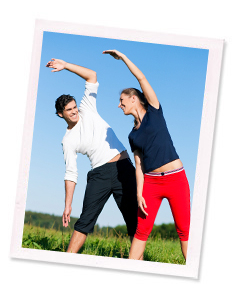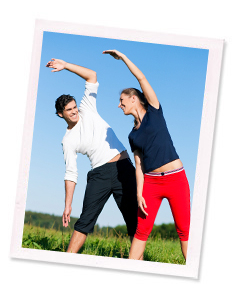 30 days, 30 ways…..
To get moving and feeling fabulous
1. See exercise as an opportunity, not an inconvenience. Could you take your little ones for a longer walk than usual today?
2. Get your groove on. Dance around the house at any opportunity.
3. Challenge yourself – how long can you hold a plank for (holding your body in a straight line, resting only on your toes and forearms).
4. Going for coffee is so last month. Go to Mums and Bubs training instead.
5. Find a hill or set of stairs near home and go up it as fast as you can every single day.
6. In each set of ads on TV in a 1-hour period, do 10 push-ups.
7. Try a boxing class – a great way to get rid of excess stress and tension. Loads of gyms have childcare, or time it for when someone else can look after bub.
8. Whenever you're out without the pushchair, avoid lifts and escalators. Stairs build great bums!
9. Go for a swim. Even playing in the pool together is good exercise.
10. Walk the dog a little bit further.
11. Time for another challenge – put your back flat against the wall, then slide your bottom down until your hips, knees and ankles are at right angles. How long can you stay here?
12. Learn something new – scuba diving and surfing are both good fun and great exercise. And not a bad way to take a little me-time.
13. Give the house a spring clean. Make sure you include the windows – your shoulders will burn.
14. Put some activity into your evening. A little playtime between dinner and bed is good for the whole family.
15. Enter an event. Fun runs and ocean swims are a great way to commit to regular exercise.
16. Plan an active family day out. The zoo, fun parks, the beach – anything that'll keep you moving.
17. Do as many push-ups as you possibly can, without stopping.
18. Find a training plan that you can follow at home. There are tonnes online (see below) and a few in bookstores.
19. Swing your kids around like a helicopter blade.
20. Do the 50 challenge – 50 step-ups, 50 squats, 50 push-ups, 50 alternate lunges, 50 burpees, 50 tricep-dips, 50 little crunches. You can stop as often as you need to, as long as you do 50.
21. Take an active course – self-defence, dance, taekwondo… whatever interests you.
22. Play on a trampoline for 10-15 minutes.
23. Lie flat on your stomach. Get up as fast as you can and walk/run 10-50 metres (depending on space). Do this 10 times.
24. Teach your kids how to do rolly-pollies. Good for them, good for you.
25. Scare yourself! The adrenaline released sky-diving, jumping off a diving board or on a roller-coaster creates a similar effect to exercise.
26. Next time you take the car in for a service, decline the offer of a courtesy car. A day of walking and public transport will do you good.
27. Give pilates a go – there's more to it than abs and back.
28. Have a really good stretch, head to toes. It'll work best if you do it after a hot bath.
29. Go for a walk or run on soft sand. It's more challenging for your muscles and kinder to your knees.
Mums Lounge readers get $5 off when you enter the coupon code MUMS.
Gretchen Masters loves helping everyone to get fitter, healthier and happier. With the solid foundations of an exercise science degree and over 10 years experience in the fitness industry, Gretchen knows how to help you to get the most out of your training.
Gretchen's biggest project these days is Spring – a national campaign delivered online to fight depression. Held each September, members follow daily fitness plans, eat good mood food and access meditation podcasts. They track their mood and watch it soar. All of the profits from Spring are donated to mental health charities.
Gretchen also delivers corporate wellness programs and writes regular columns for Inform magazine. When she's not busy boosting health and vitality all over Australia, you'll find Gretchen planning her next trip to France. Each July, Gretchen shares her passion and guides groups from the French Alps to Paris, following the Tour de France.
For more information
W www.springfitness.com.au
P 1300 65 25 66