Easy Rainbow Cake in a Jar Recipe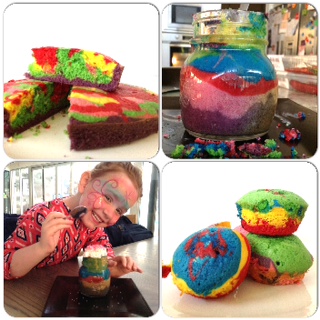 Easy Rainbow Cake in a Jar recipe
For a long time I have been eyeing off the Rainbow Cake in a jar concept and thinking what a great idea it would be for a kids birthday party!  Today we decided to give it a go and we had so much cake mixture left over that we had a go at Rainbow muffins and a Rainbow cake as well!
I thought the whole process looked quite daunting but believe me it wasn't!
We bought a couple of the vanilla cake mixes from the shop (or you can make your own) and followed the instructions on the box.  If you want to make your own then try this easy recipe.
Buttercake Recipe
250g butter, softened
1 cup caster sugar
2 teaspoons vanilla essence
3 eggs
2 1/2 cups self-raising flour
2/3 cup milk
icing sugar mixture, to serve
Using an electric mixer, cream butter, caster sugar and vanilla in a medium bowl on medium-high speed until light and fluffy.
Add eggs, 1 at a time, beating to combine. Add half the flour. Stir to combine. Add half the milk. Stir to combine. Repeat with remaining flour and milk.  (Recipe Source: Taste)
Once we had mixed the cake we then divided it into 6 small bowls.  We put yellow food colouring in one, red, pink, green and blue and then combined red and blue to make purple in the last bowl.  Pre heat the oven to 160 fan forced.
Once we had all the colours perfect we grabbed the small jam jars we had bought from the shop and began layering.  We put a spoonful of the first colour in and then followed with a spoonful of each.  Only fill to half way!  Trust me, we filled to the top and the first attempt was a rainbow cake explosion!
Once we had finished layering we popped the jar on a tray into the oven for 20 minutes.  Keep an eye on the cake and use a skewer to check if cooked.  If you leave it for too long the colour will fade if the cake overcooks.
Once it is cooked remove from the oven and let cool.
Then top with some whipped cream and sprinkles. YUM!
To do the muffins we used a muffin tin and layered half way with selected colours (my daughter just wanted a pink one!) and for the cake we used a cake tin and layered as well.  The cake came out looking a little like a tie dyed t shirt but the kids loved it!
Love to hear if anyone else has a try.