Strawberry Butterfly Cupcakes Recipe (Plus Win Over $600 of Orla Kiely Serving Ware!)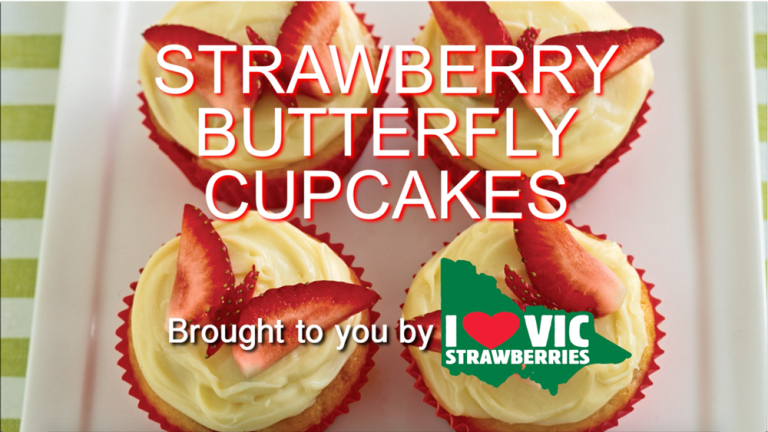 Sponsored post
Over the next 6 weeks we are going to be sharing some delicious strawberry recipes to surprise and delight you. Contrary to what you might think – it's not just about cakes and desserts either (although of course that's what we are starting with). This week's recipe is easy strawberry butterfly cupcakes that the kids will love!
We're using Victorian Strawberries because we love to support buying local produce, BUT we also love to reward our tastebuds with delicious plump, juicy, ruby-red Victorian Strawberries that compare to the best in the world!
Victorian Strawberries season is October to May – make them part of your weekly shopping – and for further recipe ideas click here to join Be Tempted Victorian Strawberries Facebook page to discover more ways to use strawberries more often!
Strawberry Butterfly Cupcakes
Makes 12 cupcakes
Ingredients
For cupcakes
250g Victorian strawberries
125g butter, softened
¾ cup caster sugar
1 teaspoon vanilla extract
2 eggs
½ cup natural yoghurt
1½ cups self raising flour
For frosting
250g white chocolate
1/2 cup thickened cream
Method
Preheat oven to 170ºC.
Line a 12-hole (1/3 capacity) muffin pan with paper cases.
Hull the strawberries. Reserve half for topping and dice remaining strawberries. Set aside.
Using an electric mixer, beat butter, sugar and vanilla until creamy. Add eggs, one at a time, beating between each addition. Add yoghurt and flour and beat on a low speed until combined. Use a spoon to stir in diced strawberries. Divide batter between paper cases, filling each about ¾ full. Bake 20 minutes or until firm. Transfer cupcakes to a wire rack to cool.
To make frosting, place chocolate and cream in a heatproof bowl. Place bowl over a saucepan of barely simmering water (make sure the water does not touch the bowl). Stir continuously until smooth.
Remove from heat, cover and refrigerate, stirring occasionally for 45 minutes or until very thick but still spreadable (the frosting should drop off a spoon, rather than pour).
Spread frosting over cupcakes. Before serving, decorate cupcakes with slices of reserved strawberries.
To form butterflies cut 2 slices lengthways down the middle of a strawberry. Cut each slice in half lengthways (this forms the wings for 2 butterflies). Cut 2 slivers from the strawberry offcuts to form 2 butterfly bodies. Place on top of two iced cupcakes to form butterflies. Continue with remaining strawberries. Enjoy nibbling on the remaining strawberry offcuts!
Love Vic Strawberries? Click here to get your FREE Victorian Strawberry Recipe downloadable eBook.
Giveaway
We have a stunning prize pack of Orla Kiely serving ware up for grabs worth over $600 – perfect for serving up your strawberry creations!
The prize includes:
Set of cake tins
3 tiered cake stand
Glass cake dome
Cookie storage
Salad bowl
Strawberry rinser
To enter, complete the entry form below.  Good luck!