Super Easy Stir Fry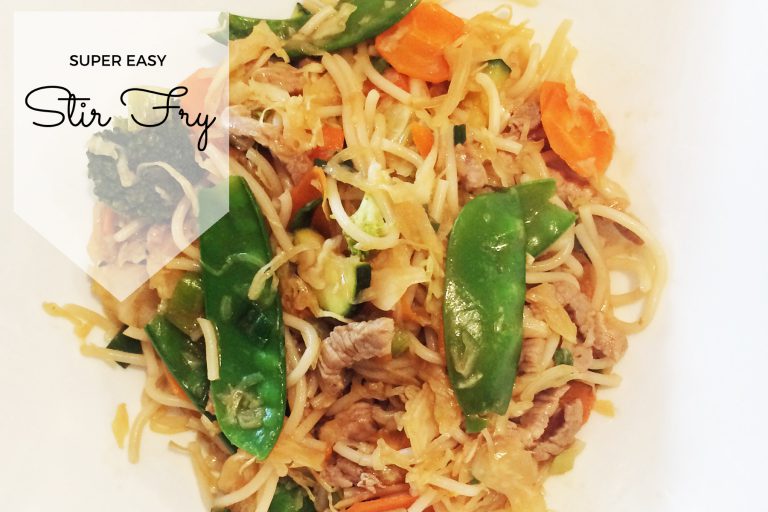 Super Easy Stir Fry
Sometimes you need a tasty, easy meal that doesn't take a lot of effort to prepare. It helps if it also ticks the healthy box too, right? And if you can grab the ingredients on the way home already prepared too? Well this super easy stir fry is the recipe for you.
Dash through the fresh produce section of your local supermarket and grab a couple of bags of pre-cut stir fry vegies (or choose your own and cut them yourself, it works out about the same price-wise). Then run through the meat section and choose whichever protein you fancy – beef, pork or chicken. Swing down the rice and pasta aisle and choose a packet of noodles (we love Singapore but you can try Hokkien, Udon, Soba or whatever catches your eye), then pick up a packet of Maggi Stir Fry Creations, again, whatever flavour you like.
This meal is so easy to pull together that you could easily delegate the responsibility while you sit down with a glass of wine. Dinner = sorted.
Serves: 4-6
Prep time: 2 minutes
Cook time: 10 minutes
Difficulty: SUPER EASY
Ingredients
500gms stir fry strips – chicken, beef, pork, whichever you fancy
1 twin-pack of Singapore noodles
1 packet of Maggi Stir Fry Creations, whichever flavour you choose
Stir fry vegetables – buy them pre-cut in packets for the easiest meal ever or cut up your own vegetables. Use carrot, broccoli, snow peas, beans, cabbage, red onion, green onions, bok choy, baby spinach, kale, bamboo shoots, mushrooms, zucchini, capsicum, asparagus, corn etc
Instructions
Method:
Pull apart the two sachets, using the perforation down the centre of the pack.
In a medium size bowl stir Infusion Paste thorough the meat and set aside for 2-5 minutes while you prepare vegetables.
Heat saucepan or wok over high heat and add 1 tablespoon of oil. Add meat to the pan and cook for 5 minutes. Add vegetables and rinsed separated noodles to the pan, stir through & cook for 3 mins.
Pour Finishing Sauce into pan and stir through, cook for a further 2 mins and serve.
https://mumslounge.com.au/lifestyle/food/super-easy-stir-fry/