The REAL Secret of How to Lose Weight and Keep It Off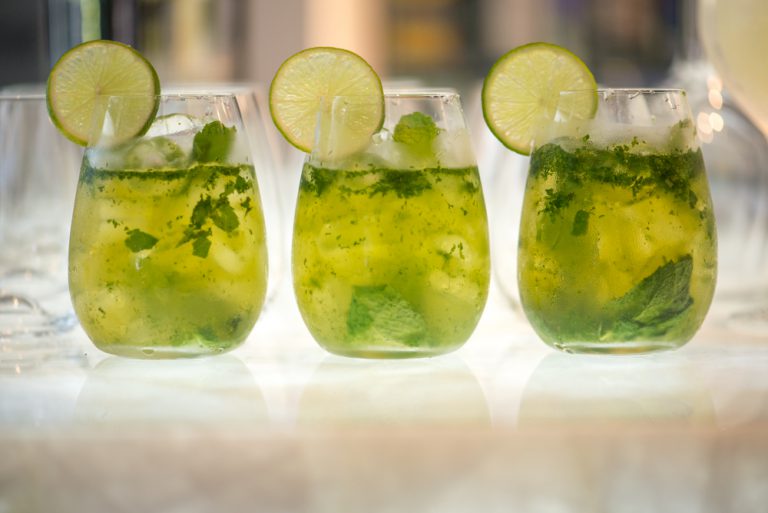 The REAL Secret of How to Lose Weight and Keep It Off
Sponsored post
Sadly, the answer to weight loss isn't Mojito's…although wouldn't it be fabulous if it was?
So, what is the secret to weight loss? It's the question that every man and his dog seem to want the answer to. But before we get into that let me tell you what isn't the secret to healthy weight loss. And by 'healthy weight loss' I mean losing weight at a stable rate and actually keeping it off.
The secret isn't in a magic pill. It isn't starving yourself, or depriving yourself of all the foods you love, avoiding carbs like the plague or wrapping yourself in cling-film-esque materials for hours on end.   Despite what certain individuals may want you to believe, there is no magic bullet, no fat-burning miracle drug that you can pop before bed and wake up looking like a Victoria Secret's model.
You see, the secret to weight loss, isn't really a secret at all. It comes down to making good food choices and incorporating some form of activity into your day. Of course, that all sounds very straight-forward and easy when you say it, but knowing where or even how to start your weight loss journey can often feel completely overwhelming. With so much information at your fingertips, and numerous fad diets being touted by the media, knowing where to start can start to feel just too hard.
Last week I was invited to an event in Melbourne to meet the team at Jenny Craig and to learn more about their program. Now I confess, I wasn't personally familiar with what Jenny Craig offers and rather than spend hours researching before the event, I thought I'd go in as a total noob and judge them on the information and knowledge they shared (rather than the advertising jargon on their website). I had a vague idea that Jenny Craig clients had regular visits with a consultant to help with their weight loss journey, but following a conversation with my husband's grandmother (who did Jenny Craig years ago and loved it) I was under the misguided impression that they gave you meal plans that you went home and cooked for yourself.
Not so! Jenny Craig actually prepare the meals and deliver them to you. Did you know that? I'm clearly way behind, because I genuinely had no idea!
If you are anything like me, you may have just thought 'prepackaged meals? urgh' and involuntarily turned your nose up just a little. I know I did. So, when they told us that the lunch provided was from the Jenny Craig menu, I was intrigued…although if I am honest, a little dubious too. I don't know about you but I have never tasted a frozen pizza that was much good.
Until this…
Behold the pumpkin, spinach and feta pizza. Seriously 'ermaghard-tasty!'
But, the pizza wasn't even the highlight. Throughout the lunch we got to taste;
The Beef and Ale Stew with mash potatoes (and they were so fluffy and smooth just like mash should be, and the stew tasted like something I'd make at home in my slow cooker)
The Italian style Parpadelle (because everyone needs a pasta fix every now and again, right?)
My personal favourite – the Butter Chicken (because I'm a total sucker for anything spicy and creamy)
AND…Sticky Date Pudding! Can you believe that?
It's hard to believe that with three meals a day, and three snacks you could lose weight isn't it? But the meals are carefully designed to provide a nutritious, balanced diet at a rate of kilojoules to help you reach your goal weight. And the best part is, you won't be hungry, you won't feel like you are on a diet and you will lose weight!

For me, the thing that I think sets Jenny Craig apart from other weight-loss companies is their commitment to educate and empower their clients to develop a healthy relationship with food. Although you do have to start off with the Jenny Craig prepackaged meals at the start of your journey, consultants actually work with you to help you to transition off the program when you start to near your goal weight. It isn't about getting people onto the program and keeping them there indefinitely. The goal is to teach you about nutrition and having a balanced diet, to support you through the journey and identify problem areas and provide tools to work through them, and help you to create new, healthy habits and a better lifestyle so you can maintain your weight loss.
Jenny Craig also caters to breastfeeding mothers by tailoring a menu plan that takes into account their increased nutritional needs whilst accommodating weight loss. You can begin the program six weeks after the birth of your baby. Breastfeeding mums should be aware that their weight loss should be approached at a slower rate to ensure their milk supply isn't affected. Jenny Craig encourages weight loss of no more than ½ a kilo a week for breastfeeding women.
Key to the success of Jenny Craig clients is their relationship with their Jenny Craig consultants who acts as a support person throughout the journey. Included in the fees is a 20 minute weekly consult in which clients can review their progress, address challenges, gain help with meal and activity planning, and receive extra weight loss tips and techniques to incorporate into their lifestyle in conjunction with the meals.
We had the pleasure of meeting and listening to the experiences of two of Jenny Craig's success stories at the event Elizabeth and Lara, and although their stories were different, one thing was clear – Jenny Craig had helped them with so much more than just weight loss. Both women were confident and happy in their skin, and were embracing life to the full…something neither felt able to do prior to their weight loss and they both felt that the support they had received from their consultants was a huge component of their success.
Want a New Year a New You?
Sometimes there is never an easy time to take that first step. We can make excuses to ourselves until the cows come home.
But like with all things in life, if you want it, you have to make it happen.
Investing in a healthier, happier future may just be the best money you'll ever spend for you and your family.
You can find out more for yourself about the Jenny Craig program by visiting www.jennycraig.com.au.
Disclosure: This post is sponsored by Jenny Craig. However all thoughts and opinions expressed here are my own.