Tips for Finding Effective Relief from the Symptoms of Scalp Psoriasis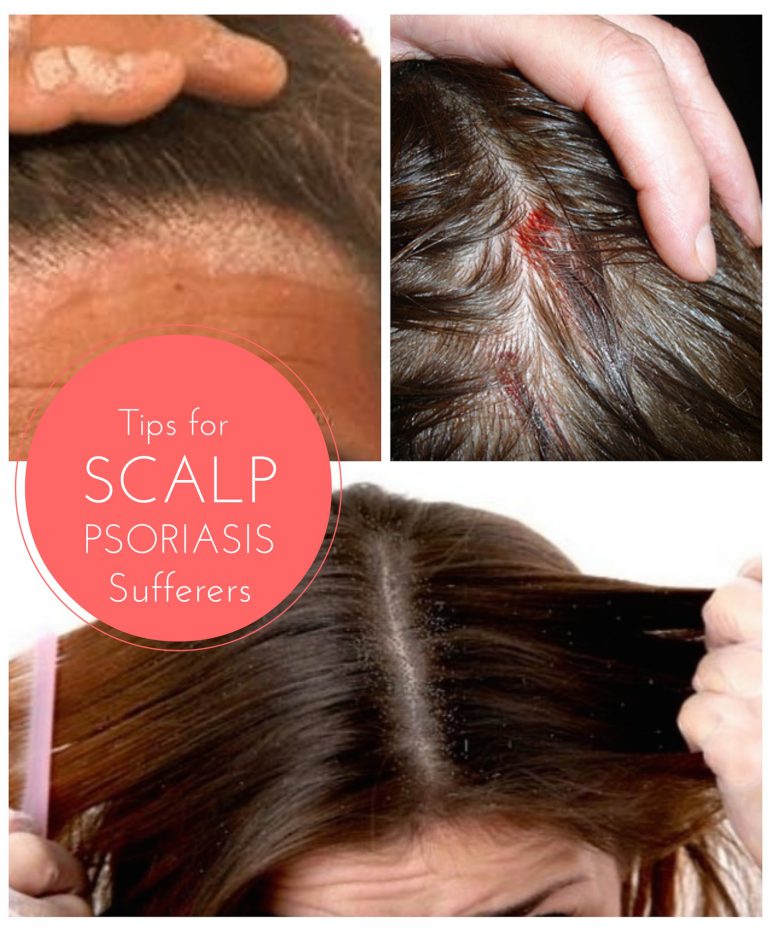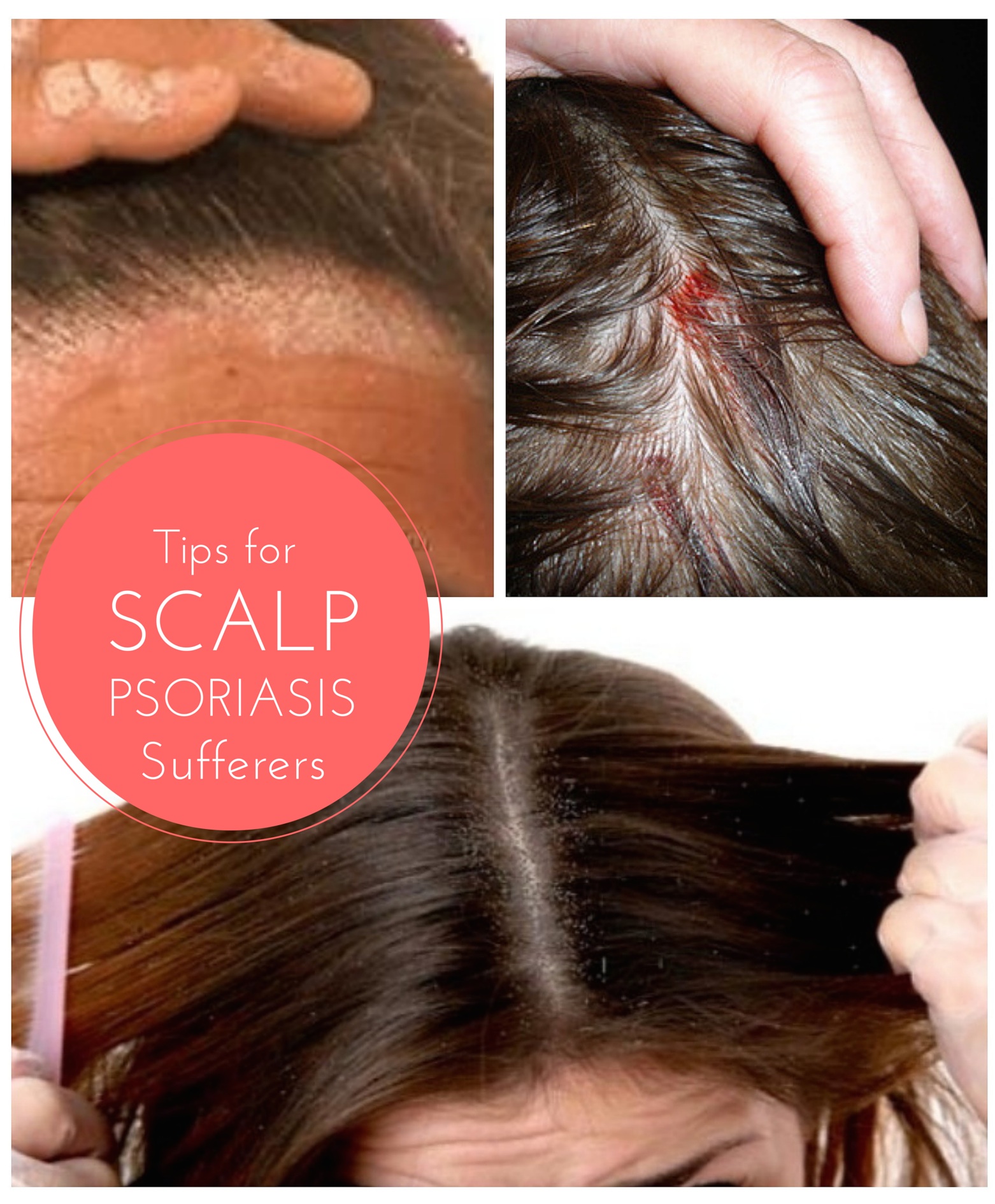 Tips for Finding Effective Relief from the Symptoms of Scalp Psoriasis
Sponsored post
What is Scalp Psoriasis?
Psoriasis is a relatively common condition affected around 2% of Australians. It is a chronic inflammatory skin disease, which causes patches of red, scaly skin, often covered in silvery-white scales that may or may not cause itching. Psoriasis can occur anywhere on the body, but is most common in the folds of skin such as the backs on the knees, on elbows and on the scalp.
The thick crusty skin patches found on the scalp from Psoriasis can be mistaken for severe dandruff, which you'll know if you suffer from this condition, can be both embarrassing and painful.
Symptoms of Scalp Psoriasis
Symptoms of Scalp Psoriasis are often more severe than those of Sebhorreic Dermatitis that we discussed last week and can include:
• Red patches covered with silvery-white scales (caused by the shedding of excess dead skin skins)
• Thick crust or scales that can attach to the hair shaft
• Bleeding can occur when patches are removed
• Itching of the scalp
• Soreness of the scalp
Scalp Psoriasis is not contagious, and it isn't a sign of poor hygiene either. Whilst not all sufferers of Scalp Psoriasis complain of an itchy scalp most will have loose scale in their hair or on their clothes and a recent survey of our community reveals that the unsightly scales can cause considerable embarrassment and distress. Indeed many said they couldn't wear dark coloured clothing and had to wash their hair every day to try and remove the loose scale from the hair shafts before it dropped on to their shoulders ….and chairs they would sit in.
Having a clear and healthy scalp – free from unpleasant, thick patches of scale and skin that leave you feeling self-conscious is something many of you, wish for, and understandably so.
What is also very evident from our member's comments is that there is a definite sense of frustration amongst people who suffer from this condition. It can be expensive trying different products in an effort to manage the symptoms, which can also lead to disappointment and a sense of despair when the results fall short of expectations.
It is important also to note that Psoriasis is usually a long-term condition, (which may be genetic), and although there may be periods of remission when you enjoy a scale-free scalp, it can also reappear spontaneously. For this reason it requires a management plan combined with regular treatment when the scale reoccurs to achieve effective relief.
Tips for Managing Scalp Psoriasis
Avoid Triggers
Whilst triggers may vary from person to person, it can be helpful to observe what seems to make your symptoms worse. Some known triggers include:
• Infections
• Stress
• Certain Medicines
• Severe sunburn
• Alcohol
• Smoking
• Scratching
• Hormonal changes
UV Light
The sun can be very effective at clearing up Psoriasis, and many people experience worse symptoms during the cooler months. However, it is not advisable to expose your skin to the sun for long periods of time, and the benefits must be balanced against the risk of skin cancer.
Avoid Stress
Easier said than done, we know, but stress can make this condition worse. Try to make the time for yourself regularly, and find ways to unwind.
Keep the Area Moisturised
Keep skin cool and moist to reduce the itch. Whilst it may be tempting to hide your scalp under a hat, this may actually exacerbate the condition. Instead opt for a deep moisturising treatment after shampooing.
Avoid Scratching
Itching, scratching and picking the affected area, whilst difficult to resist, is crucial. Bleeding may occur when patches are removed forcibly, exposing the area to all those horrible germs that often lurk unseen beneath your fingernails.
Avoid Heat Styling Your Hair
Using your hairdryer or straightener can dry out your scalp further – so let your hair dry naturally, or limit your use of heat styling appliances.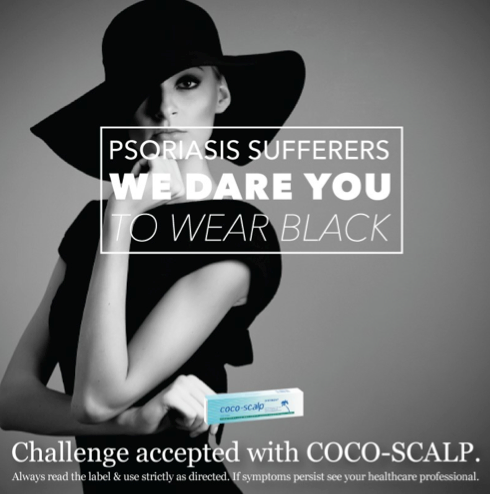 Break down the Scale
COCO-SCALP is a unique ointment formulation – not a shampoo – that is designed to be applied to the affected areas of the scalp and left on for one hour. This allows maximum medicine contact time for COCO-SCALP to break down the scale, and treat the skin below. The special scalp formulation of salicylic acid (to remove scale) and Coconut Oil (to moisturise, soothe and condition the skin and hair) provides the relief that sufferers are searching for.
Suitable for treating scalp conditions ranging from severe dandruff to Psoriasis, Eczema and Seborrhoeic Dermatitis, COCO-SCALP has been developed by Dermatologists and is steroid free.
It's not a shampoo. It's not a steroid. It just treats scale.
For treatment of Scalp Psoriasis you apply COCO-SCALP daily for 3-7 days until improvement has been achieved. Thereafter intermittent repeated applications may be necessary to maintain improvement.
That's just an hour a day for the first 3 -7 days and then regular maintenance as needed.
An hour treatment time may sound like a long time but just think of it along the same lines as other 'treatment or repair' things that you fit into your week like mani-pedi's, relaxing in a bath, face masks, hair treatments and exercising (or in the real world) doing the laundry, watering the garden, cleaning the bathroom or cooking dinner.
Editors note: For those of you caring for significant others suffering from Scalp Psoriasis …my husband has Scalp Dermatitis and usually applies COCO-SCALP treatment before mowing the lawn, or settling down to watch his favourite sport on TV, then takes a shower to wash it out. That's as much planning as it takes!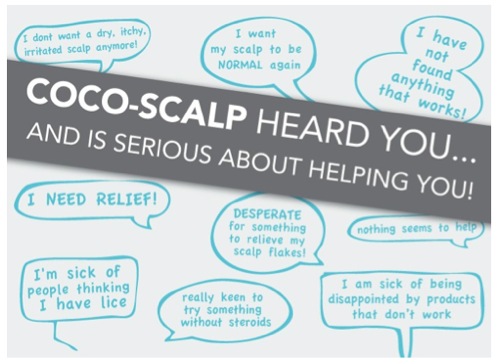 A short while ago seven members of the Mum Media Group community suffering from a range of scaly scalp conditions put COCO-SCALP to the test, with an overwhelmingly positive outcome.
All of the reviewers noticed an improvement in their condition after using COCO-SCALP, and 100% of them found it more effective than any treatments that had previously tried.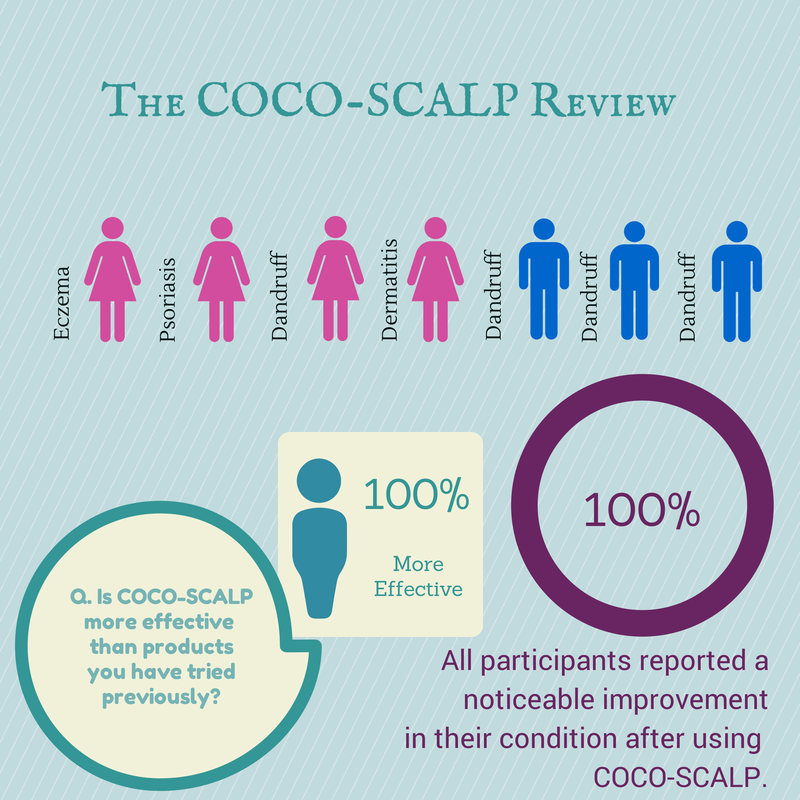 You can read the full results and comments resulting from the trials here
COCO-SCALP has been awarded the official MMG (Mum Media Group) stamp of approval – and given the results from our reviewers we happily endorse it – particularly if it means spreading the word and helping more of you find relief from this very uncomfortable condition.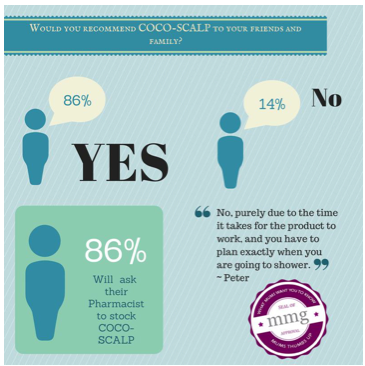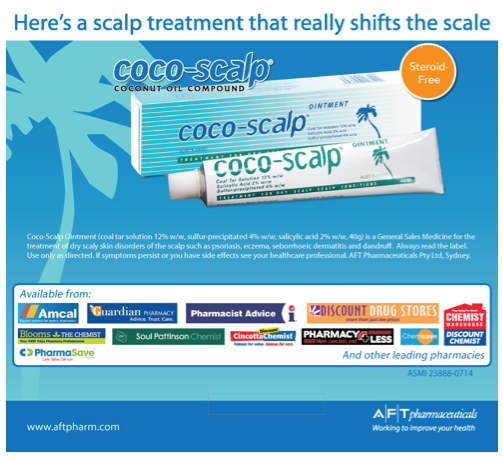 Coco-Scalp Ointment (coal tar solution 12% w/w, sulfur-precipitated 4% w/w, salicylic acid 2% w/w, 40g) is a General Sales Medicine for the treatment of dry scaly skin disorders of the scalp such as psoriasis, eczema, seborrhoeic dermatitis and dandruff. Always read the label. Use only as directed. If symptoms persist or you have side effects see your healthcare professional. AFT Pharmaceuticals Pty Ltd, Sydney.
Always read the label & use strictly as directed. If symptoms persist see your healthcare professional.
You can find COCO-SCALP in leading pharmacies nationally – ask for it by name.