Challenge Day #1: The Organised Housewife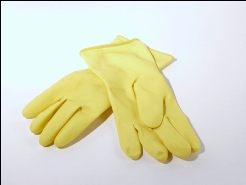 You are probably going to think I have finally lost the plot when I tell you that this week I have committed myself to following The Organised Housewife.  (Well, actually just Monday-Friday.  Baby-steps!)
I know what you are all thinking.  If Organised Housewife and I were  super-heroes we would no doubt be arch rivals – she would indeed be my nemesis.  The only thing that is consistent in my life is the total chaos. 
But despite my total lack of organisational skills, and complete and utter loathing of housework (in all its evil forms), at heart, I guess I envy her.  Of course I would like to know where things are, without having to turn the house upside down to find them.  And it would be glorious if on dropping the children at day care on Monday mornings, I had managed to actually pack everything they needed into their bags.  It is becoming embarrassing to always have to return twenty minutes later with a handful of nappies, or Foghorn's Coco teddy or some other critical item.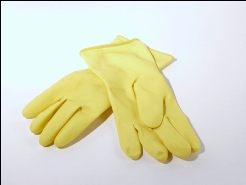 So here is The Organised Mum's Moday task sheet.
MONDAY'S TASK LIST:
Morning
Shower and dress yourself 
Make your bed
Put on a load of washing
Prepare lunches for family
Put away clean dishes washed from night before and empty dishwasher
Wipe down kitchen bench and sink
Check the kids have completed their tasks.
Put washing on the line
During day
Take 10  minutes to declutter the fridge
Grocery Shopping
Cut up all fruit and veg ready for quick and easy snacking and meal prep
Dust the front entrance
Dust the living area
Dust the hall way
Take washing off line
Fold and put away washing
Evening
Cook dinner
Wash dishes, leave in rack to put away in morning
Pack dishwasher and turn on
Wipe down kitchen bench and sink
Relax!!
My actual day runs more like this;
Morning
Contemplate having a shower but decide I can't cope with the stress of trying to listen out for signs of accidents/fights breaking out in the next room.  Opt for a quick wipe-over with a face-washer and a squirt of super-strength deodorant.
Select something from my floor-drobe to wear.  Sniff the armpits of the garment to ensure that it hasn't been pre-worn.
Change Foghorn and Bubble's nappies, and dress them.  Cross my fingers that they hold onto their poos until after I have dropped them at day care.
Ask The Woo to put his clothes on, reminding him to make sure he puts his jocks on this morning.
Make myself an extra-large, extra strong coffee and gulp it down greedily whilst trying to focus my tired eyes and prepare breakfast for the children.  (Multi-tasking at its finest!)
Tell the Woo to take his jocks off his head and put them on his bottom.
Put the kettle on for another coffee.
Check, double-check and recheck the children's bags for day care to make sure I have remembered everything.
Put a load of washing on!  (Yippee ~ I followed one of the morning tasks).
Notice the stack of dishes on the draining board but decide to tackle them when I come home – after finishing my first kinder duty.
Load the children into the car and head for day care and kinder.
Think about how great it is to be doing kinder-duty. Playing, and digging in a sandpit is so much more fun than being stuck at home cleaning.  (More to come on the fun-to-be had at kinder in a later post).
Afternoon
Return home to find that the place has been ransacked.  Start to dial 000 and then realise that it is just the mess we made this morning.
Pack away toys, pick up clothes – Find the Woo's jocks hidden behind the couch.  Whoever heard of a four year old that insists on going commando?
Hang the washing on the line.
Wish that I had put the dishes away this morning.
Whack on some music and wiggle my way around the front area, living room and hallway with a can of polish and a duster in my hand.
Get carried away and decide to vacuum too!  Bet you didn't see that coming!
Bring the washing in off the line and fold it immediately.  Shove them into drawers.  (I absolutely refuse to iron unless we are going to a wedding, a funeral or a photo shoot)
Pick up the children
 Evening
Cook the dinner
Bath the children whilst listening to the relaxing sound of Hubbster stacking the dishwasher. Snuggle in bed with my children and a selection of books before light-out
Relax with a Bailey's on the rocks.
So, as you can see I took the liberty of adjusting The Organised Housewife's Task sheet, just a tad, to accommodate my lifestyle.
I'll do better tomorrow though…I promise!