My Top Three Suggestions for Better Shopping Centres!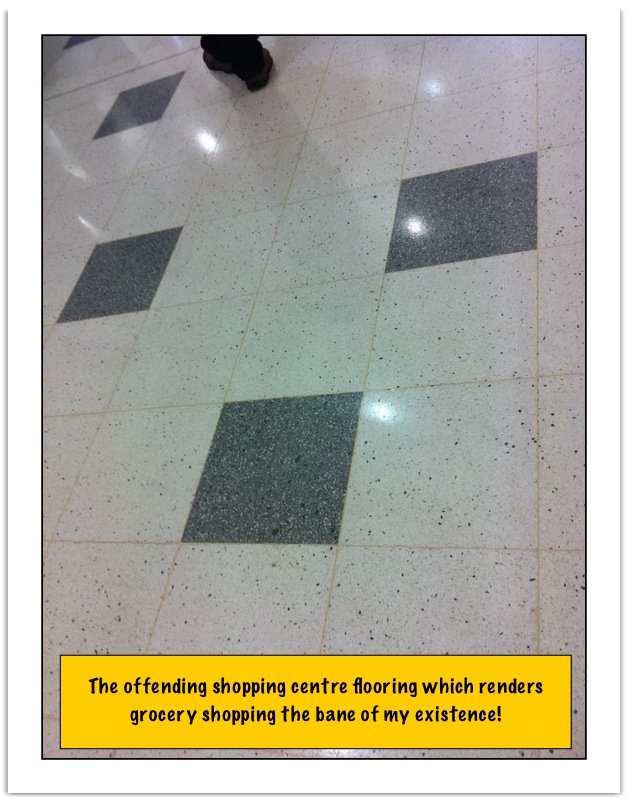 Dear Shopping Centre Designer-type people (you know who you are),
I have something of a gripe that I wish to share with you, in the hope that you will see fit to include some of these parent-friendly design ideas into your next shopping centre project.
Firstly, I don't know why you decided to have this type of flooring (cream squares with random coloured squares in grey, red and green dotted haphazardly here and there) but I am guessing that you don't have overactive toddlers or preschoolers.
Both of my sons, The Woo (4) and Foghorn (3) find it impossible to walk in a straight line on this flooring, and instead hop and leap as far as their little legs will allow, from one square to another. Thankfully Bubble (21 months) is tied strapped in the trolley. The problem being that it is never wise to walk around a busy environment looking at the ground instead of where you are going, particularly in the vicinity of large pillars, glass windows and partially sighted pensioners burning rubber on their electric mobility scooters.
It is, I am sure you will agree, a recipe for disaster.
I know what you are thinking. You are their mother, make them behave! And whilst this is theory is a very sound argument, I would once again have to ask the question…You don't have children do you?
Despite being very well-behaved in general, their concentration and ability to walk sensibly and in a simple forward motion, is incapacitated by the very sight of these randomly scattered squares. To an adults eye it may be nothing more than a series of squares, but to their creative, busy little minds, they are stepping stones in a river full of crocodiles.
Not only does it drive me crazy, but I, like most other mums, particularly dislike being made to look ineffectual and incompetent in a public place. They may at times run amok at home behind closed doors, but in the public eye I like to give the impression at the very least, that I know what I am doing.
Secondly, I would like to propose that you adopt the 'arrive alive' policy that we have seen on our roads of late, and set up free coffee rest stops around the centre. I am sure you will find plenty of room if you get rid of those nag-magnet children's rides.
Lastly, and this is by far the most important of my requests so far, I would appreciate it immensely if you could set up public stocks. You know, like they used to have in Medieval Times to punish wrongdoers in the community by allowing the angry villagers to throw rotten fruit and vegetables at them. Yes. I would like several of these installed, and above them should read… "RESERVED for the inconsiderate maggots without children who park in the parents with prams bay."
If you are unsure, I am sure that I will be able to drum up some support from fellow mums on this issue.
Thanking you kindly
Jolene
Would you like to throw a rotten tomato or soiled nappy at those mongrels who wrongly take the (very few) parking spaces allocated for parents with prams too?