Nick's Fabulous Footy Cards Review and Giveaway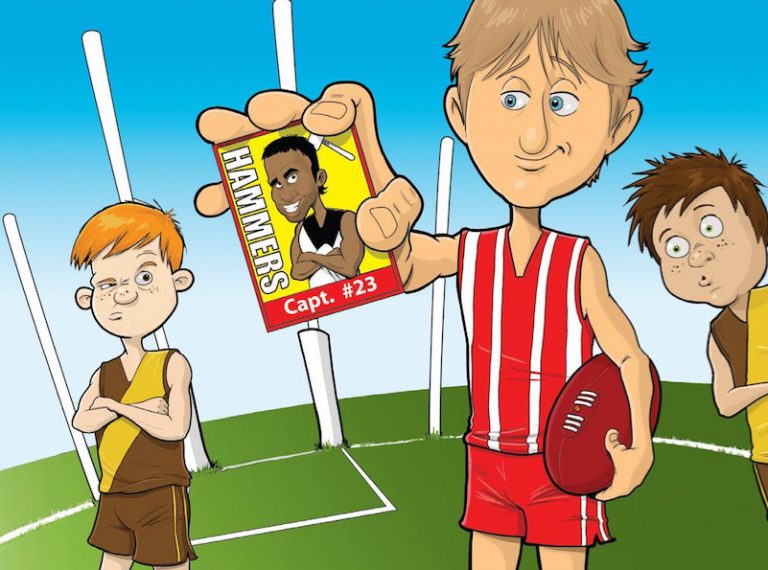 Nick's Fabulous Footy Cards Review and Giveaway
Of my three children, only one is a keen reader. Trying to find books to engage and entertain the other two is a constant battle, so when I was given the opportunity to review a copy of 'Nick's Fabulous Footy Cards' I figured it was worth a shot. Both of my boys, the keen reader (age 8) and the reluctant reader (age 9) are footy mad, so I was quietly hopeful that they'd be able to identify with the main character Nick.
Disclosure: I was gifted a copy of this book for the purpose of an honest review. I don't have time to review all of the things that I am gifted, so you can be sure if it makes it onto the website it has merit!
But before I tell you what the boys thought of the book, here's a little more about it:
"Nick's Fabulous Footy Cards' is an early chapter book written by author Greg Fish, suitable for 5-9 year olds. As you may have already guessed, the main character Nick is mad about Aussie rules football.  But poor Nick loses his self-confidence after an injured ankle means he isn't able to play as well as before.
The story takes on an hilarious and imaginative twist though when Nick's Uncle Matthew gives him a new pack of footy cards.  Nick awakes one night to find tiny football players training on his bed. With the help and instruction from the miniature Hammers players (Nick's favourite team) Nick regains his confidence and becomes a successful member of his team.  In fact, he ends up playing for the hammers himself when he grows up!
The book deals with the themes of believing in yourself, not giving up and working as part of a team – all great messages for children. Better yet, author Greg Fish presents them with humour and a really engaging storyline that had both of my boys hooked from the very first page. Seriously, that is no mean feat with my eldest reader, who amazingly has read this book twice now, and loved it so much he has loaned it to a friend who heard so much about it he wanted to know what all the fuss was about!)
The chapters are short and manageable, the vocabulary is easy to read and follow and the fun illustrations by Jason Trevenen break up the text for those readers who get a little overwhelmed by seeing lots of words on a page.
Both of my boys gave this book a whopping 5 out of 5!
If you have sports fans between the age of 5-9, whether they are book worms or need a little more coaxing to pick up a book, I whole-heartedly recommend picking up a copy of this book.
Visit www.nicksfabulousfootycards.com to find out more and buy your copy for only $11.95. Also available in bookstores. 
Giveaway
We have 4 copies of Nick's Fabulous Footy Cards books to giveaway. To enter, simply complete the entry form below.  Good luck!
a Rafflecopter giveaway