The Other Half: School Reunions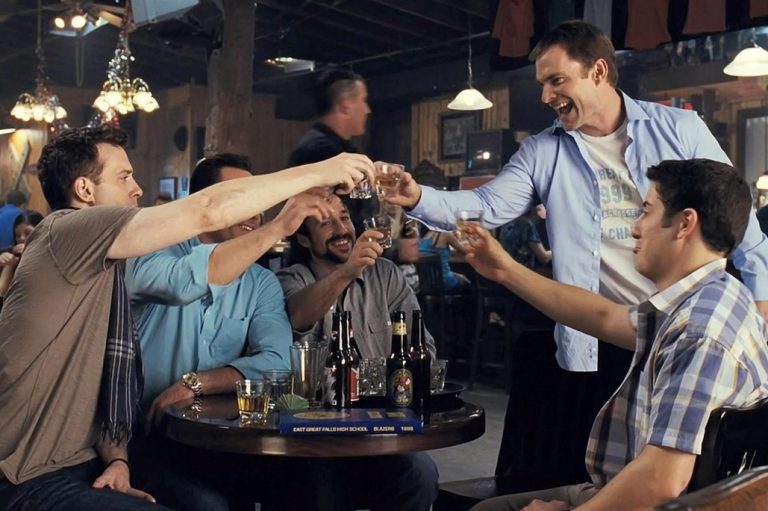 Today's topic on the Other Half is school reunions.
Sadly, having moved halfway around the globe at the tender age of 22, to marry Hubbster, I have not had any experience of the joys and tribulations of meeting up with friends I shared my adolescence with. It sounds like fun…but I wonder, would there be any pressure…any unspoken but obvious competitiveness…to be successful, to be good looking, to have made something of ourselves?
Would it just be one big bulls*#t fest?
So over to our Dad bloggers, with this question:
If you were attending a school reunion, what stories would you make up to tell those people you'll probably never see again?'
Reservoir Dad
Well, I'd want to cover up any lack of achievement in my own life by making them feel guilty about theirs.
So, first I'd tell them that I had discovered – through meditation and not being selfish – that perusing personal goals was inhuman and that since attaining enlightenment at a local Buddhist Day Spa I had dedicated my life to helping others. If they asked me how I was helping others I would say that I could not divulge that information because the others were very private people and I didn't want to risk revealing their identities.
Oh, and I'd also tell them that before all the selflessness I once acted in a porn movie and that I was so good at it that they made a plaster cast of my penis and donated it to a tribe in Africa who had lost their fertility statue in a freak lightning storm.
And that they still worship it to this very day.
David 'Bucky' Goldstein – Aussie Daddy Bloggers
This one will need props…hey, your minds in the gutter again, get it out!!! Our secondary school was famous for (bah hahaha…did I say famous!!!!)…sorry, our secondary school spawned a couple of bands that made the music charts back in the early 80's. I'll be borrowing a beat up old red Porsche, one of those keyboard guitar things, styling my hair in the 80's glam type fashion (think Duran Duran) and pretending I was one of those keyboard guitar players in a band that toured as the support act for Psuedo Echo. Our hit song of course was a cover of KC & Sunshine Band's Shake Your Booty. Unfortunately our stardom was cut short when the lead singer's hair product caught fire on stage melting his sunglasses to his face – he never performed again. I'll be walking around the whole night with a permanent Blue Steel face asking everyone if they'd like my autograph.
I think this story will be more believable than the one where I got married, became a parent to three girls and started blogging.
Dad Down Under
School reunions are like internet personas, you can be exactly who you want to be and people will believe you. Given that my school is on the other side of the world my lies can be particularly extravagant. When you ask a bloody whinging Pom what they know about Australia you will usually get – Neighbours, Kangaroos, Australian Rules Football, Kylie Minogue, Elle MacPherson and Shane Warne.
"Yeah so I moved to Australia a few years ago" Collective gasp from the already impressed crowd. "I went along for an audition for a small show called Neighbours, you might have heard of it? Remember how good I was in the school nativity play when I did a totally convincing Little Donkey, I guess it was always my calling. I play Kylie Minogue's love interest, they had to get rid of Donovan because he was enjoying the party a bit too much. I met a lovely girl called Elle who knows how to wear a bikini and we have a little son that we called Joey after his pet kangaroo. When I'm not surfing barrels, throwing shrimps on the Barbie or wrestling crocs I play a bit of Australian Rules Football on the weekend for a little club called Hawthorn. And sorry James I know you were always my school bestie but you've been usurped by a bloke called Warnie. Warnie's a pretty good bloke; loves a beer, loves the ladies and has a good turn of phrase, unfortunately his new Sheila is a bit of a kill joy and he doesn't get to come out to play quite as much anymore". Anyway enough about me, what's been happening with you guys?
www.daddownunder.wordpress.com
Travis 'Chubba' Bull – Tacklenappy
Going to a school reunion as the schools only The Voice battle round contestant would be such an honour. Of course I performed in the first series, what, does no one remember? I sung the Olivia Newton John classic "hopelessly devoted to you" in the blind auditions. Seal turned around and so did Delta. After much weird hand waving and dancing by Delta, I actually chose team Seal, but this was only because I love it when people speak to me in short breathy profound sentences.
During the battle round I was pitted against Darren "Storm boy's Mr" Percival. We sung Abba's Chiquitita, he obviously was able to whale out the Chiq-it-ti-ta parts just a fraction stronger than me. Although Joel did say it was a tough choice and that I moved around the stage like a meerkat crossed with Bono from U2. Quite a compliment from a bloke who is always chewing on a toothpick. What is with that? Seal thanked me and when announcing I was leaving the show said he would organise a record contract for me, which is still in negotiation.
I would only say this at the reunion because our high school has such a proud history of musical genius, with Pseudo Echo forming during recess and Chocolate Starfish forming later the same day behind the shelter shed. It would be an honour to go down in the folklore of our school's musical history. Given I really can't sing at all.
Fast Lane Dad
So what have you been upto for the last 20 odd years since you left Sir Graham Balfour High school then Simon?
Well Tarquin, i've turned my hand to a few things since we left. Firstly I dabbled a little in Motor Racing and after winning a few championships I managed to travel the world as a factory test driver for Porsche and latterly Ferrari. They kept asking me if i can could come back and help tune their new models. I kept saying no, on the grounds that there are only so many Ferrari's a man can drive around in all day.
After that I moved into the computing scene and bought myself some shares in a little company back then that looked promising called Apple. I also helped shape Facebook into something when Zucco, – as I call him – didn't think it was going anywhere and for that he gave me 10% of his shares. I've taken most of the last 5 years off.
I have recently moved to Sydney, starting a V8 race team and going back to actually doing some racing instead of just watching, oh and I started a daddy blog writing about being a dad to my 3 boys.
What about you? It looks like you managed to clear up that acne once and for all…
Do you have any funny 'school reunion' stories?