Wednesday from the Wardrobe #4: The Party Dress Problem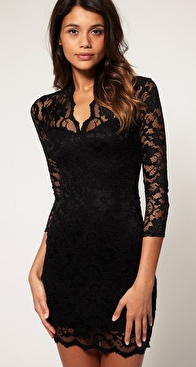 Wednesday from the Wardrobe #4: The Party Dress Problem
As if, after clearing out my diabolical wardrobe I haven't got enough excuses to shop – I now have another great reason.
Last week Hubbster and I received an invitation to my husbands-brothers-former-room mates….(just kidding) to my brother-in law's girlfriends 30th birthday party. So, Miss-about-to turn-thirty, has stipulate on the invitation to wear black and white…as she has a stunning red dress to wear so she stands out like the proverbial dog's testicles…only much better looking.
So, since it is going to cost a small fortune to hire a babysitter for the evening, I am working with a maximum $100 budget.
So last night, I began perusing a website that I have recently become acquainted with ASOS. It has a massive choice of dresses, very reasonably priced and has free shipping within Australia.
I have a few choices in mind…but would love a second, third, fourth opinion…
So, do I go with a little black lacey number. Lace is very en vogue at the moment…so they tell me…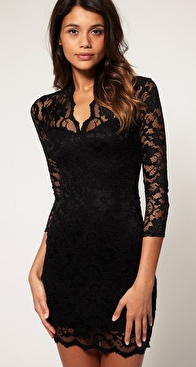 ASOS Lace Dress With Scalloped Neck
$72.99
Hmmmm….yeah, you're right. I may have to walk around all night trying to suck my tummy in to pull this one off or wear my big huge suck-it-all-in underwear.
But I reckon I could pull this one off…I really like the feminine floral lace panel and the batwing bracelet sleeves (perfect for those with sweaty armpits!) and the length with a nice pair of killer heels would suit my short legs!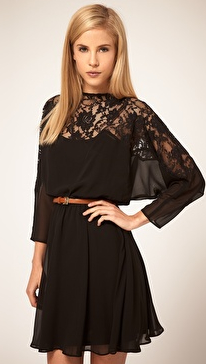 $64.88
Or should I go for something with a little bit of contrast in it…maybe just a splash of white to break it up?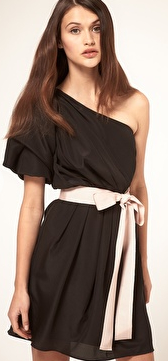 ASOS One Shoulder Drape Dress with Contrast Belt
$64.88
Or maybe something in a black and white print so I don't completely get washed away in the sea of black. I really like the slash neckline and capped sleeves on this one…although the I think the length would make my legs look short and stumpy (a bit like pigs trotters!) Oh, I know you know the look I mean!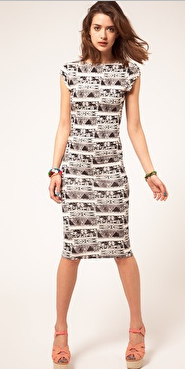 ASOS Midi Bodycon Dress In Aztec Print
$40.55
Oh whoops! Let's not forget…on the off chance that I somehow manage to misplace about 10 kilos of my body weight and grow a meager foot and a half, there is also the white option.
You never know right? Stranger things have happened, (don't you watch Doctor Who?) , and it is always good to keep your options open!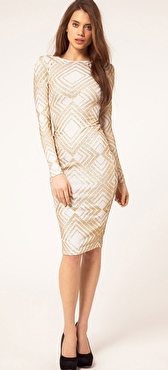 ASOS PETITE Midi Dress In Glitter Print
$72.99
So, what do you think? All black, black with a little white, half black and white or (heaven forbid) all white?