Adelaide Mum Shares Video of her Toddler Opening a Pool Gate in Just 21 Seconds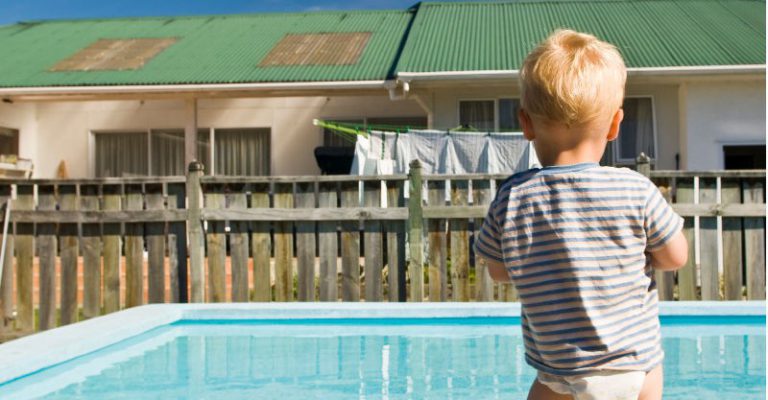 Adelaide Mum Shares Video of her Toddler Opening a Pool Gate in Just 21 Seconds
An Adelaide mother has shared a video of her toddler scaling and opening a pool gate, in the hope of spreading awareness of the dangers of backyard swimming pools. This comes after a rise in drowning tragedies across the country recently – 59 people have lost their lives in a drowning accident since the beginning of December, with a further 66 near-drownings occurring, mostly involving children in backyard pools.
Wendy Atkinson shared her video on Facebook after watching two year old Brodie scale the 1.45m pool fence with ease, then unlatch the safety lock at the top. The first time she saw her son do it, she "read him the riot act".
The 38 year old mum then decided to film his actions with the intent of sharing the video to show other parents how quickly a tragedy could occur.
Just 21 seconds.
Ms Atkinson writes:
"I am reposting this because I refuse to have another child drown before every parent has had a chance for my beautiful 2 year old son to educate them.
We are in the middle of renovating and clearing out our backyard intending to eventually put a pool in where we used to store wood. Our above standard high fence is essentially higher than the Australian Standard. We are aware the gate has issues (such as goes inward, not spring loaded etc ) and had every intention of correcting this even though it would not make a difference to the outcome.
Please UNDERSTAND this is NOT a POOL FENCE.
After this we have decided it is best not to put a pool in until he is swimming confidently.
He climbed this once for the 1st time a few minutes beforehand. I was really mad, told him off and dragged him away from there. Then I thought about how quick he was and couldn't stop thinking about those gorgeous little lives taken. And I figured if he did it again I'm gonna film it.
This is waaay too important to just keep telling him off and dragging him away. I want him to teach us, to mean something. This video shows he can scale and open the gate in 21 seconds unassisted – no chairs, tables or bikes to stand on.
Think about that – 21 seconds. While you've just sat down to breastfeed your baby, the siblings have just flown out the back not realising baby is in tow. The kids go one way to the bikes, baby goes straight to the pool. Up and over in 21 seconds, gone. No splash, nothing. As vigilant as we like to think we all are and would love to be, when you add extra risks like unpredictable siblings, friends, environment, it gets beyond your control accidents will happen."
Ms Atkinson said her heart was breaking for all the families around Australia who have lost their children.
Swimming Pool and Spa Association executive officer Suzie Kent said it was the responsibility of pool owners to ensure compliance and ongoing maintenance by checking gates and latches.
"We cannot stress enough the importance of supervision," Ms Kent said.
"Unfortunately, it doesn't surprise me that a child the age of the little boy in the video can find a way to climb anything so quickly, let alone a pool fence.
"The video serves to remind parents, child carers and pool and spa owners of the need for hyper-vigilance in their awareness of a child's whereabouts."
Images: Facebook and Google Images