Are Extreme Jeans What The World Needs Right Now?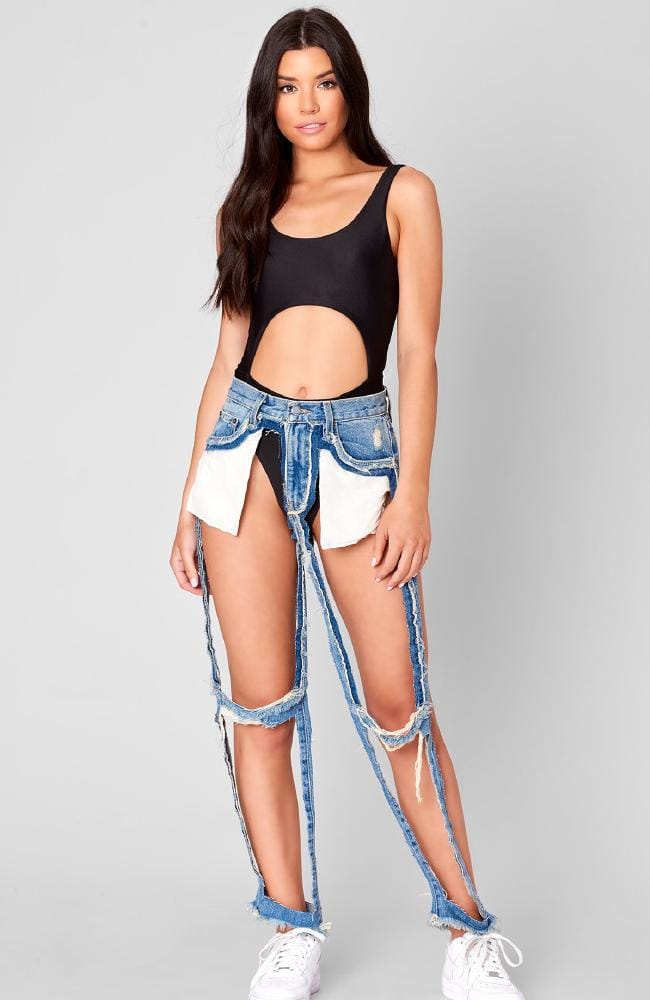 Are Extreme Jeans What The World Needs Right Now?
Every now and again, the world of fashion unveils a look that leaves us thinking …what the actual F!
Take for example these extreme jeans from the designers at Carmar Denim. They feature cut out panels that can only be described as 'beyond ridiculous.' In fact we shouldn't even be describing them as cut out jeans- they're actually just a belt with fabric hanging off the sides. Not too much fabric though. Just enough so it looks like you've been mauled by a lion in the Sahara but miraculously was left without a single scratch. You know, that look.
And just in case you thought these jeans were going to be super affordable…because lack of fabric…you'll be shocked to learn they retail for $AU223!!
The Los Angeles-based designers describe the non-existent pants as having a "relaxed fit" and "large statement cut-outs". No shit Sherlock! Of course they're relaxed…they don't exist!
The back features one long G-string style panel so you can easily show off your derriere or favourite pair of undies- or both.
Seriously, isn't the whole point of wearing jeans to cover your legs so you DON'T have to shave. If you were to rock a pair of these for the next school pick up you would definitely need to have made a laser appointment beforehand!
The Wild Thang Lace Up Pants features white string crisscrossing all the way up the legs, with a tiny patch of denim covering your nether regions and back of your legs. These thankfully are cheaper than the 'cutout jeans' coming in at a modest $66. I don't know about you but I think that's still a lot to pay for some denim undies and a long shoelace!
The jeans have had a mixed reaction from shoppers on Instagram. One social media user wrote: "Hahaha oh dear, I think this is how you tie up a roast." While another said: "So people are just gonna be walking around hanging their butt cheeks out or am I missing something…..?"
And… "WHY. WTF has this world come to."
What do you think? Will you be adding these to your wardrobe any time soon?
Images: Fashion Nova and Carmar