The ASOS Glitch That Caused a Backlash After Listing a UK Size 10 as Large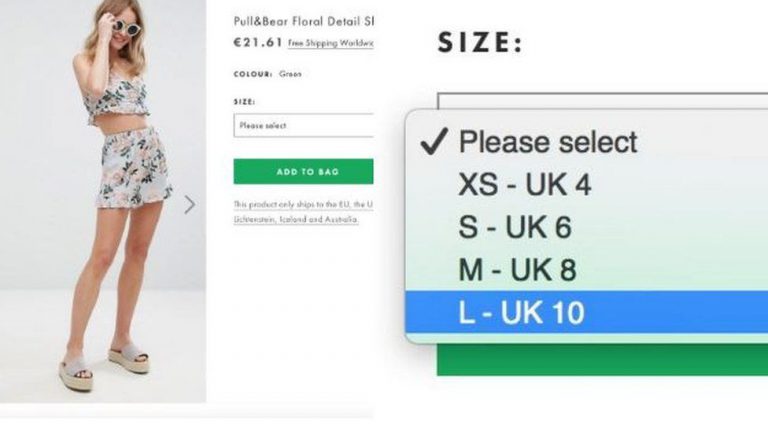 The ASOS Glitch That Caused a Backlash After Listing a UK Size 10 as Large
Websites and brands need to have their online copy squeaky clean, because one glitch can cause drama on social media, and one particular glitch this week left women criticizing  major online fashion brand, ASOS.
The drama started when the online store listed a pair of Pull & Bear shorts, describing the size 10 as a 'large'.
When Twitter user, Hollie, saw the sizing description, she took a screenshot of the item and posted it online.
The tweet received over 5000 likes and was re-shared just under 1500 times.
Some tweeters commented on how dangerous the sizing description was – especially for women who suffer from low self-esteem and body image.
One commenter explained, was it any wonder girls thought of themselves as fat if a large is a size 10?
Maeve McQuillan said, "I was size 10 once in my life ever and it was when I was anorexic."
"Calling it 'large' is not good."
She also tweeted that Zara's 12 is an XL which is not statistically accurate.
When comparing the size chart for the Pull & Bear brand, their sizes XS-XL match European sizes, not UK ones.
ASOS apologized for the glitch, with this statement, "We're really sorry for the confusion caused by the technical glitch, which meant certain Pull & Bear sizes weren't represented properly.
"This particular style has now been fixed and back online."
Statistically, a large will usually represent a size 12 to 14.
The inconsistency in sizing is something women have had to deal with in the last decade.
Thankfully in this case, it was a technical glitch that caused the oversight in the incorrect sizing being displayed.