Balenciaga's New $2610 Handbag Looks Like Ikea's 99c Shopping Bag!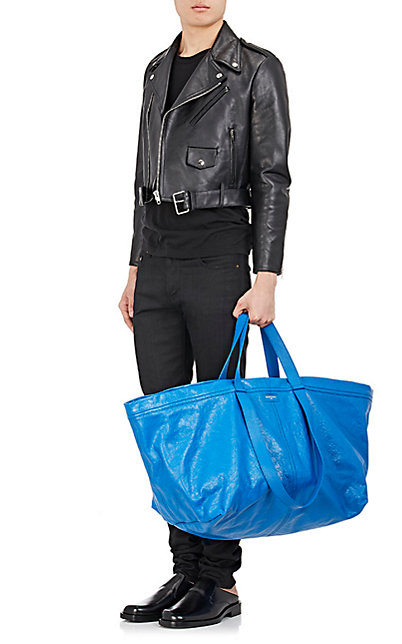 Balenciaga's New $2610 Handbag Looks Like Ikea's 99c Shopping Bag!
Remember a few weeks ago when we showed you Balenciaga's $5595 "blanket bag" which looked very much like a plastic doona cover?
Well, the luxury French fashion house is back with a brand new piece that looks very familiar! In fact it strikes more than a passing resemblance to IKEA's very practical and very cheap plastic Frakta bag that will set you back a whole $1!
We all know the loveable and dependable bag all too well. It's seen us all through big moves, wardrobe culls and storage issues. Apart from the Swedish meatballs and lingonberry sauce it's without a doubt the most identifiable part of the store's identity. The IKEA bag is legendary and I challenge you to try and find a household that doesn't have one stashed away somewhere!
The two bags share the same bright, royal-blue color, same trapezoidal shape, same wide straps, and same massive size. One huge difference though is the Balenciaga Carry Shopper retails for $2610 in Australia and is made in Italy from lambskin. It also features calfskin handles, a zip top, a matching pouch and the gold Balenciaga logo. Fancy!
Ikea has responded to the copycat bag saying: "We are deeply flattered that the Balenciaga tote bag resembles the Ikea iconic sustainable blue bag for 99 cents. Nothing beats the versatility of a great big blue bag!"
Since the brand recently appointed Georgian designer Demna Gvasalia (formerly of the French streetwear brand Vetements who is the name behind the butt jeans) as its creative director, they've definitely been sending some interesting items down the runway.
Who knew the IKEA bag would ever become a symbol of high fashion and status! What do you think? Is this is a case of 'imitation being the highest form of flattery?' Or is it just wrong?
Photos: Ikea and Balenciaga