Beware Before You Buy Those Roasting Marshmallows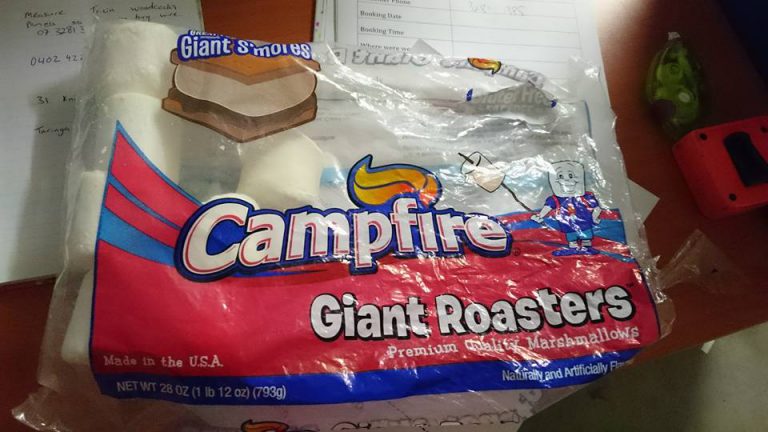 Melting marshmallows by the fire is a favourite pastime for many families during winter. The bigger the marshmallow, the better, when it comes time to roasting them.
But one mum has shared a Facebook post that has gone viral, detailing the ingredients of a popular campfire marshmallow that is being sold by retail outlets including Costco, The Reject Shop and Aldi.
Emma Taylor noticed her daughter Felicity had a rash around her mouth for the last couple of months. When she tracked her daughter's diet to find a possible cause, she thought about the bulk pack of marshmallows she had bought from Costco at Easter time.
Ms Taylor looked at the ingredients list on the Campfire Giant Roaster Marshmallows and found they contain an artificial flavour called 'tetrasodium pyrophosphate'.
Scarily, when the mum looked up the side effects to the additive it said, 'C) WITH POISONING/EXPOSURE 1) MILD TO MODERATE TOXICITY: Irritants may cause swelling, redness, and pain at any site, especially at mucous membranes. The mouth, nose, and eyes are commonly affected. After inhalation, cough, tachypnea, and wheezing are common. With ingestion, nausea, vomiting, and diarrhea are common.'
The mum admitted she didn't swear very often, but after discovering what was in these marshmallows, she wrote 'WHAT THE ACTUAL F*CK. How the hell is this stuff in food, on top of that it also produces poisonous gas when placed in fire. THEY ARE CAMPFIRE MARSHMALLOWS, giant roasters, meant to be used over camp fires so again WHAT THE ACTUAL F*CK.'
The mother asked friends to share the post so other parents know about the ingredients in the popular marshmallows. If her daughter reacted with a rash, who knows how other kids will react when eating the marshmallows.
It's also a good reminder to check exactly what additives are in packaged foods.
Do you check the ingredients in lollies and packaged foods? Has your child ever had a reaction to a processed product?