You Can Now Buy Completely See Through Jeans Because…FASHION!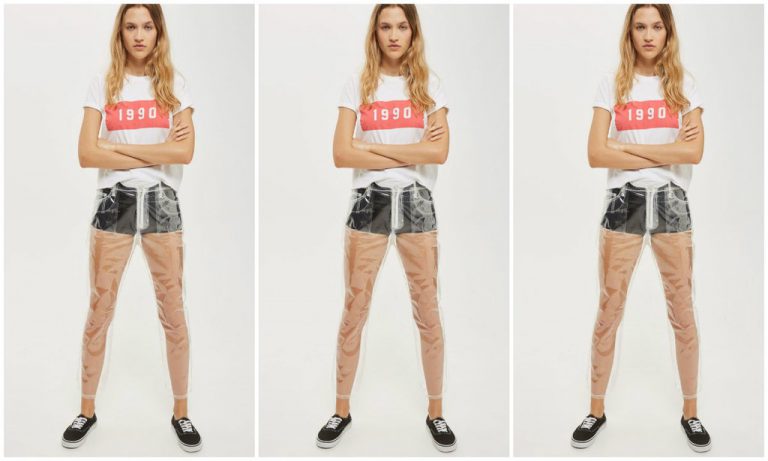 You Can Now Buy Completely See Through Jeans Because…FASHION!
Fashion is a funny thing isn't it? I mean who decided clear-knee jeans should be a thing anyway?
And if that wasn't bad enough we were then introduced to the bare-butt jean which defied all logic and explanation!
Now we have a pair of pants that surely top the WTF scale of fashion fails! See through pants! Yep! They're 100 percent polyurethane and TOPSHOP are selling them for $100.
"Think outside the box with these out-of-the-ordinary clear plastic jeans—guaranteed to get people talking," the description reads. "In a straight-leg cut, they feature classic pockets detailing and are cropped at the ankle bone. Ideal as a statement piece for a festival or costume party, take the look to the extreme with a bikini and sequin jacket or dress down, layered under an oversize jumper or asymmetric hem dress."
Part of me thinks these fashion houses are just trying to out stupid each other and it seems the consumers share my sentiment.
"Please can we all join together to pray for the future of @topshop," "Are you feeling OK Topshop?" are just some of the responses to the pants on twitter.
CLEAR PLASTIC JEANS ARE YOU FEELING OKAY TOPSHOP? pic.twitter.com/fRQcrhil70

— Angela (@theawkwardblog) April 21, 2017
The description on the Topshop website states the trousers are not only highly functional but also machine washable! Well thank God for that – I mean can you just imagine the smell of these after you've spent the day sweating in them? Hey, maybe they can be re-marketed as weight loss pants instead! Now there's an idea!
Photos: Twitter and Topshop