Christmas Lights For Beards Are Set To Be The Next Big Thing For The Holiday Season!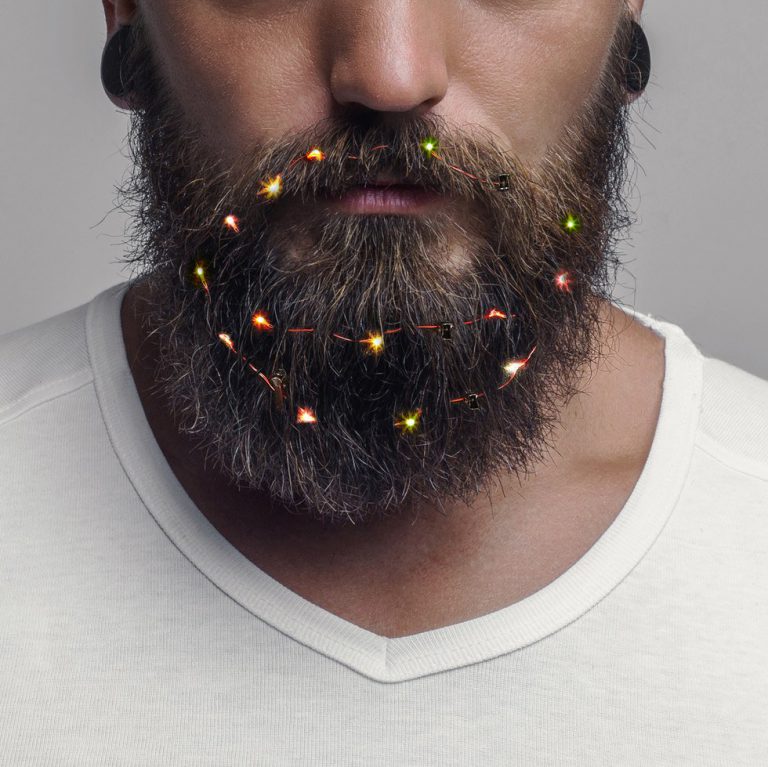 Christmas Lights For Beards Are Set To Be The Next Big Thing For The Holiday Season!
Is there someone in your life that LOVES Christmas so much that they start decorating their house in October? Do they decorate everything from their cat to their car to their desk at work? If the answer is a big fat YES then we have the perfect gift for them!
Behold the decorations you can actually wear on your face…the beard fairy lights!
These adorable twinkling lights for the beard in your life come from Firebox and are the perfect adornment for your favourite hairy friend.
Complete with little clips and a teeny tiny battery pack they'll be ready to go with minimal fuss. Whether it's for a Christmas party, a stroll to the shops or even for work these babies are sure to be the highlight of this Christmas season!
Here's all the info from the Firefox shopping site:
Forgo the waxy styling products and replace them with this set of 18 multi-coloured nano LED lights – but don't worry, you don't have to hang them individually. Each of the heat-less lights are suspended on a 90cm cable that clips onto your beard painlessly. Just like normal fairy lights, but miniature so they nestle comfortably in your face fuzz.
Trust us, you can't even tell they're there when they're in, so unobtrusive. We tested them on our extensive range of hirsute staff members and they all agreed.
Even if you decide these aren't your cup of tea, just know that (you're wrong, but also) everyone here at Firebox wishes you a hairy Christmas. Please note:
Give these a miss when your beard hair is wet, or when outside during wet weather
A little bit of Buck's Fizz won't hurt, but don't get hosed down with the stuff like you're Lewis Hamilton
At just $20 a pop, it's not surprising that they've already sold out but never fear because you can just go on to a waiting list for them OR you can get yourself the next best thing…
Beard Baubles!!
You heard that right! Baubles for the beard! Hipsters have never had it so good.
Tis' the season to adorn your face with these multi-coloured beardo baubles. Decorate your bristle batons with these merry trinkets and transform yourself into a walking, talking ornament.
Seasonal accessories for your precious whiskers have been a long-time coming and it looks like Santa's finally granted the globe's wishes. No doubt he too will be busting out the beard balls.
Do you know someone who would totally rock the beard fairy lights and baubles?
Images: Firebox