Dad Gets Six Poop Tattoos Inked on His Leg in Tribute to His Kids and People Love It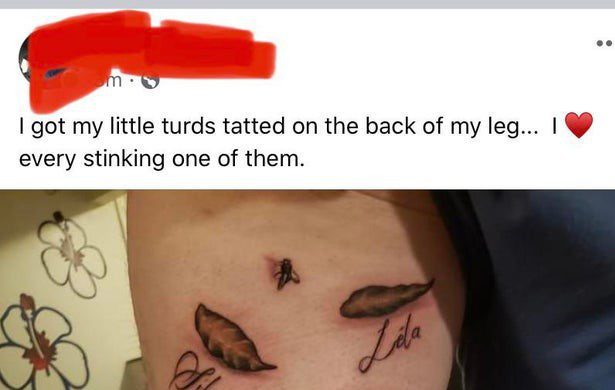 Dad Gets Six Poop Tattoos Inked on His Leg in Tribute to His Kids and People Love It
A proud dad has paid tribute to his six children by having six poop tattoos inked onto the back of his leg.
"I got my little turds tatted on the back of my leg… I ❤ every stinking one of them," reads a Facebook post by Bobby Wilson, clearly smitten with his offspring.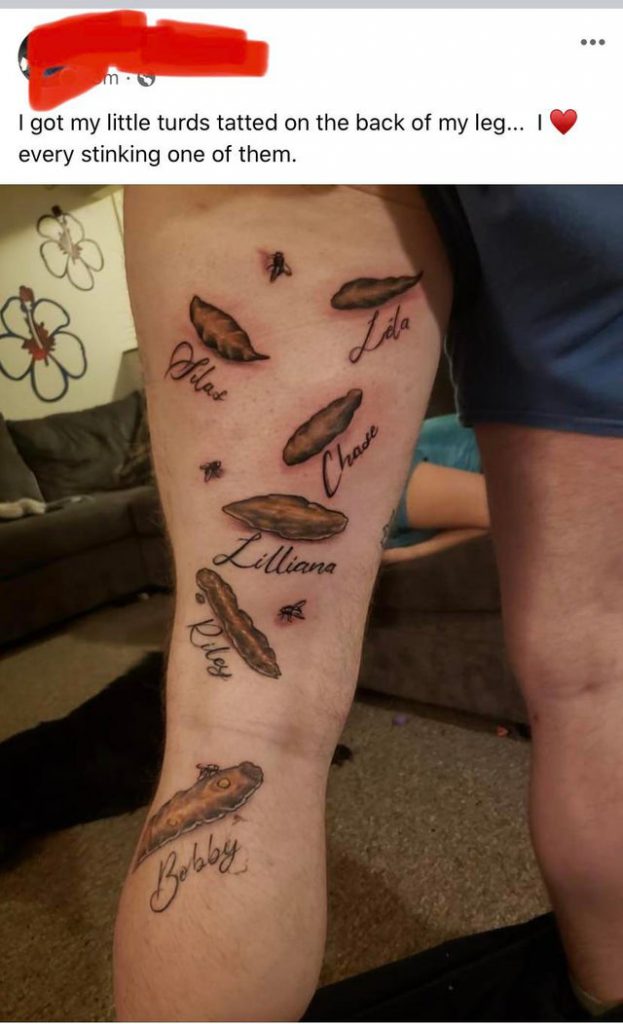 Well, would you look at that? Bobby's even has a bit of corn in it.
The flies are a nice touch, too.
Bobby, from Port Orchard in Washington in the US, said he decided on the design as he has been calling his kids his 'little turds' for years.
"Everyone thinks it's a freaking funny, one of a kind tattoo," he said proudly. "Lilliana thinks it's gross. The rest can't help but laugh and giggle."
After a family member shared Bobby's screengrabbed post on Reddit, it was met with a lot of thoughts. Many of them negative. But Bobby's circle of family and friends find his new ink charming.
One pal posted: "That has to be the most original tattoo I've ever seen awesome awesome awesome"
Another added: "Those are great!"
While a third wrote: "You fool – too funny."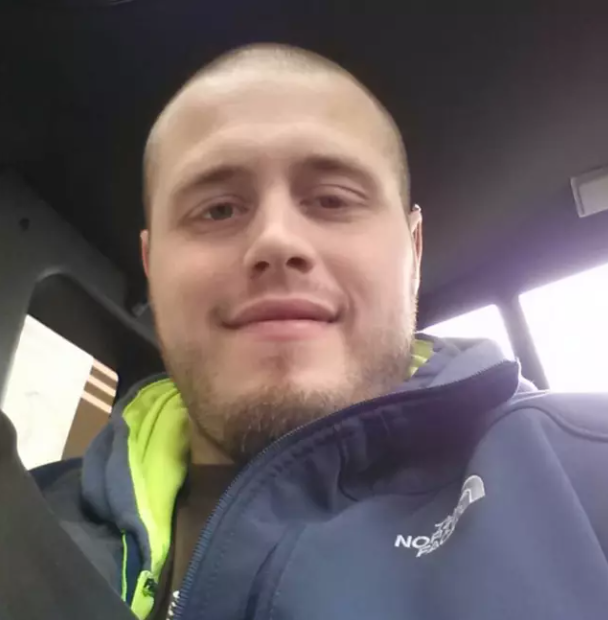 Some of the Reddit comments were not as complimentary.
"You got shit running down your leg," shared one punter.
"This is the trashiest thing I've seen," added another.
"Should have taken a picture of their actual first solid turds and had them tattooed," helpfully wrote a third.
There are plenty of ways to honour your children via tattooing. And while this particular design doesn't specifically appeal to me personally, as long as I don't have to look at it, it's fine with me. You do your thing, Bobby. And best of luck with your little turds.
Source: Reddit/Trashy