Dad Shares Why He Encouraged His Son to Continue Wearing Nail Polish to School Despite Bullies Taunting Him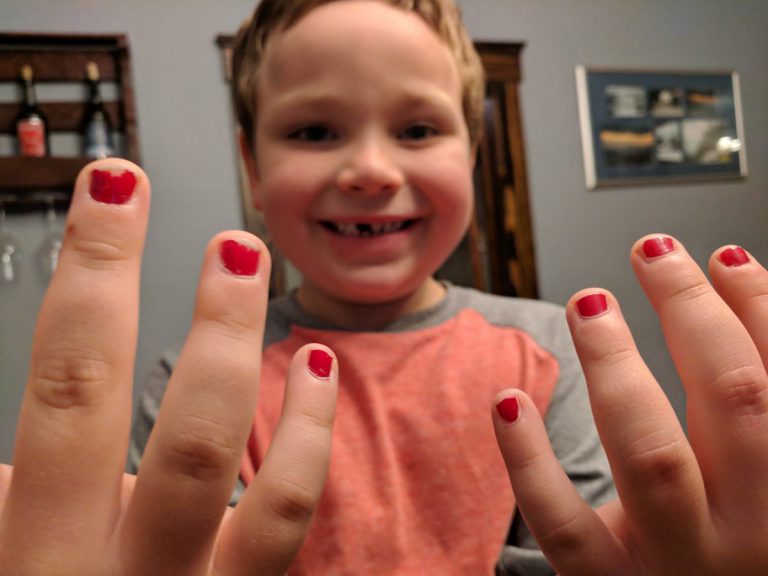 Dad Shares Why He Encouraged His Son to Continue Wearing Nail Polish to School Despite Bullies Taunting Him
A dad has shared an uplifting story on Twitter that has both angered and inspired his followers. Writing under the name Daddy Files, the anonymous dad went into bat for his son, fighting back against gender norms and criticising the parents of his child's bullies who are perpetuating the notion that only girls can wear nail polish.
He writes about the lessons he taught his sons after his 5-year-old son opted to wear "badass" nail polish to school one day, but came home devastated due to the unkind reactions of his peers.
His Twitter thread has been liked and shared thousands of times since he shared his posts, and with good reason. It is just brilliant. Have a read for yourself:
Before too long, others were sharing pictures of themselves or of their loved ones — all wonderful, kind men who have painted their own nails in support of little Sam.
For you and Sam. My students did this… Love them, look fabulous ☺️ pic.twitter.com/OJinFYC4Zn

— Aftab Singh Gujral (@aftabgujral) October 23, 2018
Hey, Sam! My husband is a firefighter who saves lives and drives big red trucks and puts out fires. He loved your nail polish color and decided he wanted red, too! Just like those firetrucks. #SamSolidarity pic.twitter.com/uoQPift05U

— Kristan Higgins (@Kristan_Higgins) October 23, 2018
Please show Sam this picture of my 18 year old son who also likes to paint his nails. pic.twitter.com/lxewdaRKOM

— kat walters (@teigr69) October 23, 2018
Sparkly nails rock! Thanks for a great thread and I hope that your son continues to be the awesome person he sounds like. I fight against my daughters (influenced by TV adverts I expect) deciding some things are just for boys or just for girls every day, but we will get there! pic.twitter.com/h3lfLMLBQv

— Douglas "Wolfkin" (@douglashaitken) October 23, 2018
Hi Sam, this is my 30 year old husband. He's a teacher and wears his nails painted every day. I love it when he looks bright and pretty. He says "You do you. I'm proud of you for continuing to wear nail polish and you're brave for facing the bullies". pic.twitter.com/oJDwKPcBrS

— Saz 🌈 (@rainbowplethora) October 23, 2018
How utterly beautiful. More time needs to be spent teaching children to be empathetic, to be kind to other humans, to celebrate differences in each other instead of ridiculing them as a default.
Way to go, dad!
This is my son, Sam. He's 5. And today he learned how shitty and harmful #ToxicMasculinity is. My rage meter is spiking right now so excuse me if this is a little raw but there are some things I want to say about BS #gender norms (a thread) pic.twitter.com/NtoE2VHKsU

— Daddy Files (@DaddyFiles) October 23, 2018
Source: Twitter/Daddy Files